Solea solea, while a beautiful thing to eat, is one ugly mother of a fish. The evolution of flat fish like sole is one of those damn-near intractable biological puzzles that defy logic, and give ammunition to religiously motivated creationists and scientologists. One day, a normal, upright fish decided to lie down on the sea floor and never get up again. Having one eye in the sand was never going to be great for the binocular vision needed to locate food and avoid predators; so, over many genetic passages, this reclining fish family gradually moved their pectoral eye upwards until it ended up on the other side of their heads to find company with the dorsal eye. The mouth stayed where it was, resulting in a series of creatures with both eyes on the same side of their heads. Lovely to eat, but I wouldn't date one.
The French have always enjoyed their national sport of taking the piss out of British food. However, there are a few of key areas where even the most shruggy Gallic gourmand would be prepared to tip their chapeau to the English. One of these is Stilton cheese. Another is the Dover sole. Solea solea are fished in the English Channel, Atlantic, Baltic and North Sea, and landed primarily in Britain (including Scotland), The Netherlands, Belgium and Denmark. Of all the flat fish, Dover sole is the most prized, due to its delicate flavour and firm flesh that holds together as it is cooked. Prices reflect their culinary value with one fish setting you back about £11. If Dover sole appears on a restaurant menus, it is invariably the most expensive thing on it.
When I Iook for classic recipes, I usually start with a toot at Larousse Gastronomique, and that tome lists no less than 28 recipes for sole, which must be some sort of record for an ingredient in that book. Among these is 'fillet of sole with basil,' which describes a method for steaming sole in wine, introducing a fish stock and finishing with fresh tomato and basil. Having barely worked out what was going on there, I was delighted to find that Simon Hopkinson, one of my favourite chef writers, had a version of it broken down for domestic cooks in his Week In, Week Out, which is a collection of his articles from his much-loved Independent food column. Most of the Larousse recipe is there, but this adds cream and swaps out white wine for vermouth. He describes his encounter with this dish in a fabulously pissed-up visit to Jean-Claude Vrinat's 'Taillevent' at 15 rue Lamennais, Paris.
Swapping out wine for vermouth was a trick I learned from a friend of mine, Adrian Clark. Adrian told me he routinely uses dry, white vermouth for risottos, and it makes a lot of sense. Sometimes, you don't want to open a bottle wine, just to use 100ml of it to start a risotto, yet an open bottle of vermouth will keep in its screw-cap bottle for a long time. I often freeze aliquoted of wine for cooking, but if I run out of those wee pots, I will reach for the vermouth – always a dry vermouth, never sweet.
The recipe here is fairly faithful to that of Simon Hopkinson, but upscaled to a main dish, and smaller sole.
We got our Dover sole from Cheshire Fish at 4 Roe Street, Macclesfield, Cheshire SK11 6UT. Cheshire Fish is open Tuesday to Saturday from 09:00–17:00.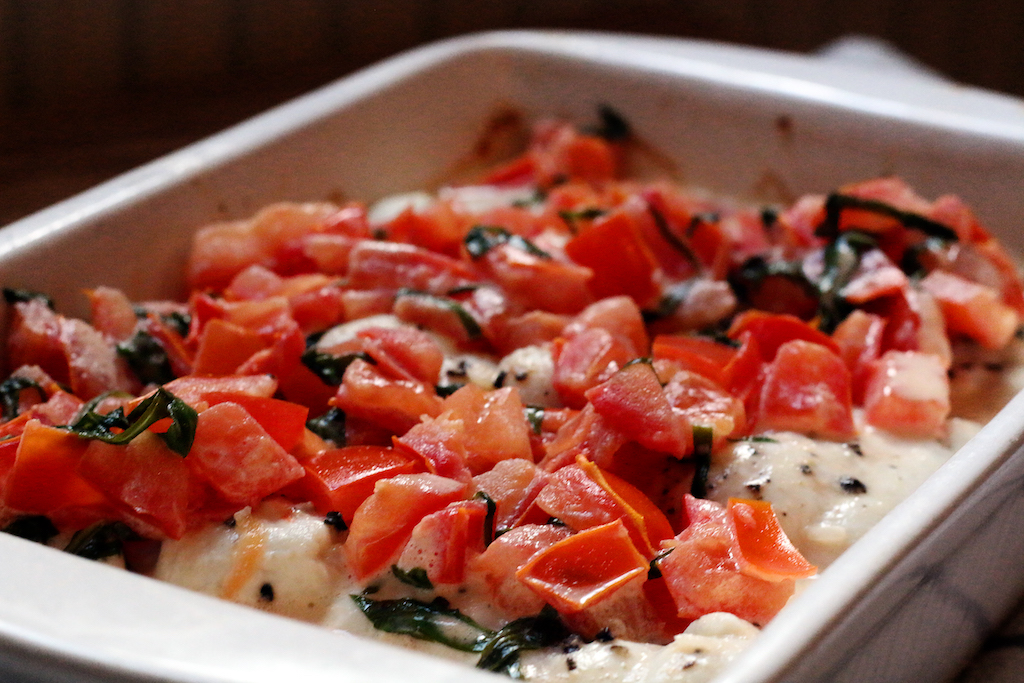 Print Recipe
Fillets of Dover sole with tomatoes and basil
Ingredients
4 medium-sized Dover sole, skinned and filleted (Dover sole are asymmetric, so you get four different sized 2–3cm x 10–15cm fillets per fish; ask the fishmonger to do the awkward skinning, but either take the fish home on the bone or ask the fishmonger to fillet it and give you the bones – you need them; discard the heads, guts and other offal)

1 large spring onion, split

2 sticks of celery, halved and split

1 bay leaf, torn once

2 sprigs of fresh thyme

300ml water

200ml white wine or dry white vermouth (e.g. Noilly Prat or Martini Extra Dry)

25g butter

6 shallots, finely chopped

Another 60ml dry white vermouth (white wine could be used)

5 fresh tomatoes, cored, seeded and chopped

About 15 basil leaves, sliced thinly on their long axis

Juice of half a lemon

50g butter

100ml double cream

Sea salt and freshly ground black pepper
Instructions
1
Begin by making a fish stock. Cut up the sole bones with some kitchen shears, and put them in a large saucepan with the spring onion, celery, bay, thyme, water and 200ml wine/vermouth. Simmer that quite gently for 20 mins, skimming off any scuzz. Sieve the liquid, and put it back on the heat, reducing it for as long as it takes to end up with only about 6 or so tbsp of rich, fishy liquid. Set aside in a jug (don't leave it in the pan as the residual heat may reduce it further, and you will end up with a dry pan if you turn your back on it).
2
Now, cook the fish. Butter a gratin dish with 25g of the butter. Scatter the shallots in the bottom, and arrange the sole fillets folded on top. Pour over the 60ml of vermouth (just submerge the fish, and drink anything that's left over as a chef's treat), and season with salt and pepper. Cover with a foil lid, and bake in the oven for 20–25 mins until cooked, but definitely moist.
3
Once the fish is done, pour the cooking juices off into a small pan, put the cover back on the fish, and put the gratin dish somewhere to keep warm (I use a second oven set below 100˚C).
4
Add the reduced fish stock to the juices and simmer for a few minutes. Add the tomatoes, basil and butter. Stir lightly over the heat to combine the butter with the sauce.
5
Add the cream to the sauce, heat to a simmer again and cook until reduced by about a third. Check the seasoning and fishiness. Add seasoning if needed and reduce a bit more if the taste is too light.
6
To serve, put four of the fillets on a plate, spoon some tomatoes and basil onto the fish with a slotted spoon, and pour over a good portion of the sauce. You may end up with sauce left over – that is OK, as you don't want to end up with soup.
7
Serve with steamed new potatoes dressed with a little butter and chopped parsley.
Notes
You can skip the potatoes, and reduce the size of the portion to make a very good starter.