Obviously, we are not allowed to give this dish its real name, but suffice to say that it is very lightly adapted from the McDonald's breakfast menu.
The Bacon and Egg McMuffin® was invented in Santa Barbara, California in 1971 when McDonald's owner/operator Herb Peterson was looking for a breakfast item. He had a go at eggs Benedict, but the hollandaise sauce was too problematic. This was swapped for the cheese. Peterson is credited with the invention of the Teflon® rings needed to cook the eggs in a perfectly circular format; however, crumpets are made in the same rings, and these pre-date the McMuffin.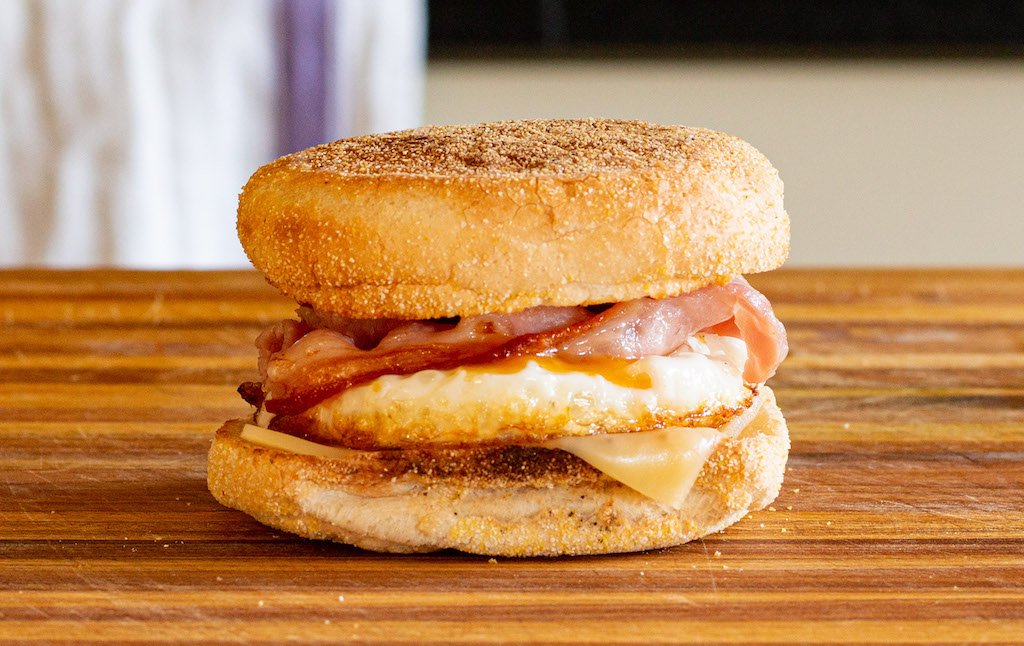 Print Recipe
Ingredients
1 English muffin, sliced

1 egg

1 slice processed cheese

2–3 rashers dry-cured back bacon
Instructions
1
Toast the cut slices of the muffin in a frying pan. Place the cheese on the lower slice and microwave for 30s on high.
2
Grill the bacon. Cook the egg in a crumpet ring, release and then flip to cook over-easy for a moment.
3
Assemble the sandwich in the order: lower muffin slice with melted cheese, egg, bacon, top muffin slice.