Sometimes, I am embarrassed to be British, and this is one of those occasions. Right now, I would like to burn my brogues, donate my Paul Smith to Oxfam and start pretending to be Italian (again). The thing that has boiled my piss this time is herring. Herring is a small, oily, mackerel-like fish that cures and pickles beautifully, grills in minutes and is even finding its way onto nigiri sushi.
With such a fine produce swimming in sustainable stocks all around our sceptred isle, why in the name of all that is holy are we selling the catch to our traditional fishing adversary the Danish? Forty-four percent of the British catch is herring, and more than 1,000 tonnes of that is sold to herring-mad Denmark. Why is this happening?
Unfortunately, the answer lies on our own shores – it's all our own, stupid fault.
The story of herring fishing in the UK begins in the 17th Century when chiefly Scottish boats were out looking for herring. At that time, the Scots were playing second fiddle to the Dutch who had invented a means of curing fish at sea in 1736. What followed was a progressive increase in the size of the herring catch, and gradual organisation by the Scots into associations and organisations of fisheries. Villages amalgamated into towns, and the population of the Western Isles, Orkney, Shetland and the coastal Highlands soared on the rising wave of herring popularity. It was around this time that the fish became known as 'silver darlings,' such were their importance to the economy of Scotland. In modern day Aberdeen, The Silver Darling restaurant can be found right on the quayside and named for the riches brought by herring.
In 1819, the Scots developed their own at-sea cure, and it turned out to be better than that of the Dutch because it did not include the salt that could soften the fish. JF Donovan of Leith was awarded 50 guineas for this curing innovation.
What followed was a technological arms race of boat and net design that culminated in the 1940s and 1950s with deployment of purpose-built boats, ring nets and trawl nets. Now, the Scots were able to land biblical quantities of silver darlings, and land them they did. They took so many herring from the sea, the stocks became unmanageably depleted, and herring fishing was officially banned in 1977.
This was the turning point.
In 1983, the ban on herring was lifted, but these six short years of herring-less dinner tables were long enough for half a generation to grow up having never eaten a silver darling. The taste for herring was lost, and demand was vanishingly low.
Herring remains in the doldrums in the UK, but there are some chefs trying to promote a comeback. Of course, it was always going to take a Dane to do it, and this is the case with Silla Bjerrum of Feng Sushi. Feng Sushi is a London sushi restaurant chain that is taking traditional Danish fish cures and giving them a Japanese twist to make inventive sushi. Among her signature creations is a traditional Christiansøpigen herring cure. It is a fantastic mix of clove and allspice, but if you want to make it yourself, you may have a spot of bother. Bjerrum says of her cure:
"If I tell you the recipe, I will have to kill you. Only two people in the whole of Denmark know it."
All this reinvention of herring is great, but what about a nice plate of fried silver darlings? Well, that is not terrifically hard to do and it makes the the finest of lunches or breakfasts. We are less precious about our recipe, and nobody needs to die.
The Silver Darling, one of the most celebrated seafood restaurants in Scotland, can be found at Pocra Quay, Aberdeen AB11 5DQ, Scotland.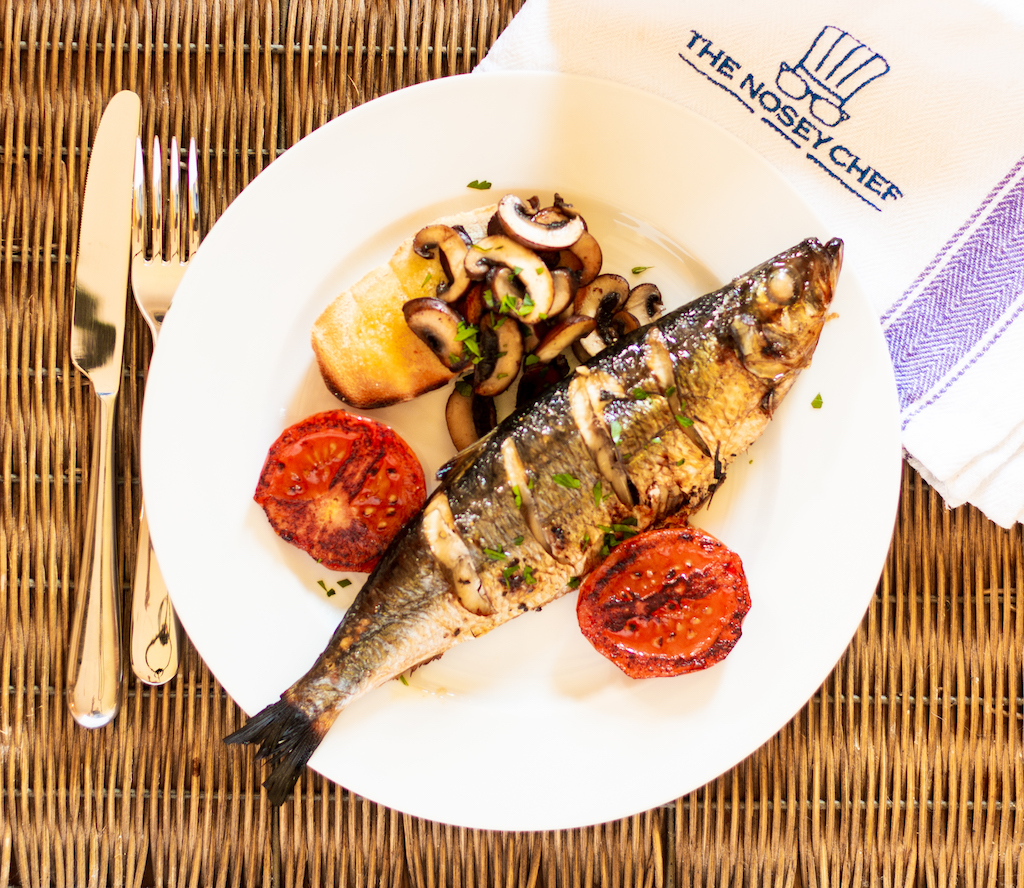 Print Recipe
Ingredients
2 whole herring, gutted

1 tbsp neutral oil

10g butter

Salt and freshly ground black pepper
Instructions
1
Heat a grill to high and line your grill pan with foil, placing the grill bars over.
2
Slash the sides of the fish four times on each side and remove the side fins. Rub over with oil, push a small piece of butter into each slash and season the fish inside and out.
3
Grill for 4–5 minutes on each side.
4
Dot with a bit more butter and serve.
Notes
Herring is a strong-tasting fish, so it stands up well with other strong flavours. We like it with fried mushrooms and tomatoes. Try silver darlings with scrambled eggs or in a full fry up.