As you might have worked out, The Nosey Chef is all about discovering where food and drinks originated, locating the original recipe, making it, and commenting on the merits of various alterations.
For the Scotch Frog, I am lost.
Before we get into that, please know that the Scotch Frog does not contain any Scotch whisky. If you don't like whisky, you can keep reading.
On to the recipe. Googling the Scotch Frog turns up a load of recipes, and no narrative on origin. This got me to wondering if a 'frog' is a cocktail style, particularly as a bit of research found me a Bullfrog, a Red Frog, and Green Frog and a … Frog. But looking at the recipes, the only pattern that emerged was strong alcohol, some flavourings and no mixer – but that characterises thousands of cocktails, both classic and modern. So I don't think that there is a type of cocktail that characterises a 'Frog' in quite the same way that strong, white alcohol and a dash of vermouth characterises a Martini.
When this article was first written, the only hint on the source of the Scotch Frog came from a site called Cocktails of the World that suggests that the Scotch Frog is Austrian. It is perfectly plausible that the Austrians would have come up with a vodka cocktail. Austrians make vodka, and the country is very close to borders with Eastern Europe, but somehow Austria and cocktails does not quite resonate in my mind. I am happy to be put straight by anyone with a closer relationship with the country.
Much later, in September 2018, we received an email from a chap called John who said that he had seen the recipe in a booklet produced by Galliano. The booklet, hiding in the back of John's father's drinks cabinet, dates from 1968, and says that the Scotch Frog originated in Los Angeles, CA.
And then, even more information became available from a recipe book from the 1957 USA West Coast Cocktail Competition, which attributed the drink to an Albian Farley, thereby making the Scotch Frog solidly Californian.
For me, the Scotch Frog began at one of the legendary New Year's parties that are often hosted by my good friend Jim. Jim always invites some of his old University friends along, most of whom were in the Manchester University Army Officer Training Corps. Jim went career army, and then left to join the corporate world, but another Jim, JT, went career and stayed with it. He is now a pretty senior chap in a local regiment, but I know him for his passionate spelunking into the world of bonkers cocktails. It was JT who poured me my first Scotch Frog. With alarming levels of lime juice in it, the genius touch of maraschino cherry liquor, and all piled over a generous shot of vodka and some cheeky Cointreau, the Scotch Frog is a cocktail that needs no acquisition of taste – it is an instant love affair.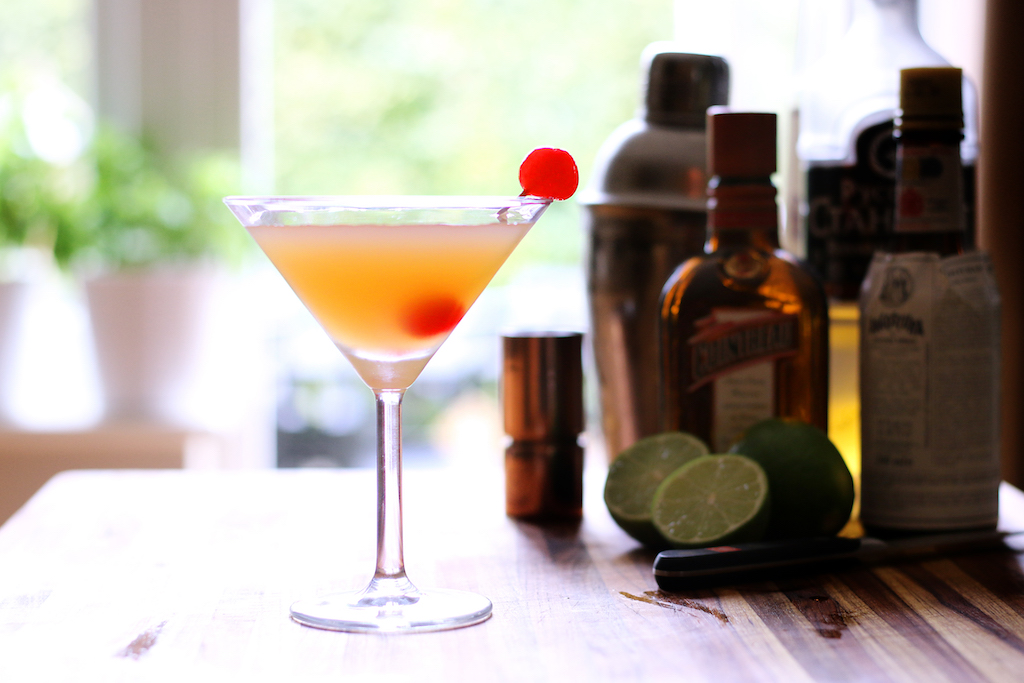 Print Recipe
Ingredients
20ml Galliano

40ml vodka

20ml Cointreau

40ml fresh lime juice

1 dash Angostura bitters

1 tsp (5ml) maraschino cherry juice (the liquor from a jar of maraschino cherries)

1 maraschino cherry
Instructions
1
Put all the ingredients in a cocktail shaker with ice.
2
Shake, and strain into a Martini cocktail glass to serve.
3
Garnish with a maraschino cherry on a cocktail stick.