In the world of food, there are very few cans of worms more difficult to close than the way to make a Bolognese sauce. In fact, I would go further and suggest that this is a full-scale Pandora's box of recipe abominations, cut corners, flame wars, invested interests, snobbery, YouTube trolling, and apoplectic celebrity chefs. One thing is clear though – the adaptation and loss of the original Bolognese sauce became such a problem for the Italians, that in 1982 the Camera di Commercio Industria Artigianato e Agricoltura di Bologna (the Chamber of Commerce in Bologna) crawled in the door of the Accademia Italiana della Cucina, and begged for them to lodge an official recipe that can he held for all time such that the human race does not forget how to make a Bolognese sauce.
Antonio Carluccio waded into this debate, suggesting that the British had destroyed ragú alla Bolognese, principally by sticking oregano and basil in it. Xanthe Clay, writing in the Telegraph in 2016, took on the might of Mr Carluccio and offered the idea that spaghetti bolognese as the Brits eat it is just analogous to our UK-originated curries – we adapted the recipe to the food we had around, and the tastes of the people eating it. This notion is supported by Felicity Cloake, who, in her usual style, spotted a food debate and researched and cooked the heck out of it. She worries that very simple ragú can end up like school dinners, rather than the expected hearty Italian sauce; and in her recipe, she ends up with something very similar to the recipe offered by Anna Del Conte in The Gastronomy of Italy where we have some nutmeg added to a dish that is started in butter.
In general, typical diversions from the original Bolognese include missing out the pork, using herbs, adding garlic, failure to use white wine, forgetting why the milk is there (it cuts the acidity from the wine and tomatoes) and (and this is the doozy) serving it with spaghetti. The people of Bologna don't even call the stuff 'Bolognese' in the same way that we don't call fish and chips 'British fish and chips.' To them, this is simply 'ragú,' and it is served with tagliatelle.
Pasta shapes are more important than a non-Italian might think. Pasta shapes are often chosen according to the ability of the sauce to stick to it. Ragú Bolognese sticks to tagliatelle. American chef, food writer and burger-science hound J Kenji López-Alt took us to task on Twitter and pointed out that the use of tagliatelle and other large-format pastas actually stems from the use of egg-based rather than water-based pastas in the north of Italy. Regardless of reason, tagliatelle is where's it's at for ragù.
Now, I am all for adapting things, and ragú is definitely adaptable. After all, much Italian cooking is of the 'like mama' variety where bustling mothers with stern faces add their own favourite touches, and sometimes things get added just because they are hanging around the kitchen and about to go off. But when you start to look among Italian ragú recipes for the things that never seem to move, some ingredients, it seems, just have to be there. At the very least, you must have celery, onions, carrot, pancetta ground beef, and tomatoes. Without those, you are not making a ragú. You are making a something, but ragú it is not. My mother used to grate the carrot, which is actually quite gross, but big chunks of it don't work either. The official recipe calls for a mezzaluna to chop the veg. I take that to mean 'very small,' like a mirepoix. The wine can be red, but I heard a radio show some time ago that suggested that really it ought to be white. Herbs are definitely not added. For the pancetta, diced will always beat trying to cook chopped-up sliced stuff from Tesco, but diced or whole can be hard to find in the UK. In another post, I will show you how to make bacon, which will forever fix this problem for you.
Our family have been eating a version of ragú Bolognese every since I can remember eating solid food. Our version comes from the Hamlyn All Colour Book Book, edited in 1970 by a young Mary Berry. This book is so hilariously of its time that the frontispiece includes 'A guide to metrication.' Twenty pages are given over to 'Continental favourites,' all of which are dishes that the newly jet-set and mobile English middle classes will have eaten on holiday and cooked with enthusiasm on their return. In here, you can gorge your Marbella-tanned belly with exotic things like moussaka, frankfurters with gherkins (I kid you not), quiche, vol au vent, duckling à l'orange, and of course – spaghetti bolognese (with a small 'b,' and penned by Audrey Ellis). My mother cooked from this book for years, and she gave me a copy when I left home, so we have continued to cook this version of spag bol in the Nosey kitchen. I think that one of the saving graces of the Audrey Ellis recipe is that it is so old, dating from a time when barely anyone went anywhere, it did not get tainted by casual familiarity. The basics are definitely there, plus a bay leaf, and less the milk. I tend to add a bit of Worcestershire sauce because that contains anchovies, which are in puttanesca and doing just fine, thank-you; and a wee bit of sugar, which pulls out the flavour of the tomatoes.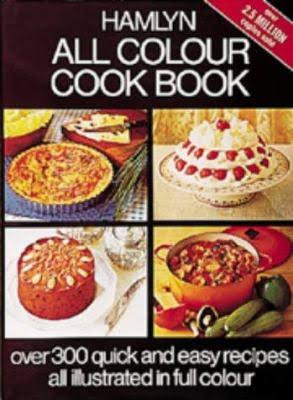 Of course, this runs against the point of the Nosey Chef, so I went and cooked the certified version, and found it lacking. It just does not have the complexity that we demand these days. This is disappointing because I was hoping to love the original. You can go and look at the original here, and then have a crack at our family favourite below, which retains the critical basics, but delivers a tastier end result. Finish with cream and nutmeg if liked.
I'd still serve it with tagliatelle though.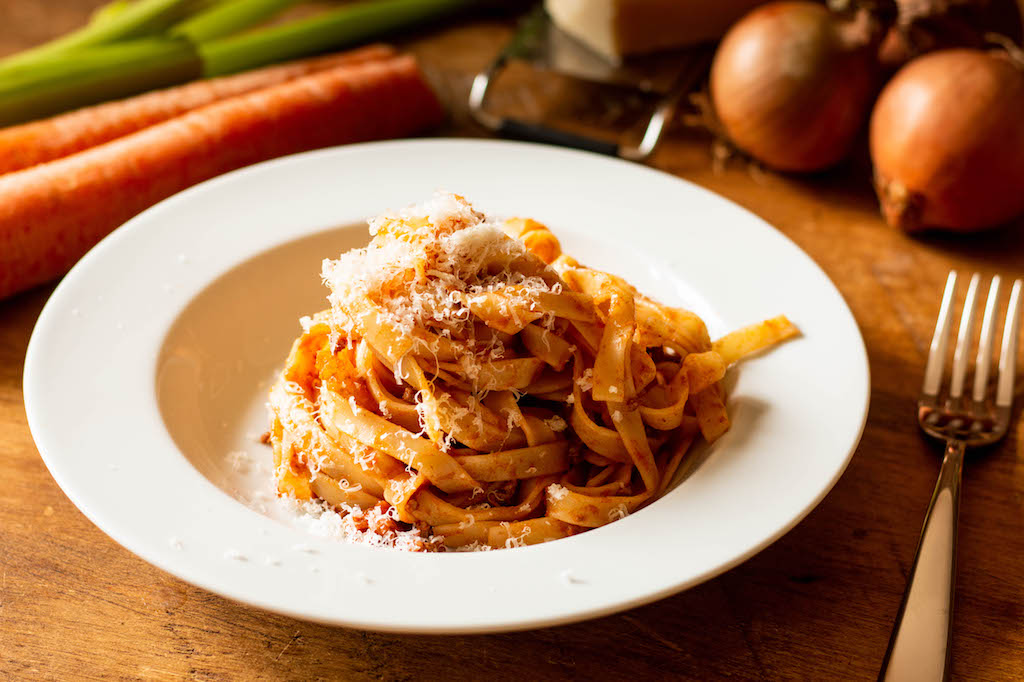 Print Recipe
Tagliatelle alla Bolognese
Ingredients
200g minced beef steak

200g minced pork

150g pancetta, diced (or bacon lardons)

1 large carrot, diced finely

2 celery stalks, split and diced finely

1 medium onion, diced finely

1 garlic clove, minced

400g can of chopped plum tomatoes

4 tbsp tomato purée

200ml beef stock

1 fresh bay leaf, torn once

Pinch of sugar

400g tagliatelle

Salt and freshly ground black pepper

1 tbsp chopped parsley

4 tbsp grated parmesan
Instructions
1
Put the pancetta in a cold saucepan, and melt the fat in (I use a Le Creuset cast iron casserole).
2
Add the vegetables and stew gently until softened. Add the garlic, and cook for 1 minute.
3
Add the meat added and leave on the stove, stirring constantly, until lightly browned.
4
Add the tomatoes, can juice, purée, stock, sugar and bay, and simmer for at least 1 hour, adjusting the seasoning as you go. If you want, now is the time to add a slug of Worcestershire sauce and watch Antonio Carluccio literally self-immolate.
5
At this point, letting the sauce cool with a lid on it for a while is always going to be good. Like any casserole it's better the next day.
6
Cook 400g tagliatelle in rolling salted water until al dente.
7
Combine the warmed sauce with the tagliatelle so that the quantities are about 60% pasta and 40% sauce. Mix thoroughly over the heat and serve with chopped parsley and grated parmesan.
Notes
You can keep any leftover sauce to make cannelloni or crespelle. It freezes well too.