Cookies arrived in America courtesy of the Dutch. In The Netherlands, bakers were making small treats called 'koekje,' meaning 'little cake. In a similar sense as flammekueche, Dutch bakers used to place small portions of cake batter in their ovens to test the temperature before baking a full cake. These small cakes eventually became cookies. Bicarbonate of soda was added as a raising agent, and this enabled domestic cooks to bang them out with ease.
I do not think it is possible to write about American cookies without mentioning the Girl Scout Association of America. Fundraising cookie sales have been a fundamental of the organisation since time immemorial. The GSUSA have their own cookie varieties on their web site, and GSUSA cookies have provided plot pivot points in sitcoms, dramas and corny porn films for decades.
USA cookies differ from British biscuits in their chewiness. USA cookies are barely set and not become crispy apart from their very outer crust. They certainly do not snap like a British biscuit. Making USA cookies involves mixing a batter and then rolling it into balls and allowing the heat of the oven to collapse them into a perfectly baked round. White chocolate is a favourite for my stepson, so that is my recipe today.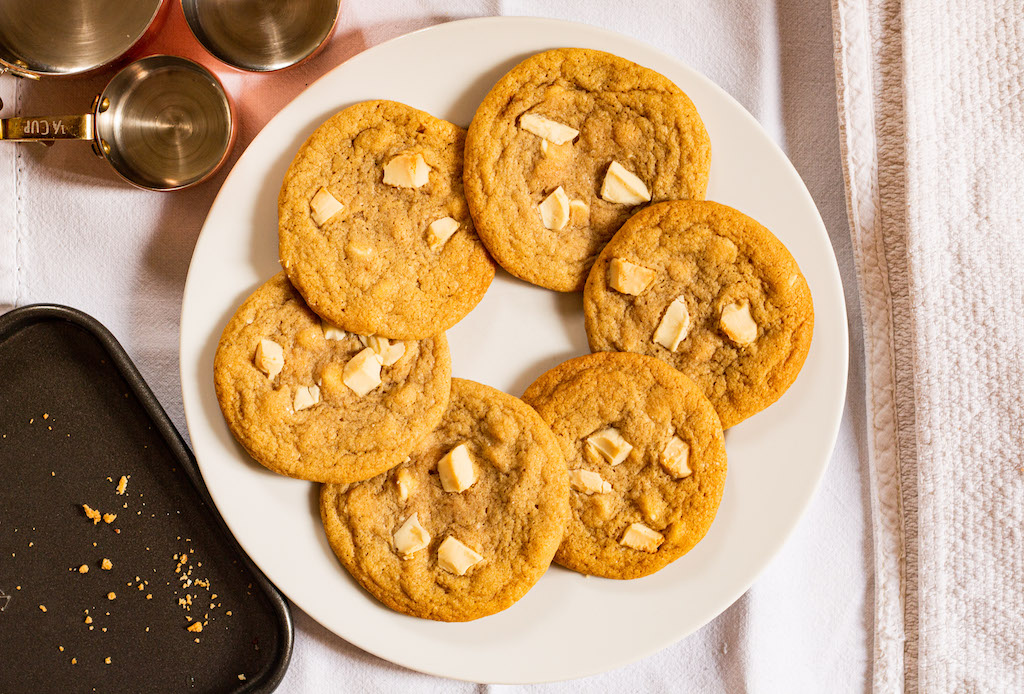 Print Recipe
White chocolate chip cookies
Ingredients
220g plain flour

1 tsp bicarbonate of soda

0.25 tsp salt

110g soft light brown sugar

70g caster sugar

110g unsalted butter (not cold)

1 egg (not cold)

1 tsp vanilla extract

250g white chocolate, chopped
Instructions
1
Mix the flour, bicarbonate of soda and salt in a bowl.
2
Cream the butter in a stand mixer with the sugar until pale in colour. Whisk in the egg and vanilla.
3
Fold in the flour mixture with a spatula to form a crumbly dough. Chill 1 hour. Divide and shape the dough into 18 balls and chill again for 1 hour.
4
Preheat an oven to 180ºC (fan 170ºC).
5
Space out the chilled cookie dough balls on a large baking tray. Dot over with the chopped chocolate.
6
Bake for 8–10 minutes until thick and golden. Cool a little on the tray so they don't fall apart. Transfer to a wire rack to cool completely.