Stuffed Provençale tomatoes.
Tomates à la Provençale hail from Provence region of France. The dish consists of ripe tomatoes stuffed with a mixture of bread crumbs, garlic, herbs, and olive oil, and then baked off in a medium oven.
The origin of Provençal tomatoes is unclear, but they are understood to be a product of Provençal farmers wishing to make more of their abundant tomato harvest.
The recipes for Provençal tomatoes are many and varied. Some recipes call for anchovies or capers, while others use different herbs like thyme or rosemary. Regardless of the variations, the dish remains a beloved and iconic part of Provençal cuisine.
Today, Provencal tomatoes are enjoyed not only in France but also in many other parts of the world, where they are often served as a side dish or in quantity as a vegetarian main course.
The recipe given here is lightly adapted from that of Auguste Escoffier. A spoon of 'fatty daube beef gravy' is swapped for demi glace. Boullion is swapped for a cow-fortified vegetable stock.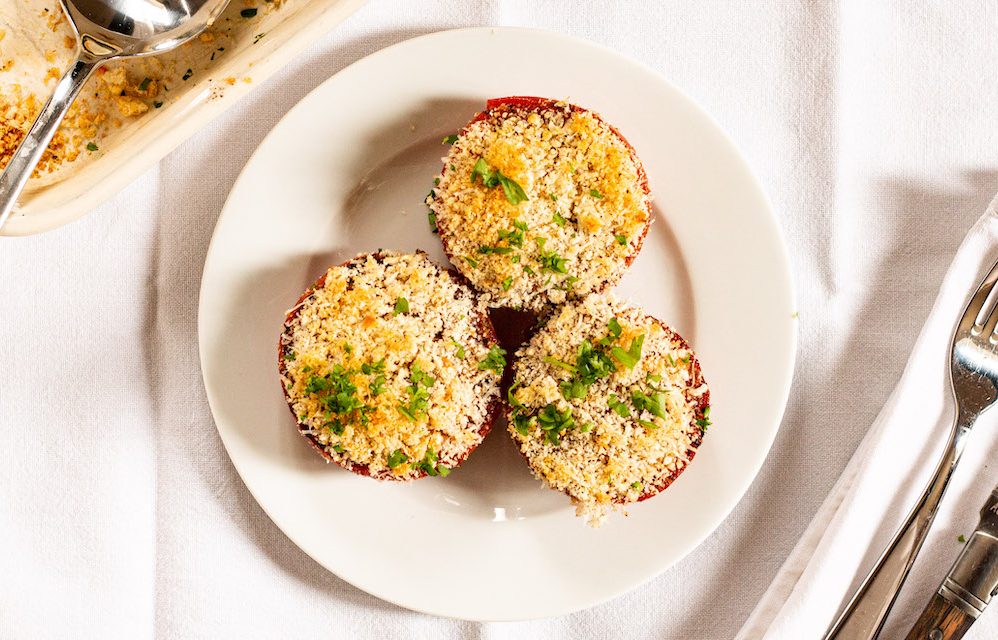 Print Recipe
Tomates farcies à la Provençale
Ingredients
For the tomatoes:

3 large tomatoes

2 tbsp olive oil

Sea salt and freshly ground black pepper

For the filling:

1 tbsp olive oil

Half an onion, finely chopped

3 tomatoes, de-seeded and chopped quite small

1 clove garlic, chopped

1 tsp of parsley, finely chopped

3 tbsp breadcrumbs

3 anchovy fillets, chopped

100ml vegetable stock

2 tsp demi glace

Sea salt and freshly ground black pepper

For the crust:

3 tbsp breadcrumbs

2 tbsp Parmesan, grated

Freshly ground black pepper

1 tbsp fresh parsley, finely chopped
Instructions
1
Cut the tomatoes in half laterally. Scoop out the seeds and liquid and discard. Season. Heat the olive oil in a frying pan and sear the tomatoes cut side down until browned. Flip them over and briefly cook the other side. Remove to an earthenware dish.
2
Heat the olive oil in a small pan and add the onions. Cook on medium until coloured and soft. Add the tomatoes, parsley, garlic and half of the demi glace. Simmer covered for 10 minutes until the tomatoes have broken down.
3
Meanwhile, warm the stock and whisk in the remaining demi glace. Add the breadcrumbs to soak them and drain. Add the anchovies to the breadcrumbs and pass everything through a sieve into the pan with the tomatoes. Season to taste.
4
Spoon the filling into the tomato halves and pack down to get as much in as possible.
6
Mix the breadcrumbs with the Parmesan and season with a little black pepper. Sprinkle the mixture over the tomatoes and cook in the oven for about 12 minutes until golden. Cast over a bit of chopped parsley to serve.