Salade Parisienne is a simple affair built from lettuce, potatoes, ham, eggs and possibly cheese. Mushrooms are very common too. When looking for a fundamental, basic recipe for salade Parisienne, I was hampered by an awful lot of variations. The version written by Escoffer in Le Guide Culinaire is essentially lightly pickled sliced potato. From there, things get messy. I spent some time looking at about thirty recipes for salade Parisienne before deciding that the things that have to be in there are lettuce, potatoes, ham and eggs. The cheese seems optional, but when it is there, it is nearly always Emmental. Oddly, Gruyere never gets a look in. Other common items include oniony things (blanched white onion, shallots and chives), tomatoes, cooked French (green) beans and parsley. The dressing can also vary a bit, but mostly it is the classic French dressing of vinaigrette mixed with Dijon mustard.
The recipe given here is the synthesis of all that, and can stand up as a proper salade Parisienne (I hope).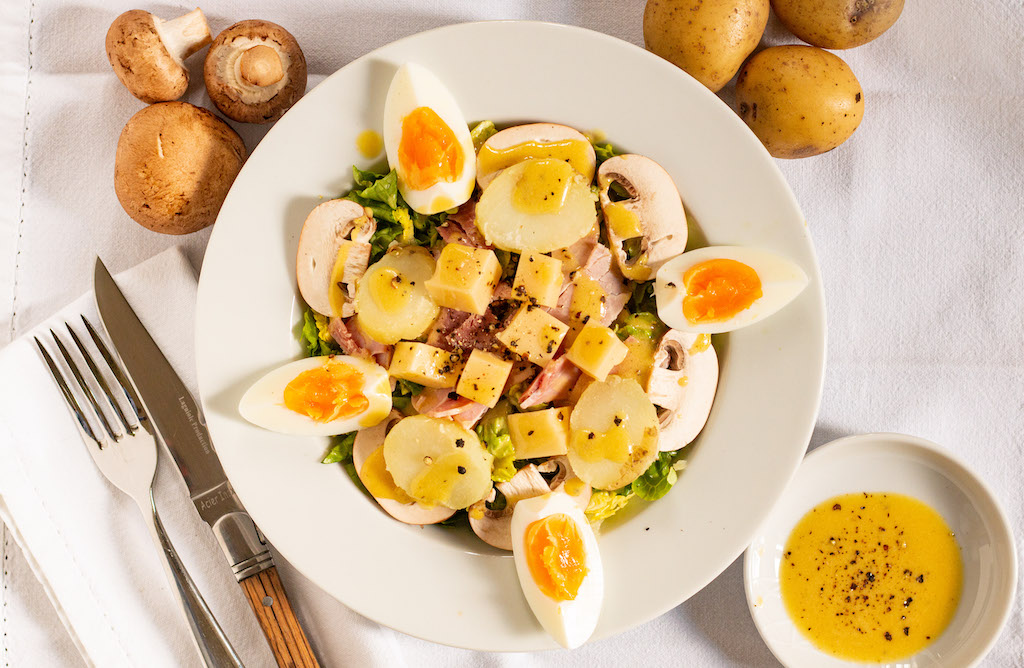 Print Recipe
Ingredients
For the salad:

6 new potatoes, steamed and sliced

4 eggs, boiled, peeled and sliced

2 gem lettuce, shredded

4 slices of dry-cured ham, sliced

Sea salt and freshly ground black pepper

200g Emmental cheese, cubed

200g mushrooms, wiped and sliced

For the dressing:

3 tbsp olive oil

1 tbsp white wine vinegar

Dijon mustard to taste
Instructions
1
Arrange all the salad ingredients nicely on plates and season lightly.
2
To make the dressing, whisk or shake the oil and vinegar together, and then whisk or shake in mustard by degrees until it is to your liking. Pour over the salad.