Fazzoletti exists principally as a pasta dish. The idea is that the pasta is folded over a filling into triangles that resemble handkerchiefs. The Italian for handkerchief is 'fazzoletto.'
There is another version of fazzoletti in which pancakes are folded over a filling and baked off with a béchamel sauce 'al forno.' In the pancake format, fazzoletti are a great way to use up leftover sauces. In this version, we take leftover ragu alla Bolognese and turn it into a lasagne-like mid-week supper.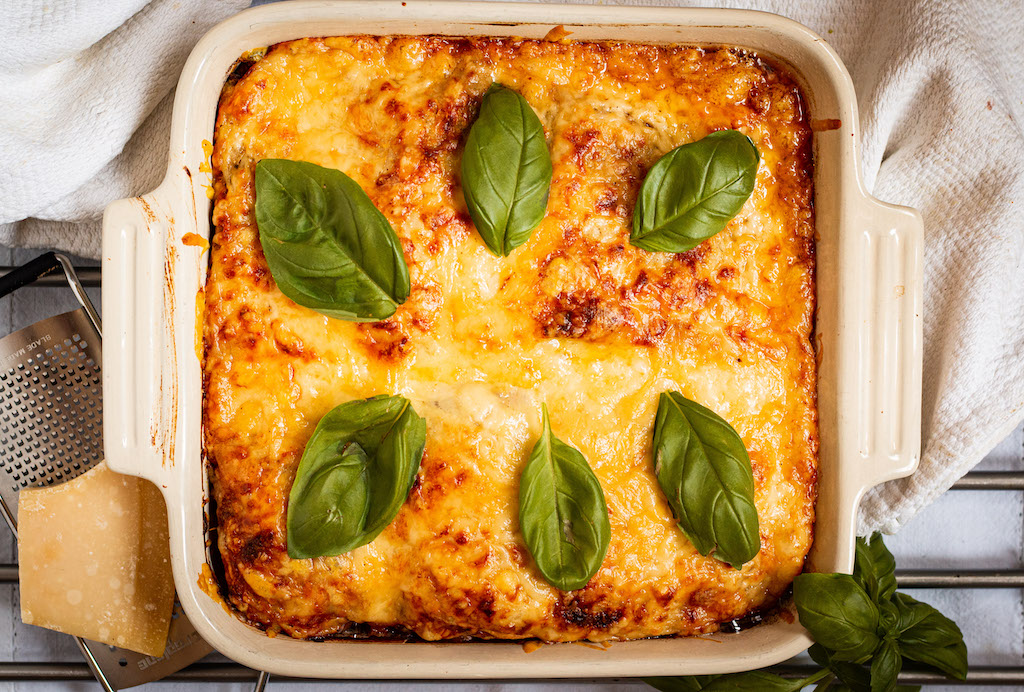 Print Recipe
Fazzoletti alla Bolognese
Ingredients
For the Bolognese sauce:

200g minced beef steak

200g minced pork

150g pancetta, diced (or bacon lardons)

1 large carrot, diced finely

2 celery stalks, split and diced finely

1 medium onion, diced finely

1 garlic clove, minced

400g can of chopped plum tomatoes

4 tbsp tomato purée

200ml beef stock

1 fresh bay leaf, torn once

Pinch of sugar

Salt and freshly ground black pepper

For the béchamel sauce:

30g flour

30g butter

500ml milk

1 onion, halved and studded with 12 cloves

2 bay leaves

A small piece of mace

Whole nutmeg

For the pancakes:

300g plain flour

6 eggs

900ml milk

Pinch of salt

Drizzle of oil

For the assembly:

400g Gruyere grated
Instructions
1
Place the pancetta in a cold saucepan, and melt the fat in (I use a Le Creuset cast iron casserole). Add the vegetables and stew gently until softened (add some olive oil if everything is a bit dry). Add the garlic, and cook for 1 minute. Add the meat added and leave on the stove, stirring constantly, until lightly browned. Add the tomatoes, can juice, purée, stock, sugar and bay, and simmer for at least 1 hour, adjusting the seasoning as you go. At this point, letting the sauce cool with a lid on it for a while is always going to be good. Like any casserole it's better the next day.
2
Start by warming the milk with the onion, bay and mace. Leave to cool and infuse. Melt the butter, add the flour and cook for a minute or so. Start slowly adding the milk but by bit without boiling until all the milk is used, and the sauce is thick and creamy. Season and grate in a little nutmeg. You can set the sauce aside without a skin forming if you cover the surface of the sauce with some cling wrap.
3
Combine the wet ingredients. Whisk in half the flour. Gradually add the remainder, whisking to maintain the smooth texture.
4
Heat a small amok of oil in a pancake pan and wipe around with kitchen paper. Pour in a ladle of batter and turn the pan to coat evenly. Cook on one sire until browned, flip and repeat. Set aside on a plate.
5
Repeat for all the pancakes until you have about 18 of them. Separate each pancake on the plate with a piece of kitchen paper.
6
Heat an oven to 220°C. Put a spoonful of sauce close to the edge of one pancake. Fold over in half and in quarter. Place in a gratin dish. Repeat for all the other pancakes.
7
Pour over the béchamel sauce. Sprinkle over with the cheese.
8
Bake in the oven for 30–35 mins until browned.
Notes
Domestic cooks would do well to make the Bolognese one evening to have with tagliatelle, and then freeze or chill the leftovers to make fazzoletti later in the same week. For two, you need about 250g sauce, six pancakes and half a pint of béchamel.