Spätzle comes from the Swabian area of Germany, right in the south of the country, and are exactly the same thing as Hungarian nokedli. In that part of the world, the Germanic peoples are in direct contact with the Swiss and the Italians. In the times before borders existed, it seems impossible that the idea of 'pasta' would not have leaked up, down, left and right. This is where we get spätzle from – it is a German pasta, but it is an awful lot easier to make than any Italian preparation. Spätzle was first recorded in 1725, but is likely to be a lot older than that.
In essence, spätzle is a rough-form pasta. The idea is to make a thick batter, and force that through a holed screen into salted boiling water. The best screens are large-hole, paddle-style cheese graters, colanders and dedicated spätzle makers.
When making spätzle, the key thing to remember is that there is no recipe. The idea is to combine six eggs per four eaters with 250ml of liquid (water or milk or a combination of both), and the flour added until you get a batter the only just drops off a whisk. You can add seasoning and herbs at this point, but none of this is necessary, because spätzle is flavoured in its second cooking step, like its parent pasta.
Finished spätzle can be tossed in butter, herbs and seasoning. Cheese may be added, and the whole dish is nice topped with crispy fried onions.
There are a bunch of common variations to spätzle batter preparation (parsley, cayenne pepper, nutmeg), but we have found that all of these come from America. There is something of a theme among commentators who suggest that someone who cannot pronounce 'spätzle' should not be trying to teach the recipe. When we looked for a German recipe from a German chef teaching in German in Germany (and that takes some finding, let me tell you), we found that the MO in der Vaterland is to make it plain, and use the sauce to add flavour – many of sauce flavourings are the same ingredients the Americans are adding to the batter. We have provided a plain recipe here, and feel free to muck about with it to your Herz content.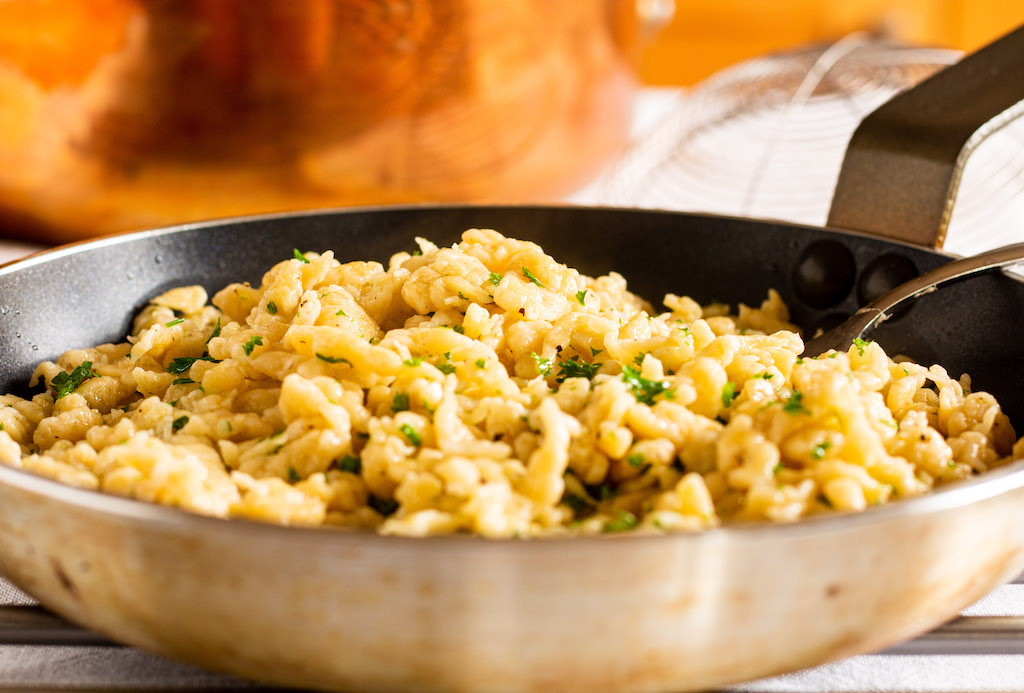 Print Recipe
Ingredients
6 eggs

250ml water

Plain flour
Instructions
1
Beat the eggs with the liquid. Add flour while beating smooth until a thick batter forms that only just drops off the whisk.
2
Boil a pan of salted water. A bit at a time, scoop the batter onto the back of a paddle-style cheese grater and force the batter through with a silicone spatula.
3
Once the spätzle float, they are done. Scoop them out with a slotted spoon and remove to a bowl while you cook the rest. It can help to add a bit of olive oil to the cooked, waiting spätzle to stop them sticking together.
4
To finish the spätzle, heat a frying pan with butter, lob in the spätzle and season/sauce however you like. Common additions are pepper, nutmeg parsley and cheese.
Notes
The water in this recipe is routinely swapped for milk or beer.