Sorbet is ancient – really ancient. It appears to date from about 3000 years BC in Persia. At its greatest extent, the Persian Empire extended as far as the snow-capped Caucasus Mountains in modern-day Russia. With ready access to ice and snow, the early Persians would mix it with fruit juices to make refreshing delicacies. Later, the Egyptian Pharaohs would show off by serving flavoured ice to visitors who were meant to be awestruck by the ruinously expensive practice of dragging ice from distant, high mountains to the blazing hot sun of Alexandra.
The Europeanisation of sorbet is attributed to Marco Polo, who encountered flavoured ice on his travels, and took the idea back to Italy.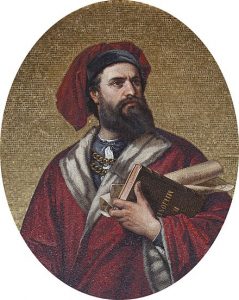 Once on the streets of Rome, flavoured ice was refined into the glorious range of sorbet's enjoyed today.
If there is one classic sorbet from which all others are but children, it is the lemon kind. After a bit of experimentation we hit on a ratio of 2:1 water:sugar. 1:1 is offered elsewhere, but it is way too sweet.
Print Recipe
Ingredients
500ml water

250g caster sugar

Juice of 6 lemons

Large piece of lemon peel
Instructions
1
Place all the ingredients in a pan. Heat to dissolve the sugar. Discard the peel, cool, churn in an ice cream maker (takes about 1 hour), box and freeze for a few more hours.