Tomatoes are not Indian. They are not even European. Tomatoes come from the Aztec Empire, west of the Andes in modern-day Peru and Chile. The route for tomato infiltration of Indian/Pakistani food follows the 16th Century spice trade when the Spanish and Portuguese conquistadors shipped plant and seed from the New World to Europe … and then onwards to eastern colonies willing to trade spice.
As in Europe, it took a long time for Asian cooks to accept the tomato, but once they did, the fruit transformed Indian cooking. Many dishes now use it – some controversially. In a cuisine that is essentially devoid of French-style stocks, tomatoes provide a source of liquid as they break down – especially in vegetarian dishes where there is no animal fat to render out. Salt is added to tomatoes to accelerate the process of collapse.
The tomato curry given here leans heavily on a recipe by Simon Hopkinson found in his compilation of Independent articles published as Week In Week Out. It is perfect on its own as a lunch, and perfectly serviceable as a starter or side for an evening meal – or as part of a trio of vegetarian curries for a meat-free feast.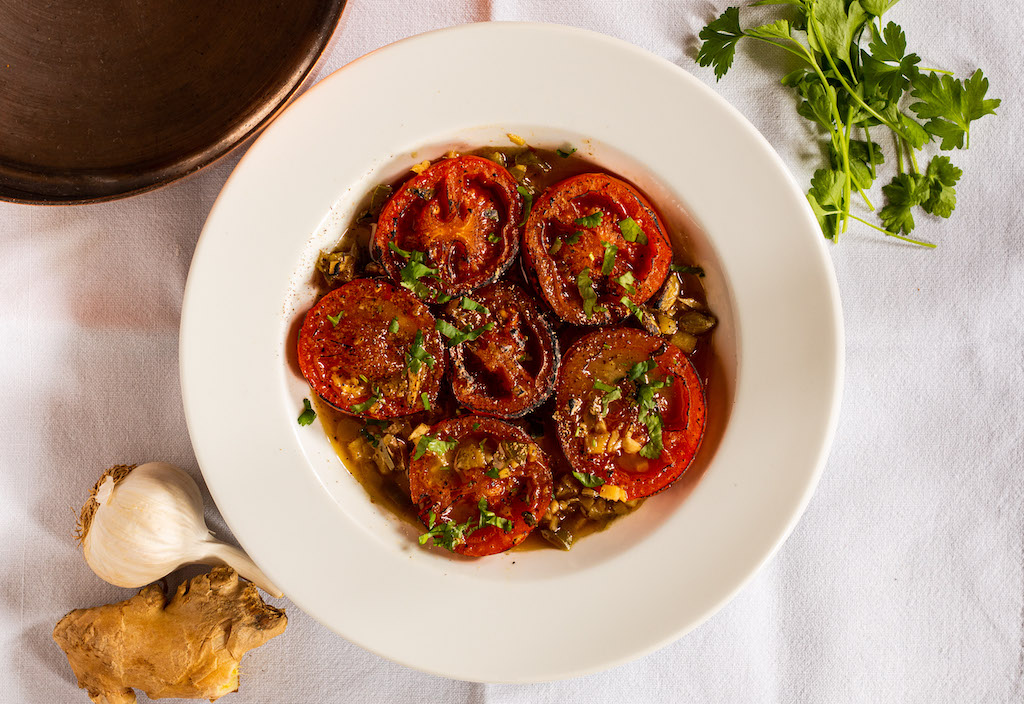 Print Recipe
Ingredients
50g butter

2 tbsp groundnut oil

1 thumb-sized piece of fresh ginger, peeled and chopped

2 garlic cloves, sliced

1 green chilli, chopped, seeds and all

1 tsp ground cumin

6 cardamom pods, whole

10–12 salad tomatoes, halved equatorially

70ml coconut milk

Juice of half a lime

1 handful of fresh coriander, chopped

Sea salt and freshly ground black pepper
Instructions
1
Heat the butter and oil in a large sauté pan. Add the garlic, ginger and spices and cook gently for about 5 mins.
2
Arrange the tomatoes on top, cut side up and season. Pour over the coconut milk, cover and cook on mega-low for 35 mins, basting now and then with the developing juices.
3
Once cooked, squeeze over the lime, and garnish with coriander. Serve directly to the table in the pan.