Röstis originate from 16th Century Bern where they were a traditional breakfast dish for agricultural workers. Spread all around Germanic Europe, they are often eaten as a side dish to spinach and eggs, sausages and meat loaf. Rösti are now considered to be the national dish of Switzerland. The border between German and French-speaking parts of Switzerland (around Freiburg) has been known as the 'Röstigraben,' or 'Rösti ditch' since World War 1. The term 'Röstigraben' is frequently used to describe cultural and political differences between French- and German-speaking Switzerland.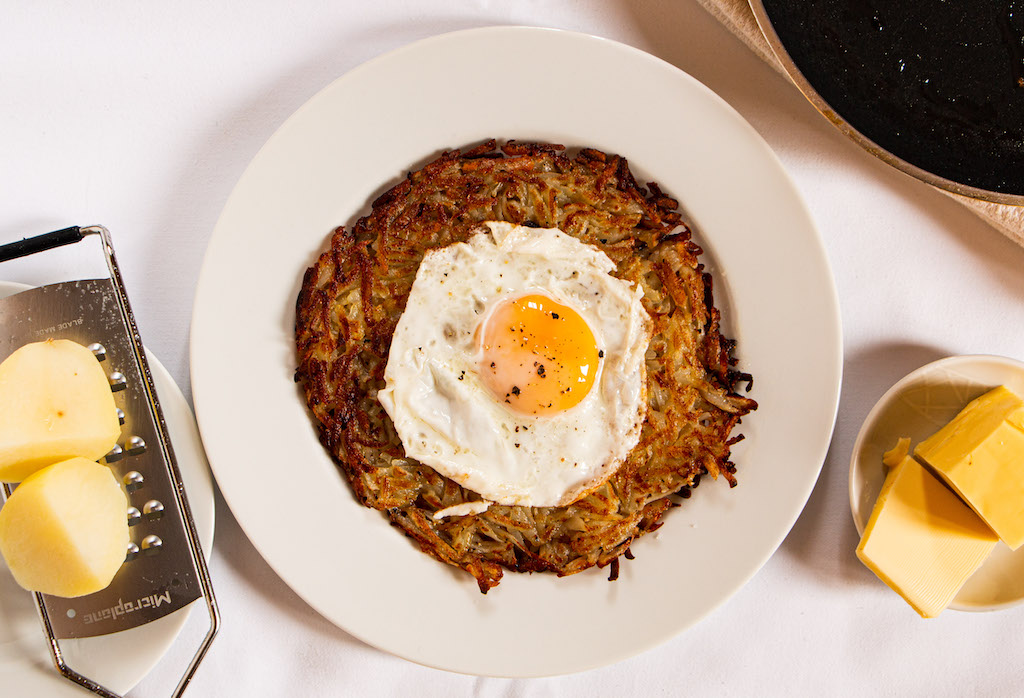 Print Recipe
Ingredients
2 potatoes, peeled and halved

1 tbsp butter

1 tbsp duck or goose fat

Sea salt and freshly ground black pepper
Instructions
1
Parboil the potatoes for 6 mins. Drain and cool completely.
2
Grate the potatoes and season.
3
Heat half the fat in a small frying pan and add the grated potato. Toss in the oil and cook for a minute before arranging and flattening into a cake. Cook for about 10 mins on a medium heat until golden, shaking the pan now and then to make sure the rösti does not stick.
4
To turn the rösti over, slide it out onto a plate, put another plate on top and flip over. Heat the remaining fat in the pan and slide the rösti back in to cook the other side.
Notes
As a quick lunch, a rösti is perfect with a fried egg on top.