Also known as 'fuyong dan,' egg foo young has a relatively recent history dating from the 1800s. The dish is most popular in the United States, where it appears on nearly every Chinese restaurant menu, despite being originally a breakfast thing.
If the dish has an Oriental origin at all, then it may be from Indonesia where it was prepared by Chinese cooks. These Chinese may have been from Shanghai where there was popular dish of beaten egg whites and minced ham, which may have been named after the lotus flower. There are a lot of 'mays' in that – probably because folks frequenting Chinese takeaways have wishful thinking that egg foo yung is authentically Chinese, when it most likely is not.
So far as European parallels go, it is probably most similar to a Spanish omelette, but it is cooked in a wok by gradually adhering an egg/vegetable milieu to the sides of the pan. In that way, egg foo yung gains credence as a Western dish cooked by Chinese chefs, in that it is exactly what you would get if you described an omelette to someone armed only with a wok, some chopsticks and a fuck-off hot fire.
Ignore any hope of stylish presentation with egg foo yung as the omelette is turned over in the pan in chunks. It's a mess.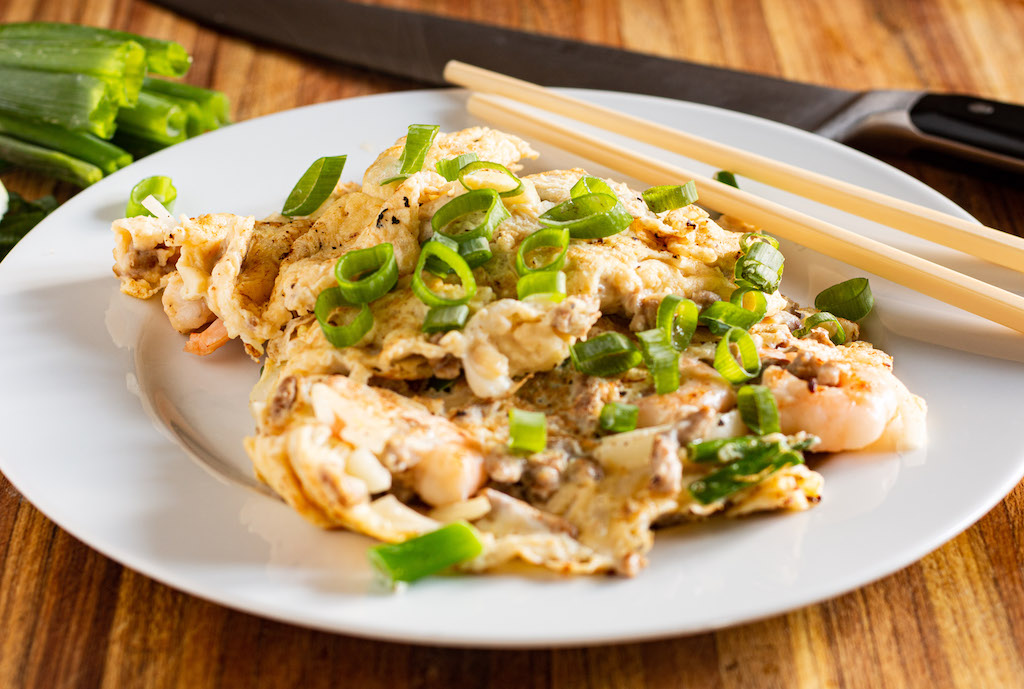 Print Recipe
Ingredients
For the marinade:

100g raw shrimp

100g pork mince

Half tsp salt

1 tsp cornflour

Half tsp sugar

Dash of soy sauce

Half tsp xiaoxing wine

Half tsp groundnut oil

For the eggs:

5 eggs, beaten

1 tsp salt

Half tsp sugar

Half tsp white pepper, ground

1 tsp groundnut oil

2 tsp cornflour

To cook:

2 spring onions, cut into batons

Quarter white onion sliced

Groundnut oil

Pinch of MSG
Instructions
1
Begin by marinating the protein. Mix the shrimp with half the salt and half the cornstarch. Mix the remainder of the ingredients with the minced pork. Rest for 15 mins.
2
Mix the egg ingredients together and ensure there is no uncombined egg white.
3
Heat a wok with a little oil until very hot. Fry the pork for 1 minutes. Add the shrimp and cook for a further 30 seconds. Remove the meat to a bowl to cool and wipe out the wok.
4
Once the meat is cooled enough to avoid scrambling the eggs, add it to the eggs along with both types of onion and mix well.
5
Reheat the wok with a little more oil, and add the egg/meat mixture. Sprinkle in the MSG and cook by pushing the uncooked eggs out to the sides until barely set up the sides of the wok. Cut the omelette up and turn it over in chunks to cook the other side until lightly browned. Serve.