The history of the frittata is as old as the discovery that cracked eggs would cook on a hot stone. The frittata and the omelette are the same basic idea, and if they have any non-Europeans origin at all, then they may be Moorish.
At any rate, a fritatta is an omelette with non-egg ingredients added, and the particular thick-format style described in the recipe here became separate from the omelette some time in the 1950s. Frittatas are cooked for much longer than an omelette, and certainly waaaaay longer than a classic French omelette.
In Spain, frittatas are not really considered to be a dish in their own right. You may find small slices as a tapas, but they are really just a means of using leftovers or curing hangovers.
Student food at its best.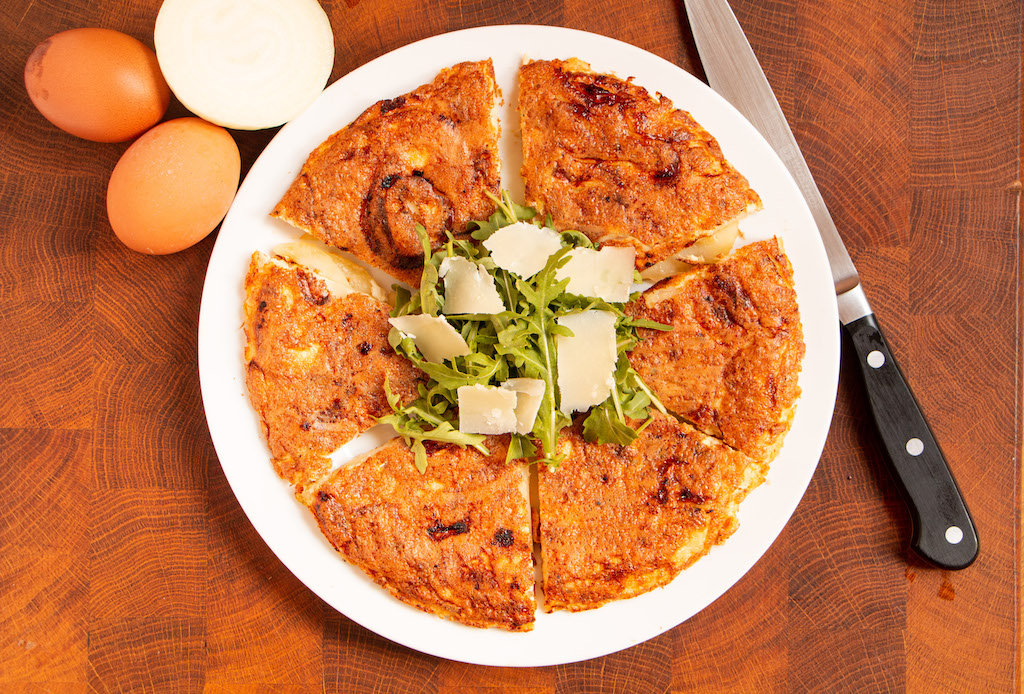 Print Recipe
Ingredients
2 tbsp olive oil

1 onion, thinly sliced

200g potatoes, thinly sliced

5 eggs, beaten

Sea salt and freshly ground black pepper
Instructions
1
Heat half the oil in a frying pan, toss in the onion and potatoes, season and cook covered on low for about 15 mins until tender. Allow to cool slightly so they do not scramble the eggs in the next step ...
2
Mix the onions and potatoes in with the eggs. Heat the remainder of the oil in the pan and pour in the egg mixture. Cook on low for 25 mins, tickling the edge with a spatula now and then.
3
At this point, you can make either a frittata or a tortilla. To make a frittata, pop the pan in an oven at 200˚C for a few minutes, or set it under a hot grill to cook the top of the eggs. To make a tortilla, turn the egg cake out onto a flat lid or plate and return the the pan upside down to finish the cooking.
Notes
The defining feature of a fritatta is 'eggs and something else.' Mix it up by using tomatoes, sliced bell peppers, mushrooms, herbs or chilli.