'Ffagodau Cymru' is the dish that could get us banned from Google. The snowflake brigade in Mountain View, California take a dim view of the word 'faggot.' So much so that they took down advertising for faggots served by Fanny's Rest Stop Café in Newport, Gwent citing 'offensive language.' Knowing the Americans, they will have zeroed in on the term 'faggot,' while ignoring the fact that in the UK 'fanny' is way worse as it is frequently used as a slightly less offensive way of saying 'c**t.' The US use 'fanny' for 'hiney' (we say 'arse').
There you go, Google chew on that lot.
Faggots have their origins in the noble pursuit of nose-to-tail eating. They predominate in the West Midlands and Wales areas of the UK. Between those two regions, there appears to be a split on whether caul fat (the fat from around the kidneys) is used to wrap the faggots in as they cook. From looking at a lot of recipes and videos on the subject, I have come to the conclusion that caul fat is nearly always used in the West Midlands, and is only sometimes used in Wales. In Newport in particular, there was an influx of Birmingham engineers and miners in the 1950s, and that may explain why there is no clear demarcation for caul fat use.
Our recipe was given to us by a friend who has spent an awful lot of time cooking end eating in domestic kitchens in Wales. The recipe is very simple, and requires no frippery. Quantities are approximate, and there is no caul fat.
Fanny's Rest Stop Café can be found at 116 Alexandra Rd, Newport, Gwent NP20 2JG, UK. The menu can be seen here.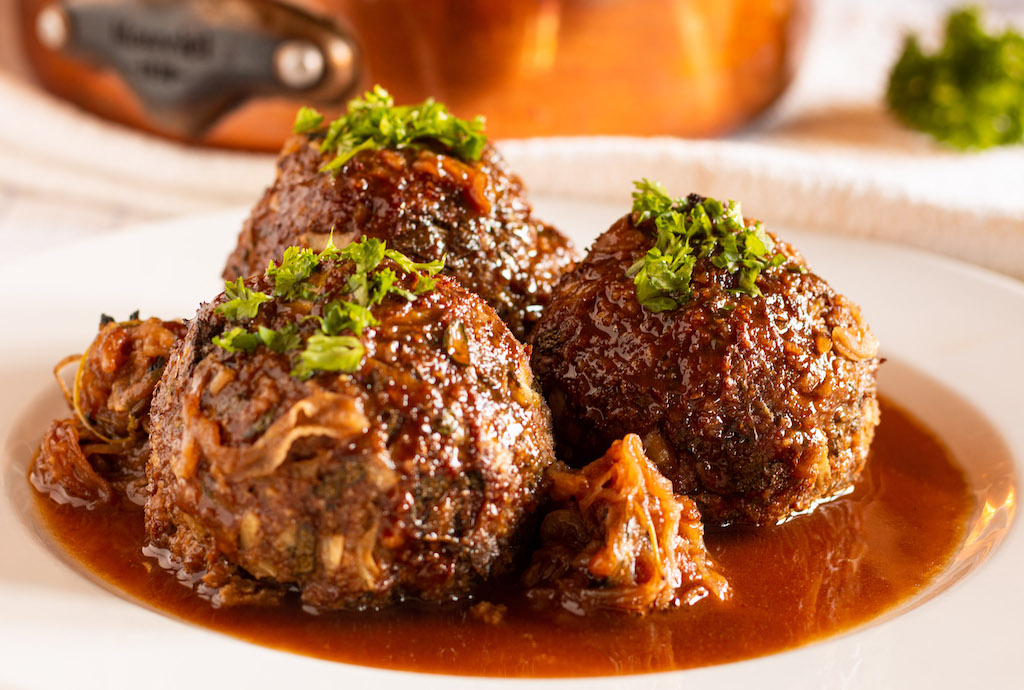 Print Recipe
Ingredients
400g lamb liver, minced

Fresh breadcrumbs in the same volume as the mince

Onion, finely chopped in one third the volume of the combined mince and breadcrumb volume

Handful of fresh sage, chopped

Sprig of thyme, chopped

Sea salt and freshly ground white pepper

A jug of your favourite gravy.
Instructions
2
Combine all the ingredients into an evenly mixed ball. Use your hands to help warm the fat in the liver to enable everything to stick together.
3
Portion the mixture out into about 12 balls (two per diner). Place the faggots in a shallow earthenware dish and bake in the oven for 25 mins.
4
Meanwhile make whatever gravy or sauce you like to have (see notes).
5
After the faggots have been cooking for 25 mins, pull them out of the oven, pour the gravy over them and return them to the oven for another 10 mins.
6
Serve faggots with mashed potato and mashed swede/turnip. Peas are popular too.
Notes
Faggots are often served with onions, so it makes sense to make an onion gravy. When we did these, we fried onions in butter, added white wine and thyme, reduced that to near zero and then added a bit of demi-glace. That was reduced a bit and the sauce was finished with butter. That is a French-style sauce and would never be made in Wales. If you like Bisto, do Bisto.