Balti food is associated with the Baltistan area of northern Pakistan in the Karakoram Himalaya, which includes the Baltoro Glacier – gateway to the 8,000-metre mountain behemoths K2 and Gasherbrum I. Up there, in the freezing danger of the world's highest mountains, Balti porters, known for their incredible hardiness, carry the supplies needed for Western adventurers to fulfil their high-altitude dreams. When the porters stop to eat, out comes the large 'korai' pan, and local goat and mutton is cooked in spices before being eaten with the hands using flatbreads as a utensil. In an Indian/Pakistani/Bangladeshi restaurant with a 'balti' on the menu, the term is interchangable with the word 'korai.'
In this way, Balti cooking is more to do with the method of preparation and style of eating than with the ingredients used.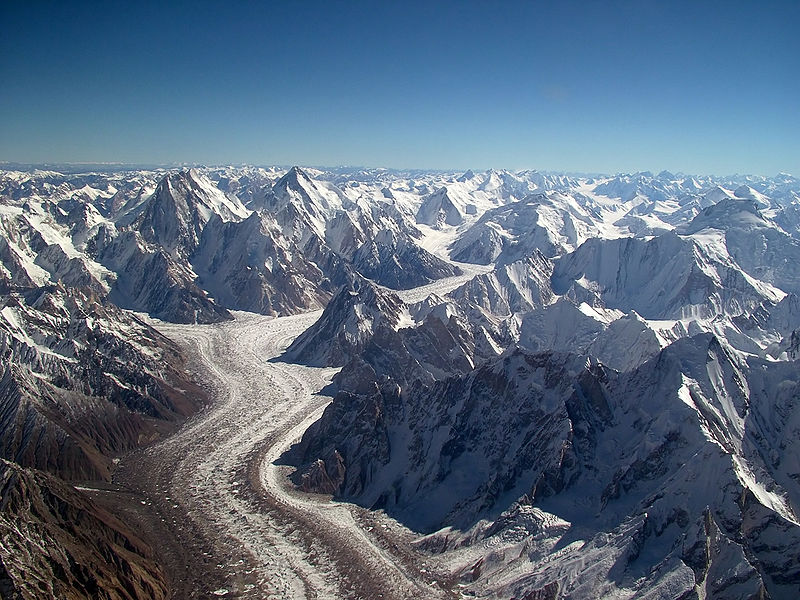 In the UK, where we have taken curry as our own, the most popular 'Balti' dish is balti gosht, which translates to a dish slow-cooked in the style of Baltistan. However, the pattern of cooking a balti gosht follows that of any curry, and the ingredients are all familiar to anyone who make have cooked, say, a rogan josh from neighbouring Kashmir. Indian food expert Colleen Taylor Sen has pointed out that the balti gosht we have all come to love bears no resemblance to food actually made in Baltistan, and suggests that 'balti' means 'bucket' in Hindi, and that is just the way of describing the pot ('korai') which really brings us back full circle with no idea where the balti gosht came from.
In the UK, the cradle of 'Balti' cuisine is the triangle of streets bounded by Ladypool Road, Stoney Lane and Stratford Road in the B12 district of Birmingham. Food is served to the table for sharing, including the required flatbreads. Some say that you cannot get a proper Balti anywhere outside of this area.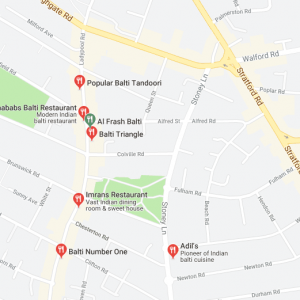 In the 'Balti Triangle' you will find Adil's, which markets itself as the origin of Balti cooking in the UK. Importantly, some believe that it was this restaurant that invented the Balti gosht in 1977. This makes 'Balti' as a dish rather than a method solidly British.
The recipe we have here is a combination of a dish by Pakistani television chef, host, hotelier and food personality Zakir Qureshi, with the tutelage of Atul Kochhar added to it. We follow the idea of chef Zakir's dish, translate the quantities, and use the cooking sequence taught to us by chef Atul.
For a proper British Balti, you can visit Adil's at 148–150 Stoney Lane, Birmingham B12 8AJ. Call +44 121 499 0335 for a reservation or visit aldibalti.co.uk.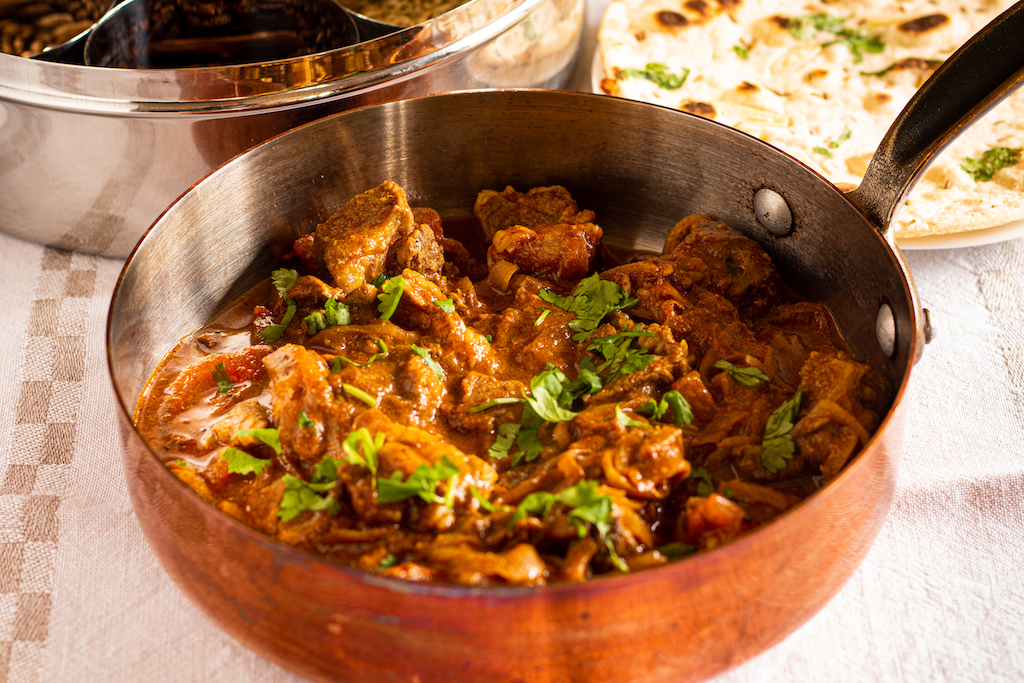 Print Recipe
Ingredients
1kg goat, mutton, hogget or lamb (neck and other tough, fatty bits), diced

2 tbsp neutral oil

2 tsp cumin seed, toasted and lightly crushed

2 tsp coriander seed, toasted and lightly crushed

2 onions finely sliced

3 tbsp ginger-garlic paste

8 tomatoes, blanched, peeled and roughly chopped

250ml natural yoghurt (do not use Greek-style yoghurt – it will split when cooked)

1–2 tsp ground black pepper

1 tsp ground allspice

1 tsp ground turmeric

2 tsp garam masala

Squeeze of lemon juice

4 tbsp tomato puree

2 green chillies, chopped (optional for a spicy version)

Bunch of coriander leaves, roughly chopped
Instructions
1
Heat the oil in a large pan (or korai) and add whole spices. Cook them until they just start to crackle. Add the sliced onions and a good pinch of salt. Cook the onions on medium until brown and soft.
2
Add the ginger-garlic paste and cook in for a minute or so. Turn the heat up, add the meat and get it sealed on all sides. Add all the powdered spices and cook for 5 minutes.
3
Add the tomatoes, heat through and then add the yoghurt, lemon juice, tomato puree and chillies (if liked).
4
Cook on low until the meat is cooked through – about 15 mins (this works for lamb – goat and mutton need a much longer period). Alternatively, transfer the whole lot to a slow cooker and leave it on auto for a few hours (at least 5h) – this is definitely the way to go if using mutton or goat as opposed to lamb. If you do not have a slow cooker and are using mutton or goat, then cover and stick in the oven at 120˚C for a few hours, and make sure it does not dry out.
5
Add the coriander leaves right at the end to serve.
Notes
Balti dishes are traditionally served straight from the korai with a flatbread to eat them with. No rice, no cutlery.