The invention of pistachio ice cream is credited to James Wood Parkinson, which is said to have come up with the idea in Philadelphia, USA in 1940. At the time, Philadelphia ice cream was made differently to French ice cream. In the States, the recipe was simply churned milk, cream, sugar and flavourings. There was no custard step. But the popularity of pistachio ice cream meant that European ice cream makers started to add pistachio flavours to their own, custardy ice creams.
In his reference volume Cook School, chef Nick Nairn has a recipe for vanilla ice cream that also adds glucose syrup. I have been making this recipe for years without really understanding why the glucose is used instead of normal sugar.
So I asked Chef Nick: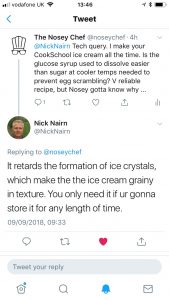 Well I never. Nick told me that it enables a home cook to store ice cream for longer than if using sugar alone. That explains why this recipe is so reliable. Here, we adapt the Nairn method to pistachio nuts.
Thanks of course to Nick Nairn.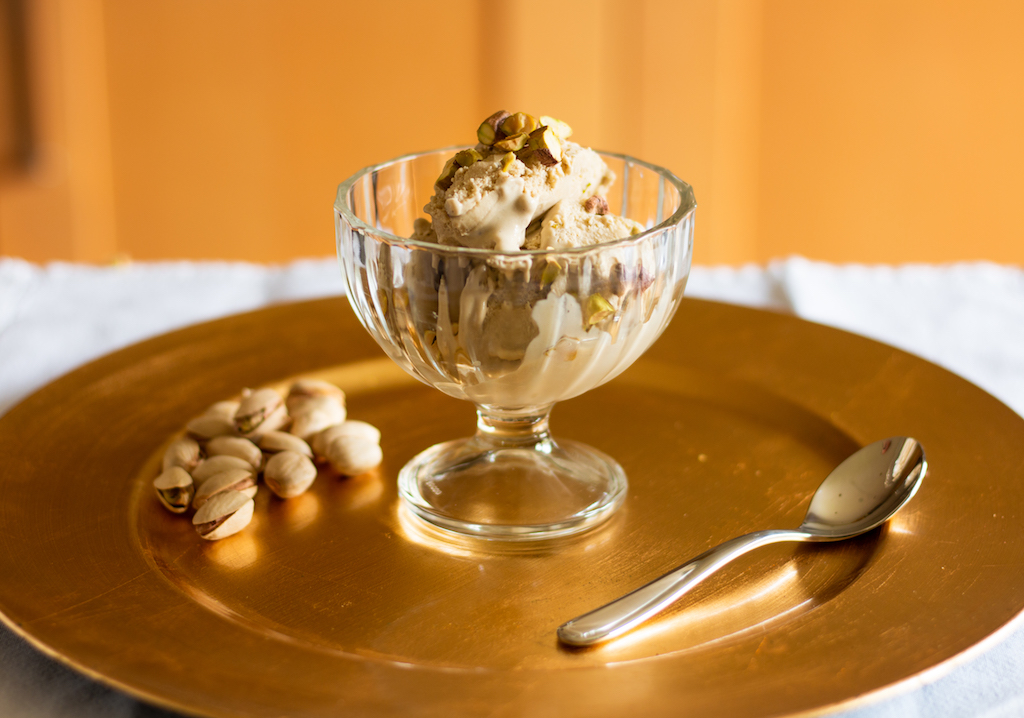 Print Recipe
Ingredients
300ml full fat milk

300ml double cream

30g liquid glucose

25g pistachio paste

1 handful of pistachio nuts, roughly chopped

5 egg yolks

90 g caster sugar
Instructions
1
Put the milk and cream in a pan, bring to the boil and remove from the heat. Stir in the glucose and pistachio paste. Set aside.
2
Beat the egg yolks and sugar until fluffy and pale (use a stand mixer).
3
Reheat cream a little (just to make it flow, but not enough to scramble the eggs) and add it to the bowl with the eggs while whisking (just run the stand mixer and slowly put the cream in).
4
Scrape mixture back into the pan and heat slowly to 82˚C (use a thermometer) to thicken to coating consistency – do not boil or it will split). Strain to remove lumps and cool with some cling wrap on the surface to prevent skinning.
5
Churn the ice-cream in a machine, add the nuts, stir, transfer to a plastic carton and freeze.