In terms of fierce debate and strongly held beliefs in tradition, the salade Niçoise is to Nice what ragú is to Bologna. And like the Bologna, with its Chamber of Commerce who hold the recipe for ragú in its vaults, Nice is host to the Cercle de la Capelina d'Or – a group of people who devote their time to maintaining and preserving the food traditions of the Nice area.
In 2012 President of the Cercle de la Capelina d'Or was the late Renee Graglia, who was interviewed by Catherine Marciano of the Times Malta. Graglia said that the origins of the Niçoise salad lie in 'simple food for poor people.' She said of the original recipe:
"At first, Niçoise salad was made only with tomatoes, anchovies and olive oil."
This simple recipe, probably being made in the 19th Century, fits with the the range of produce available on the Côte d'Azur – the recipe was not fixed, but there are two ingredients that were never in it: potatoes and green beans. It therefore seems strange that outside of Nice, everyone adds these two items. Those who know their cookbook history can find the culprit very easily. The man who screwed up the salade Niçoise for five generations was none other than Auguste Escoffier. Heralding from Villeneuve-Loubet, just 16km west of Nice, Escoffier was well versed in Provencale cooking. In his 1903 Le Guide Culinaire, Escoffier writes:
"Take equal quantities of diced French beans, diced potato and quarters of tomatoes. Decorate with capers, olives and anchovy fillets. Dressing: oil and vinegar."
And that was it. Every restaurant in the land used Le Guide Culinaire as a reference volume for French cuisine, and Escoffier went to to export his ideas all over Europe. Unsurprisingly, American chef Julia Child picked up the recipe on her extensive travels around France, and published it in her Mastering the Art of French Cooking, with the byline:
"I naturally opt for the Escoffier ingredients; I am a great fan of his too, and he was a Niçois, after all."
Renee Graglia had a different view. In the Times Malta interview she scoffed:
"He wasn't even a Niçois."
It seems that 16km is a hell of a distance from Nice for the true Niçois. Certainly it was far enough to totally transform the idea of what is in this most controversial of salads.
In 1972, the then Mayor of Nice decided enough was enough. As a keen cook and cookbook author, Jacques Médecin wrote Cuisine Nicoise: Recipes from a Mediterranean Kitchen, and in it he laid down the final word on the components of Nice's eponymous salad. These are:
Tomatoes (predominant ingredient) salted three times and moistened with olive oil
Hard-boiled eggs
Anchovies or canned tuna (but never both)
Raw vegetables including cucumber, purple artichokes, green peppers, fava beans, spring onions, black olives and basil (no lettuce and no vinegar)
Serve in a wooden bowl that has been wiped round with garlic.
This recipe is the one that the Cercle de la Capelina d'Or have taken as definitive, and they use it as the reference by which they certify restaurants in Nice as producing authentic salade Niçoise Jacques Médecin.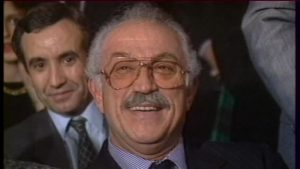 Yet still, people seem to think they know better than Jacques. Britain's own Nigel Slater wrote an article in The Guardian where he set out 'the rules' for the perfect Niçoise salad, and then proceeded to add cooked green beans and vinegar, both of which are specifically ruled out by Mr Médecin. Slater even writes:
"Beans of some sort are a given."
Well, beans are in there, but not cooked off French beans. Those same French beans appear again and again – even on the front cover of a 2016 edition of Jacques Médecin's own book: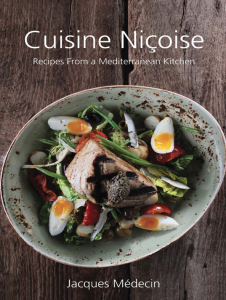 So it seems that even when people have done some homework and profess to know the right way of making a salade Niçoise, they can still mess it up – probably by reading Escoffier. Hopefully, The Nosey Chef is a better guide than most.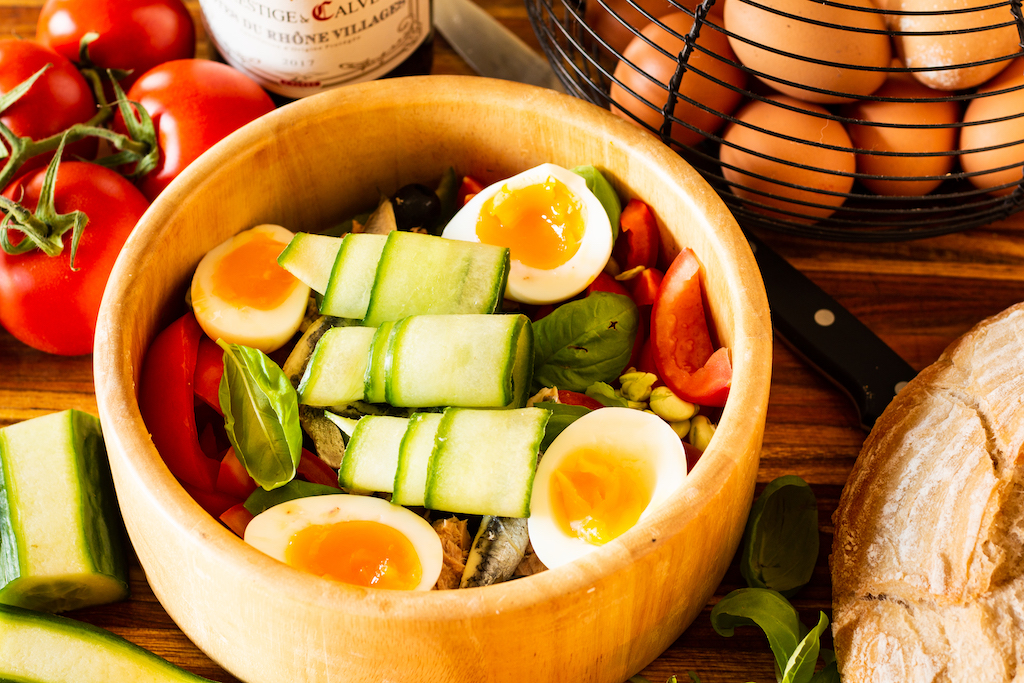 Print Recipe
Ingredients
6 tomatoes, sliced and deseeded

Salt

2 tbsp olive oil

1 green bell pepper, sliced and deseeded

A quarter of a cucumber, chopped

100 g canned tuna

6 anchovy fillets (used if tuna is omitted)

A handful of black olives

A handful of fava (broad) beans

6 basil leaves, torn

2 eggs

1 spring onion, sliced

1 clove of garlic, halved
Instructions
1
Begin by salting the tomatoes. Put the tomato pieces in a bowl and sprinkle over salt, mix and leave them for 10 mins. Drain, rinse and repeat this process twice more. Once nicely firm, mix the tomatoes with the olive oil.
2
Meanwhile, bring a pan of water up to the boil, prick the eggs and boil them for 7 mins. Plunge the cooked eggs immediately into iced water. Once cold, peel and halve them.
3
Wipe the inside of a wooden salad bowl with the cut face of the garlic.
4
All that remains is to assemble the dish using all the ingredients in any way you fancy, remembering that a salade Niçoise is heavy on the tomatoes.