Who does not like a salmon starter? Smoked salmon, once reserved as a Christmas treat or a dish for the well-off, has risen on a tide of popularity, enabled by the technology of salmon farming. Salmon can be smoked using hot or cold methods, the first of which cooks and smokes the fish, and the latter of which simply cures the fish.
Wikipedia, God bless, is overtly American in its description of smoked salmon. The resource is correct in its assertion that smoking was a means of preserving fish, but the history looks all backwards to me. Most sources will tell you that the Native Americans, the Romans and the Greeks were all smoking salmon. History also tells us that smoking salmon in Scotland was popular from the 1800s onwards, with some suggesting that the UK gained this technique from Polish immigrants. But, there are some very old smoke houses around. The Old Salmon Fish House was built at the mouth of the river Ugie, near Peterhead, Aberdeenshire in 1585. I cannot imagine that the Ugie, so stuffed with salmon and trout, was not giving up its fruits for smoking in the Old Smoke House. Why the hell else would it have been built there?
Regardless of the history, it is now clear that Scotland is the de-facto home of smoked salmon. Up there, salmon are either caught or farmed, and smoked at less than 3 years of age over wood chips made from old sherry or whisky casks. The best smoked salmon is made from Scottish wild salmon. Most of the stuff you find in a supermarket will be farmed, and is perfectly good. I always to to buy the best I can, as lower quality smoked salmon can have hard areas of collagen in it that are a bit unpleasant. The best smoked salmon will practically melt as you eat it.
As a dish for the table, smoked salmon is very often served in its simplest form with buttered brown bread. I adore salmon served this way, but it can get a bit samey. Today's recipe is for a rillette of hot- and cold-smoked salmon that can be served with any combination of garnishes, so long as there is something like bread there to offset the creaminess of the rillette. You can blend the salmon with almost any kind of stiff dairy. The mayonnaise used in my recipe adds some much needed acidity, while the dairy knocks back the richness of the mayo to make a lovely, almost mousse-like result.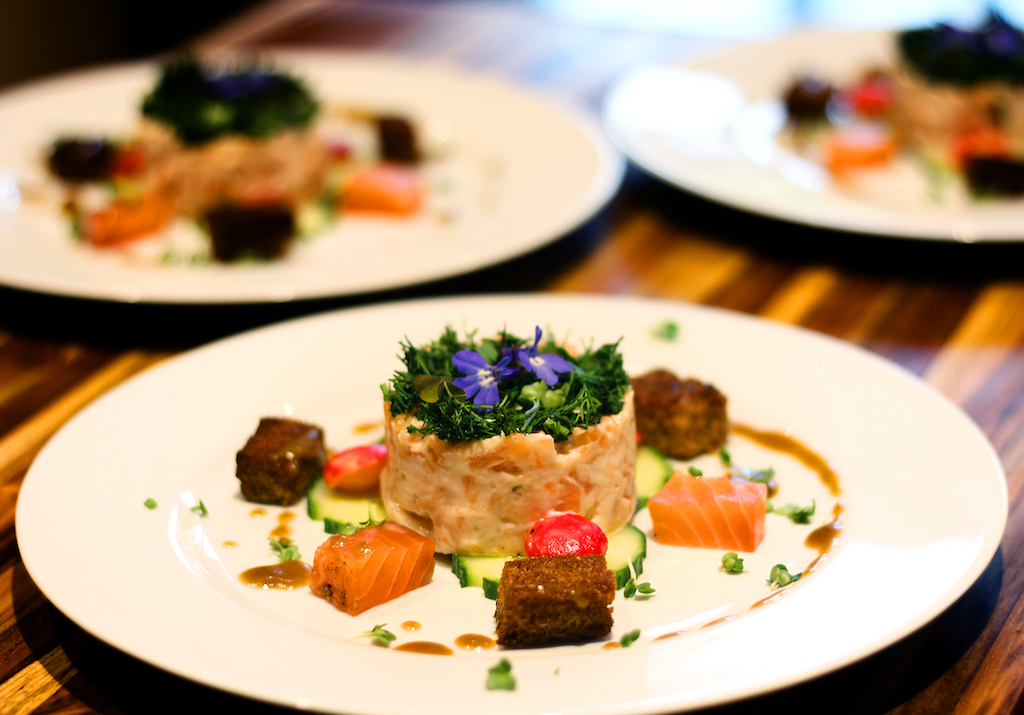 Print Recipe
Rillette of smoked salmon
Ingredients
120g cold-smoked salmon, chopped

120g hot-smoked salmon (Tesco does one with honey, which is fine), chopped

2 tbsp mayonnaise

2 tbsp creme fraiche

Juice of 1 lemon

2 tbsp dill, finely chopped

12 radishes

100ml vinegar

3 tbsp caster sugar

3 slices of dark rye bread, cubed

2 tbsp olive oil

12 slices of cucumber

12 cubes of gravadlax (see notes)

50ml olive oil

10ml balsamic vinegar

2 tbsp Dijon mustard

1 punnet of cress, chopped

Sea salt and freshly ground black pepper
Instructions
1
Combine the salmon, mayonnaise and creme fraiche in a bowl. Add mayo/dairy until the mixture is creamy, but still stiff enough to mould. Season with salt and pepper, and add a squeeze of lemon juice to taste. Press the mixture into mould rings and chill for at least 2 hours.
2
Use a small melon baller to carve out wee, round pieces of radish. Place in a jar with the vinegar and caster sugar. Shake and leave to stand for as long as you can (this method of quick pickling is something you can use for just about anything – it is great for chilli; balance the vinegar and sugar to taste).
3
Heat the olive oil in a frying pan, and fry the bread until crisp on all sides.
4
Whisk together the olive oil, balsamic and Dijon mustard to make a French dressing. Taste and balance as you see fit (I make much more of this, season it a bit, add some herbs and keep it in a re-used drizzle bottle – it's a handy thing to have; you can use shop-bought dressing).
5
To assemble the dish, arrange the cucumber on the centre of the plate. Garnish the rillettes with dill. Slide a dough cutter or fish slice under the rillettes and place them on the cucumber, withdrawing the cutter/slice carefully. Pull off the mould rings. Arrange the pickled radish, rye croutons and gravadlax around the plate.
6
Drizzle with a dash of the French dressing, cast some cress around and serve.
Notes
Gravadlax is not essential, but I had some left over, so used it. There is a very easy recipe for gravadlax on the Nosey Chef site. You can have your own gravadlax in 48 hours from a standing start.