Back in the 1980s and 1990s, there was a hotel on Elbut Lane in Birtle near Bury, Lancashire called Le Normandie. It was notable for having a restaurant run by the late Yves Champeau (later gaining a Michelin star under Chef Pascal who comments to us below). It was here that young local lad Simon Hopkinson found his way around a kitchen.
Hopkinson went on to have a successful career in food, which included working with Terence Conran to open Bibendum in the old Michelin Tyres building on the Fulham Road, London. After leaving professional kitchens behind, Hopkinson became a successful food author, newspaper columnist, and television presenter – often combining his firmly held, near-vehement views on ingredients with simple recipes that enable those ingredients to shine.
In his famous Roast Chicken and Other Stories, thought by some to be the greatest cook book ever written, page 204 of the 1999 paperback edition is given over to steak au poivre, which Hopkinson learned from his mentor Champeau.
Many of us are familiar with steak au poivre as a beef dish slathered over with a cream sauce studded with soft, green peppercorns. Champeau's version is not that. His dish uses an improbable amount of black peppercorns to create a crust that adds both flavour and texture to the steak. The absolutely critical thing for this dish (aside from cooking the meat correctly) is to crush (not grind) the peppercorns in a mortar and pestle, and then sieve out all the powder. Failure to do this will result in a steak so peppery that no human could eat it and live.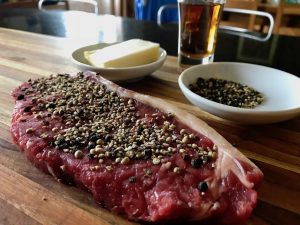 Le Normandie is no longer in Birtle, and a Google Street View tour of Elbut Lane indicates that the building itself has been long demolished.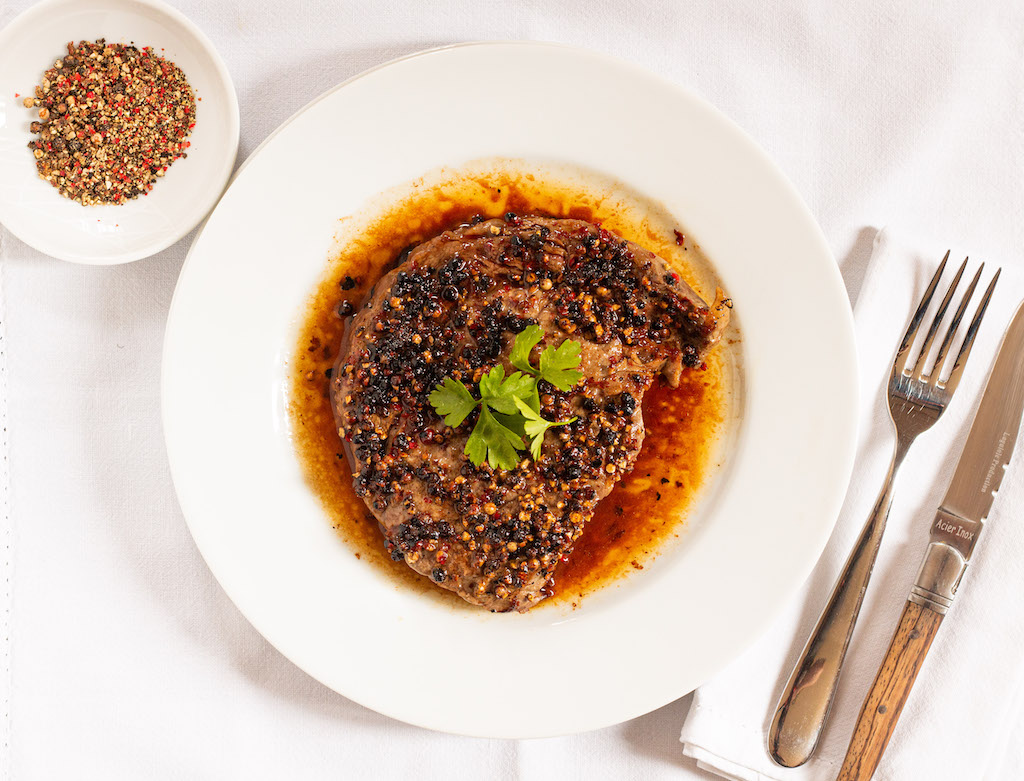 Print Recipe
Steak au poivre Yves Champeau
Ingredients
3 tbsp mixed peppercorns (black, white and red)

2 thick steaks of your choice. Avoid anything thinner than your thumb.

2 tbsp neutral oil

40g unsalted butter

A shot glass of cognac
Instructions
1
Hammer the peppercorns in a bag and sieve out any fine powder. Coat the steaks all on both sides with the peppercorns, and then salt them. Do not use salt before pepper or the pepper will not stick.
2
Heat a frying pan with the oil. Once hot, turn down to medium and put the steaks in. Fry them until a good crust has formed. Turn them over, add the butter and cook them to your preferred level of doneness. Baste with the butter as they cook. Remove the steaks from the pan to rest them (critical step).
3
While the steaks are resting, increase the heat, add the cognac and flame if you wish. All the alcohol must be boiled off, so igniting it can help. Whisk everything up on a good boil and pour over the plated steaks.
Notes
A bit of meat glaze can be whisked into the sauce for extra richness. A Knorr beef stock pot can be used to approximate meat glaze. I often like to finish this dish with the cognac flambé followed by a good dose of double cream to create a brandy cream pepper sauce without the need for the usual green peppercorns. Serve with a salsa verde or a good dollop of horseradish.