There are many legends that try to determine the history of the clementine; but, the only truism is that clementines, satsumas and tangerines are part of the family of pleasant, easily peelable fruits called mandarins that form the sweet, delicate counterpart to tart oranges. Everything else, including the idea that an Algerian monk hybridised two citrus fruits, is bollocks. The fruit probably originates in China, hence the etymology of 'mandarin.'
We do know that clementines were introduced into Californian agriculture in 1914, and have remained there ever since. Apparently, threat now comes from Donald Trump's 'wall' whereby clementine farms may be deprived of their usual migrant pickers. USA kids do not want to pick fruit in the burning sun, so the future of Californian clementines is potentially standing at the gates of Hell.
The recipe given here is by Rick Stein, who penned it once back home after his trip all over southern USA. Stein described this as the most perfect Californian blend of clementines, lemon, olive oil and almonds. We are inclined to agree.
Clementines are in season from October until late February.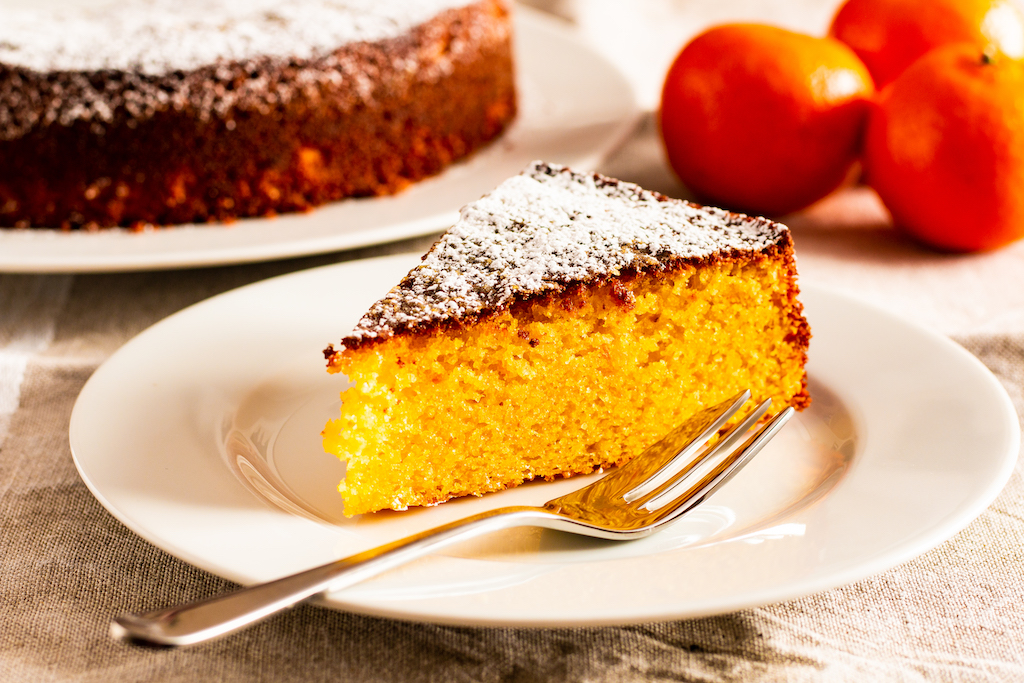 Print Recipe
Clementine and almond cake
Ingredients
For the cake:

2 large clementines (about 200g), washed

4 large eggs

1 large lemon, zest only

160g golden caster sugar

100ml oz olive oil

175g ground almonds

2 tsp baking powder

For the syrup:

15g caster sugar

1 large lemon, juice only

Icing sugar to dust
Instructions
1
Place the clementines in a saucepan and cover with water. Bring to the boil and simmer gently for 20–30 minutes until tender. Remove and set aside until cool enough to handle. Cut the clementines in half and discard the pips and the hard, green ends.
2
Put the clementines, including the skin, into a food processor and blend to a paste.
3
Preheat the oven to 180˚C. Grease a 20cm spring-form cake tin and line the bottom with baking paper.
4
Whisk together the eggs, lemon zest and caster sugar in a bowl. Add the olive oil and beat until light and well combined. Stir in the clementine paste then fold in the ground almonds and baking powder.
5
Spoon the mixture into the tin and bake for 50 minutes or until well risen and golden-brown. The cake should have slightly shrunken from the sides and be springy to the touch. Leave it to cool in the tin on a wire rack.
6
Meanwhile, to make the syrup, warm the sugar and lemon juice in a small pan over a low heat until the sugar has dissolved.
7
Make lots of small holes all over the cooled cake with a piece of uncooked spaghetti or cocktail stick, and drizzle over the lemon syrup. Let the cake cool completely in the tin, unlock the tin spring, and move the cake onto a serving plate. Dust with icing sugar.