Angels on horseback, which are oysters wrapped in bacon and grilled, have their origins the French 'anges a cheval.' For some peculiar reason the Wikipedia entry for angels on horseback focuses on its American history, which just skews the whole story of where the dish came from.
Originally French, angels on horseback appear to have been made at a time when oysters were cheap peasant food. Britain had (and still has) one of the biggest oyster fisheries in the world, so oysters wrapped in a bit of pig will have been a popular snack in the UK.
However, during the course of the 1800s and early 1900s, oysters became more expensive, so angels on horseback gradually became a delicacy for the well-to-do, which is probably how they eventually became a canapé for high society dos in Washington DC. Certainly, when people started to write down recipes for angels on horseback in the 1880s, the dish was being served up to the working man in diner-style establishments – and were still on the menu in the 1930s. By the time we get to the Kennedy administration, the dish was solidly in the realm of 'posh.'
The recipe we have here is very close to a version enjoyed by Kaiser Wilheim II, and comes from Gary Rhodes' New British Classics. He adds a delightful sauce that should be spooned sparingly over the angels so that it can still be eaten with the left hand while the right is wrapped round a glass of fine champagne.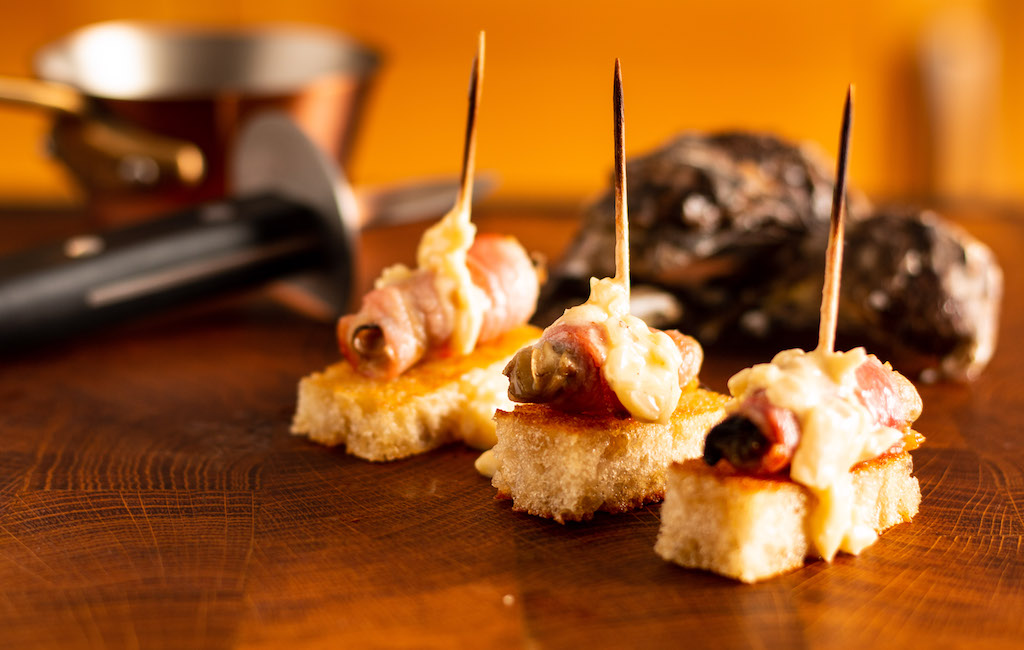 Print Recipe
Ingredients
For the angels:

12 fresh, live oysters, shucked (reserve the juices for the sauce)

6 rashers of dry-cured, streaky bacon, unsmoked

Cayenne pepper

3 slices of bread crusts removed, toasted and buttered (or fried in butter), and then cut into small squares or rectangles

For the sauce:

Juice from inside the oyster shells

1 tbsp shallots, chopped

1 tbsp double cream

25g butter

Squeeze of lemon

Freshly ground black pepper
Instructions
1
Warm a small saucepan with the oysters and juices and simmer for just 1 minute. Strain the juice and reserve.
2
To finish the sauce, as the shallots to the juices in a very small pan (Mauviel Minis come into their own here), add the cream, reduce by half. Whisk in the butter and lemon and season with pepper only.
3
Sprinkle the oysters with a little cayenne, wrap them with bacon and secure with a cocktail stick. Grill for 2–3 mins, turning once.
4
To finish, spear the oysters onto a piece of toast and spoon over a touch of the sauce. Serve warm.