Panettone – Toni's bread.
Toni or 'Tonio' was a poor baker living in Milan in the 1400s. Toni was cursed with one stunner of a daughter. His daughter was so bang tidy that she caught the eye of a local aristocrat who vowed to marry her. Toni realised the scandal that would be created by such a liaison across the class divide. How could the young lord see his plebeian love every day and not upset the social apple cart? Toni pondered on this and hit on the idea of employing the Count as an apprentice, who would also provide ingredients as a dowry. So gifted was the lordly newbie in his new trade that he one day invented a sweet bread by adding eggs, butter, sultanas and candied fruit peel. This was panettone.
Nearly all of these clever, romantic food stories turn out to be nonsense (my account above is a hybrid of two of them), and this one is probably no exception. What we do know is that panettone is one ancient bread – Middle Ages at least. And 'bread' is the key thing. Panettone is not really a cake as many know it, and those who come to it thinking it is a cake are in for a major disappointment. It is sweet, but it is just off cake sweet. It is more like an the bastard son of an English teacake and a brioche, and hence it lends itself well to toasting and spreading with butter. Certainly, it is a confection that demands to be secondarily cooked in some way.
That said, panettone leads a double life untoasted as a Milanese Christmas cake. I personally think that we can drop our tea cakes and toast their panettone, while the Milanese can drop their panettone after mass on 24 December and try our British Christmas cake.
The apple does not fall far from the tree with bread and butter pudding. In the UK, we have a very old dish called exactly that, which combines bread, eggs, dairy and sugar in a bowl-baked confection that has been handed down the generations since … well since probably before panettone. It is described in full in the 1700s, but earlier recipes may have even included bone marrow, and dates for that are not clear. It seems inconceivable that bread and butter pudding in some form or other was not being made by the Tudors. I have found an Elizabethan recipe that uses crumbs, and adds dried grapes, so I think I am right in my assertion that this basic idea is centuries old.
Much as I like the cuisine of my own country, I also think that a bread and butter pudding made with panettone is an awful lot better than the British version (which I actually don't like). As we are going to Italy again, we are calling this budino di panettone. The recipe below is adapted from the indefatigable Anna Del Conte.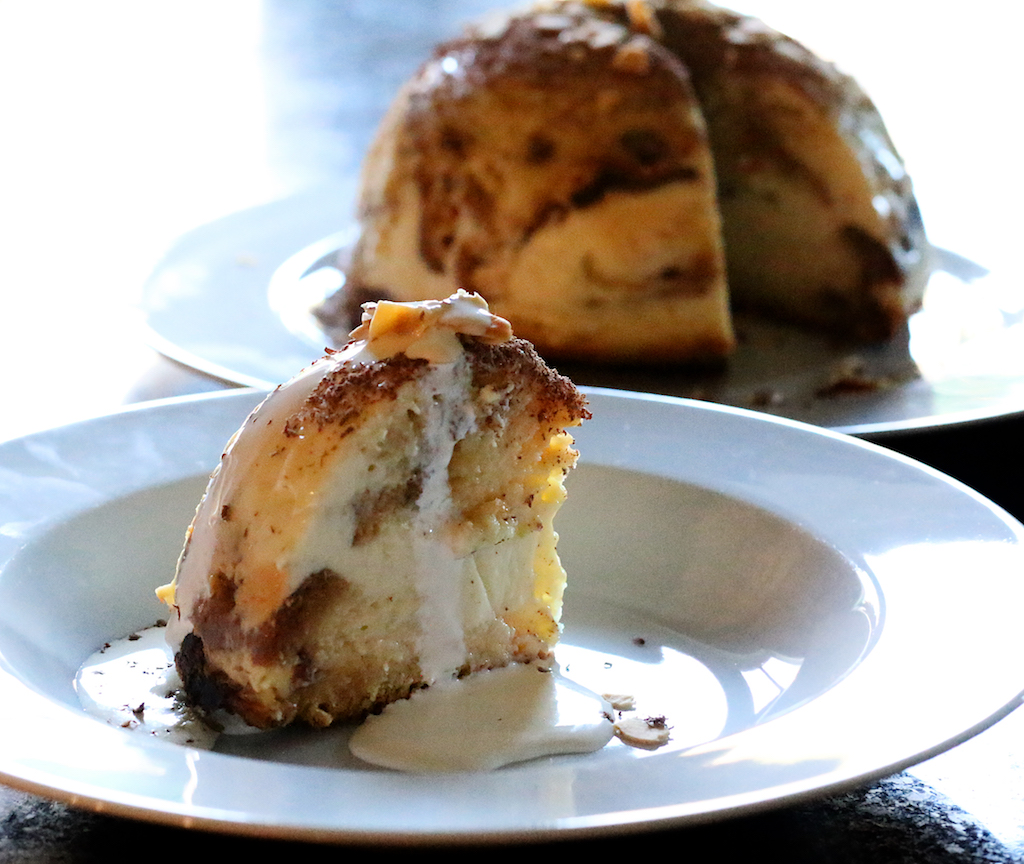 Print Recipe
Ingredients
Half a Milanese panettone – about 250g, thinly sliced (don't worry if it breaks, you are going to make a rough jigsaw with it).

1 knob unsalted butter

Rum

Marsala, or other fortified wine such as sherry or Madeira.

600 ml total of 50:50 single cream and full fat milk, or double cream and skimmed milk – just end up with enough fat in there!

Quarter tsp ground cinnamon

Grated zest of one lemon

100g caster sugar

3 eggs, lightly beaten

Cadbury's Bourneville chocolate, or other, good-quality dark chocolate

1 handful of almonds toasted in an oven at 220˚C (take care and watch them – nuts turn really quickly once they decide to go)
Instructions
1
Preheat an oven to 160˚C.
2
Butter a pudding bowl or Pyrex bowl with the knob of butter.
3
Put the panettone in a baking tray or large gratin dish, and sprinkle with about a tablespoon each or rum and wine. Heavy on the rum, light on the wine. Leave to soak for a while.
4
Gently boil the milk, cream, cinnamon, lemon and sugar. This activates the cream so it will later set.
5
Cool the cream mixture (important because you are about to add eggs and you don't want to scramble them).
6
Pour the eggs into the cream mixture relatively slowly, beating the cream all the while.
7
Put the booze-soaked panettone in the pudding bowl. You might need to press it down a bit so it doesn't poke over the top.
8
Pour the cream and egg mixture over it and give the bowl a little 'shoogle'*, and a tap it on the countertop to make sure the cream and milk has permeated all the gaps in the bread.
9
Put the bowl in a bain marie (water two thirds up the sides of the pudding bowl; I used a big roasting tin nearly full of water and tipped half of it over the kitchen floor).
10
Bake the pudding in the oven for 1 hour, maybe a wee bit more. It ought to be set when lightly shaked (or shoogled).
11
Leave the pudding to cool.
12
Once cool, ease the sides with a flexible icing spatula (use a cutlery knife if you don't have one), and then turn the pudding out onto a plate. More minor shoogling may be needed to get it to drop cleanly.
13
Top the inverted, plated pudding with grated chocolate and the almonds.
14
Contrary to English bread and butter pudding, this guy is served at room temperature with a drizzle of double cream.
Notes
*A Scottish term for a wee circular shake. Chef tutor Nick Nairn knows how a 'shoogle' can characterise a certain way of agitating a liquid. It is less than shaking, but more than moving.