The history of the hotdog has been written down before, and its origins go largely uncontested. In brief, they came into being as frankfurters in Frankfurt, Germany, in the same way that hamburgers come from Hamburg. They gained the name 'weiner' after Wien, the capital of Austria. They gained the name hotdog due to the possible inclusion of dog meat in some lower-class variants.
At some point they ended up in a bun simply to prevent fingers getting burned when impractical alternatives such as special gloves (yes, really) and wax paper proved too expensive or too troublesome. The hotdog cemented itself in the USA shortly after 1900, and it was the definitely the Americans (or recent, first-generation Germanic immigrants) who started the whole bun thing.
Within the United States, different cities and regions have their own definitive hotdogs. The ingredients are fiercely protected, and woe betide anyone who deigns to deviate from the one, true path.
In New York, it is accepted that a classic hotdog must contain brown mustard (none of that yellow shit), sauerkraut and a particular style of onion sauce. The sausages are supposed to be all-beef. For our recipe, we have made our own sauerkraut, and created a version of the onion sauce they synthesises various trusted sources into one definitive NYC onion preparation. You can make the sauce ahead and microwave it, thus making New York hotdogs and incredibly quick and tasty lunch.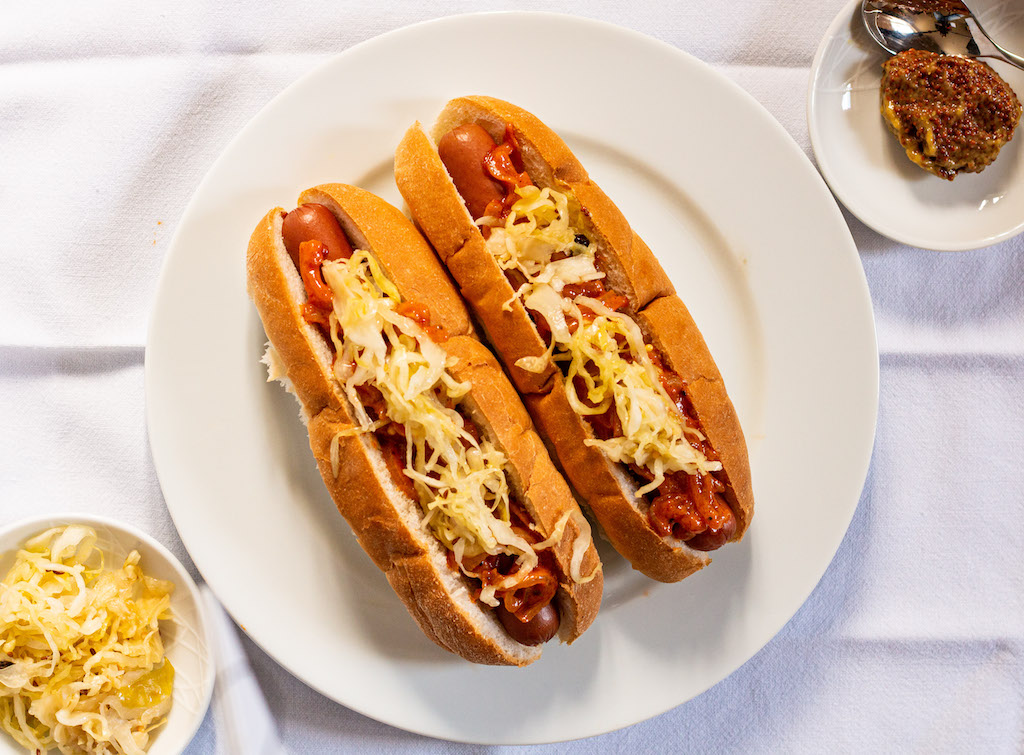 Print Recipe
Ingredients
For the onion sauce:

2 tbsp vegetable oil

3 onions, sliced

Big pinch of sea salt

Three quarters of a cup (188ml) of water

Half a cup (125ml) of tomato ketchup

2 tbsp brown mustard

Half tsp smoked paprika

Three-quarter tsp garlic powder

Pinch of cinnamon

Sea salt and freshly ground black pepper

For the rest:

4 hotdog rolls

4 tsp brown mustard

4 all-beef hotdogs (see notes)

4 tbsp sauerkraut
Instructions
1
Heat the oil in a sauté pan and cook the onions with the salt (salt breaks down the onion faster) on medium until golden and soft.
2
Meanwhile, combine all the other ingredients in a bowl. Once the onions are done, add the sauce to the pan, cover and cook on low for 25 mins. Reduce a bit with the lid off. Season to taste.
To make assemble the hotdogs:
3
Heat the hotdogs in a shallow pan of water until the water boils.
4
Split the rolls down the centre.
5
Smear the mustard inside the rolls and add the drained hotdogs. Add some of the onion sauce (heavy on the onions, light on the liquid) and add some pinches of sauerkraut.
Notes
This blog is based in the UK. If you want all-beef hotdogs, then the supermarkets are not the place to go. You need Amazon. If you buy from a UK supermarket, your hotdog will be OK, but it will be chicken, turkey and pork, all mixed together.