Wiener schnitzel ('Vienna schnitzel,' or 'Wienerschnitzel' as the Swiss write), is a thin cut of veal, breaded and fried. The use of veal elevates it beyond the chicken and pork variants that do the rounds in lazier recipe books. Its careful choice of meat and simple preparation begs no more than a squeeze of lemon to make Wiener schnitzel one of the finest things a human can eat. I care not that it fell out of fashion for so long – I always held a torch for it. Traditional schnitzel is now back as a neglected classic, clawing its way back onto Teutonic 'Speisekarten,' restaurant by restaurant.
In common with so many dishes this good and this simple, every man and his dog has tried to lay claim to its invention. The chief frontier in this Battle of the Breaded Baby Cow is the Tyrollean border between Austria and Italy. In Milan, which lies in Northen Italy, just south of the Alps, there is a food tradition of 'alla Milanese,' which relates, among other things, to fried, breaded meat. The idea goes that in 1857 Joseph Radetzky von Radetz was tipped off by Count Attems, an adjutant to the emperor Franz Joseph I of Austria, on the origins of a dish described in Guida Gastronomica d'Italia, known in Austria as Italien Tafelt. This dish may or may not be the same as the Lombardy dish cotoletta alla Milanese (veal Milanese). However, records of Austrian cuisine predating the term 'schnitzel' describe breaded and deep fried 'Backhendl' (fried breaded chicken) as far back as 1719. It is not unreasonable to suggest that the Austrians experimented with other cuts of meat when chicken was not to hand.
There is absolutely no point dissecting this. Food historians trying to decide if Wiener schnitzel is Austrian or Italian are missing the big picture. Italy is one of the youngest nations in Europe (unification 1871). Italians do not even think of their cuisine as 'Italian.' They view it as regional because the old feudal boundaries are still respected, and the country has such a large longitudinal spread that the agriculture in Piedmont bears absolutely no resemblance to that in, say, Apulia. On the other side of the Alps, the borders of Austria fluctuated between various monarchic empires and military occupations, with the country only achieving full, modern autonomy and fixed borders in 1955. In the 1800s, when schnitzel seems to have appeared, Italy did not exist, and Alpine borders were positively porous with people moving between kingdoms to find food and shift cattle around. The idea of 'Italy' and 'Austria' were far from their minds. Considering these complications, I think we can only regard Wiener schnitzel as 'middle European.'
Although many cooks have their own pet recipes for Wiener schnitzel, and despite the usual forensics from the Guardian's Felicity Cloake, The Nosey Chef does not believe in messing about with other folks' national dish. Our recipe comes from the Bewerbung Österreichs als Fremdenverkehrsland (i.e. the Austrian Tourist Board). Why look further?
This recipe is adaptable to pork and chicken, but it is worth doing the veal version with some stringy fries, a salad, and a massive beer.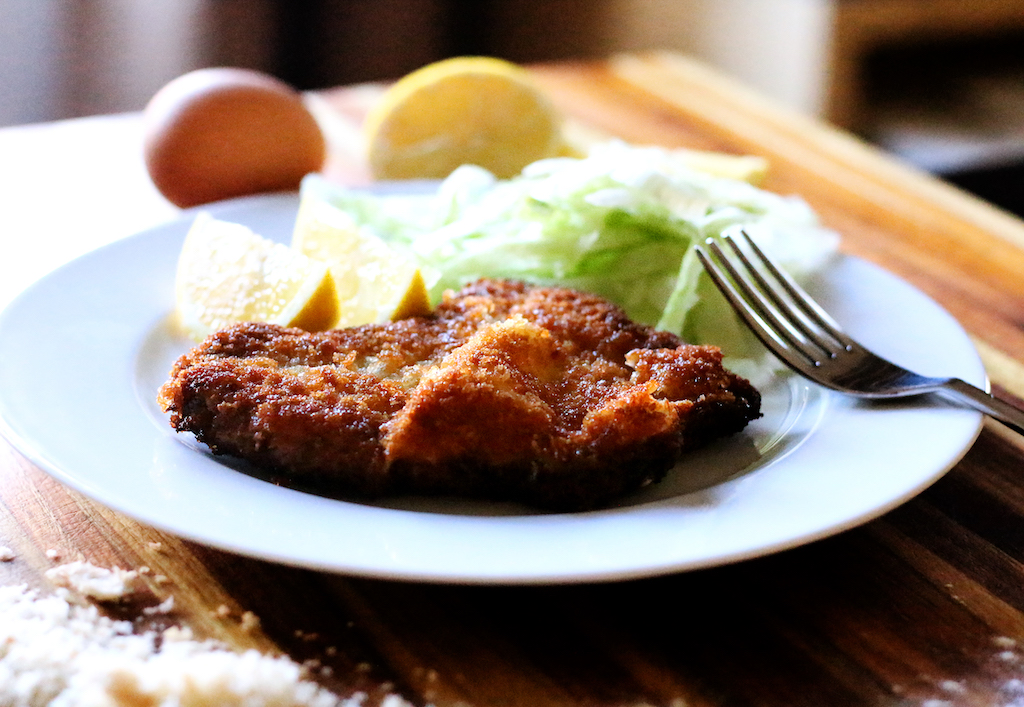 Print Recipe
Ingredients
2 skinless veal escalopes, hammered to 3mm thick (do not make any holes; see notes on availability)

2 eggs

50g tbsp plain flour

50g fresh white breadcrumbs, dried in an oven and re-blitzed, or fresh white breadcrumbs frozen and defrosted (both will be sufficiently dry)

75g lard, goose fat, duck fat or ghee (un-clarified butter will burn, and oil does not belong here)

1 lemon, cut into wedges

Salt and freshly ground black pepper
Instructions
1
Season the veal on both sides with salt and pepper. Place flour and breadcrumbs onto separate flat plates; beat the eggs together in a bowl using a fork.
2
Coat each schnitzel on both sides in flour, then dredge through the beaten eggs, ensuring that no part of the schnitzel remains dry. Lastly, coat in the breadcrumbs and carefully press down the crumbs using the reverse side of a fork.
3
In a large pan, melt enough fat for the schnitzel to be able to swim freely in the resulting oil.
4
When the fat is so hot that it hisses and bubbles up if some breadcrumbs or a small piece of butter is introduced to it, you are ready to put the meat in. Depending on the thickness and the type of meat, fry for between 2 minutes and 4 minutes until golden brown. Turn using a spatula taking care not to damage the coating. Fry on the other side until similarly golden brown.
5
Serve with a lemon wedge to squeeze over.
Notes
Obtaining veal in the UK can be tricky depending on where you live. If you are in London, you will be falling over specialist butchers who service the multi-national restaurant trade. If you are elsewhere, then most butchers don't carry it and supermarkets are a write off. Ocado is the only game in town. The Brits, it seems, are still squeamish about eating veal, which is frankly ridiculous.