Doughnuts are hugely popular in the Philippines, and the local Dunkin' Donuts the region are legendary – I can safely say that they are way better than anything produced by the same brand anywhere in the world I have found them. I am not sure why Dunkin' makes such an extraordinary product in the Philippines, but we can speculate that the history of the doughnut in the islands may be like no other.
Doughnuts are simultaneously German, Dutch, Chinese and Arabian. In the Tang Dynasty (618–907 AD), the Chinese are recorded as making doughnuts as a fried bread risen with yeast and served as a sweet treat. The Chinese were dipping in out of the Philippines for centuries. Then we have the Dutch … and the Germans. They were making doughnuts known as 'krapfen' or 'olykoeks' in the mid 19th Century and spread them all over Europe. Immigrants took the idea to the United States, where they apparently became the favoured snack for off-duty police officers in comedy films. At the same time, nomadic Arabs were also frying risen bread dough in hot oil and covering it in sugar.
Then, over the course of many years, the Philippines played unwitting hosts to a series of invasions. The Portuguese arrived (presumably they had met the Dutch by then), and then the Spanish. The Americans turned up, got ejected by the Japanese, and then re-took the islands, only to give them up the 1950s. All along the way, bread dough was being thrown in fryers with recipe and method inputs aggregated from the four corners of the world. Therefore, it is not surprising that if you want a really good doughnut, then you had better buy a plane ticket to Manila.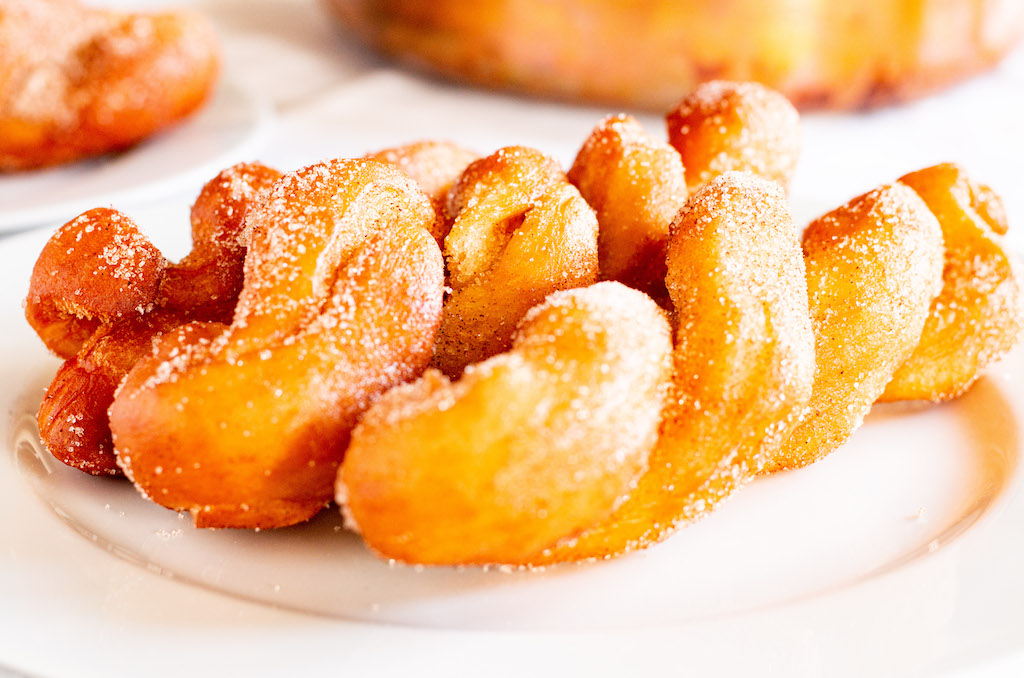 Print Recipe
Twisted doughnuts Ann Marie
Ingredients
For the doughnuts:

3 cups plain flour

2 tbsp sugar

2 tsp instant yeast

1 tsp salt

3 tbsp butter, melted

1 egg, beaten

1 cup warm milk (or water)

To finish:

1 tsp cinnamon mixed with 2 tbsp granulated sugar, mixed thoroughly
Instructions
1
Combine all the doughnut ingredients a stand mixer and run until smooth.
2
Ball the dough, place it in a greased bowl and prove in a warm place until doubled in size (about 30 mins).
3
Portion into 16–18 pieces, roll each into a sausage, fold and twist (or plait it in three strands if you are feeling frisky.
4
Place on a lightly greased tray, cover lightly and proof again in a warm place until doubled in size (about 30 mins).
5
Heat a fryer to 190˚C. Gently lower the twists one at a time into the hot oil, in batches of two or three, and fry for 1–2 minutes or until golden-brown, and then carefully turn over and fry again until the other half is golden brown too. Remove from the hot oil with a slotted spoon and drain on kitchen paper. Roll the warm doughnuts in the sugar mixture and cool on a wire rack