Laab (aka 'larb') is one of the national dishes of Laos. It is generally made from cooked mince with chillis and mint, and it served at room temperature as a kind of salad. Laab has migrated with its people to the extent that versions of it are found all over South East Asia. In particular laab moo is a popular snack or starter dish in Thailand, where it is often served in a lettuce leaf wrap. In Thai cooking, laab can resemble a cold phat kaphrao.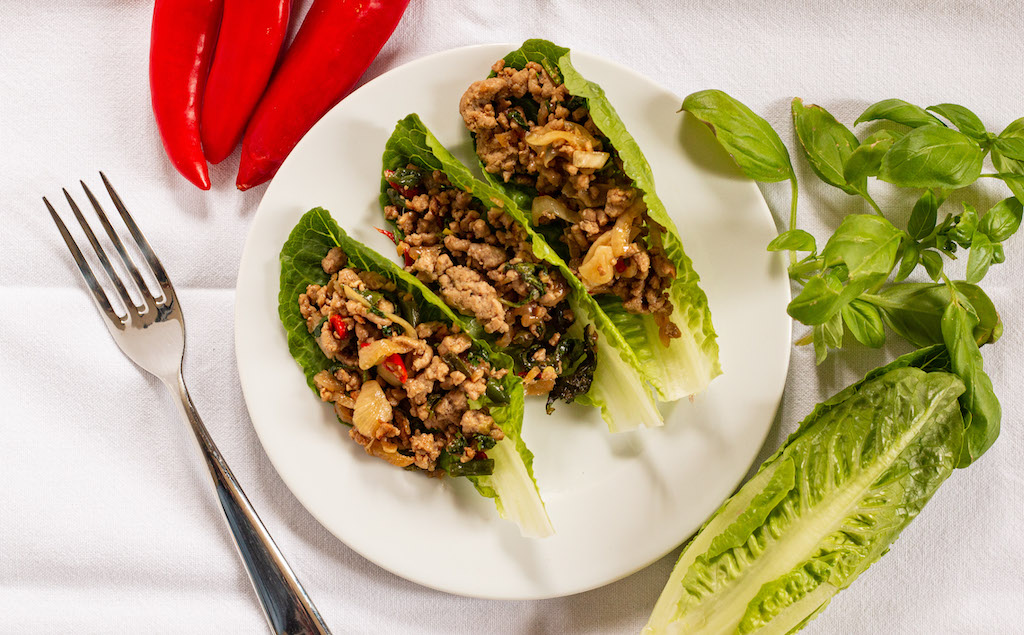 Print Recipe
Ingredients
2 tbsp groundnut oil

4 cloves garlic, minced

4 chillies, finely chopped

1 stalk lemongrass, finely chopped

500g pork mince

2 tbsp fish sauce

1 medium onion, finely chopped

1 tbsp brown sugar

2 tbsp light soy sauce

1 tbsp oyster sauce

Pinch of MSG (optional)

Handful of green beans, chopped up

1 tbsp lime juice

Handful Thai holy basil leaves, shredded (European sweet basil can be used in a pinch)

Handful coriander, chopped

Handful of mint, chopped

Romaine lettuce, separated into leaves

Handful of rice, toasted and lightly ground.
Instructions
1
Heat oil and toss onions, lemongrass, garlic and chillies for 1-2 minutes.
2
Plop in the pork mince and turn the heat to high to cook the meat fast, stir the mince thoroughly for 1–2 minutes until pork starts to brown.
3
Add the green beans and stir for 1–2 minutes
4
Plop in the soy sauce, fish sauce, oyster sauce and sugar, stir through for 2 minutes. Optional MSG can go in at this point.
5
Throw in coriander and holy basil and lime juice, mix and serve on the lettuce leaves. Sprinkle the toasted rice over the top.