The European history of broccoli is Roman, which gives rise to is name Brassica oleracea italica. A member of the Brassicaceae mustard family, broccoli comes from the eastern Mediterranean and Asia Minor where is was cultivated from the 6th Century BC. However, broccoli did not make it to the UK until the 1700s.
I am lucky enough that my son has always loved broccoli, but others require some convincing. Many are put off by mushy broccoli, and steaming it requires a degree of brinkmanship between seriously al dente stems and mushy heads. Roasting broccoli provides the opportunity for added flavour and slacker timing. Everyone wins with this.
The recipe given here is adapted from that of 'Nagi' of RecipeTinEats who calls it 'magic broccoli.' Our version recognises that the lemon zest can be a bit much for some and that the use of Indian-style ginger garlic paste over garlic alone takes the dish to another place.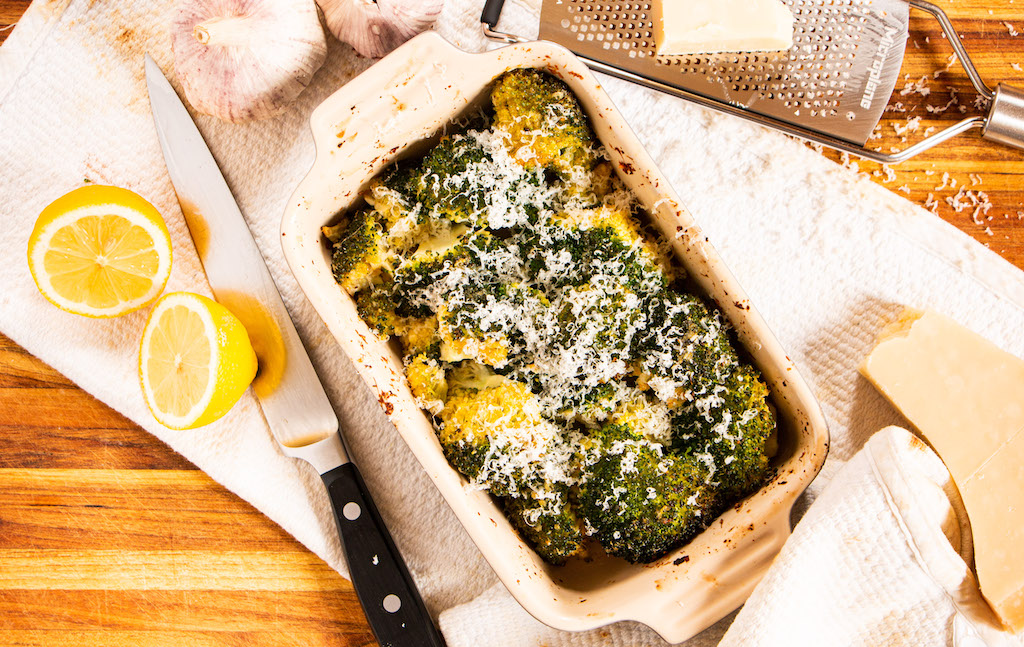 Print Recipe
Roast broccoli with garlic and lemon
Ingredients
1 large head of broccoli, broken into florets

3 tbsp olive oil

1 tbsp ginger garlic paste (or half a tbsp garlic, minced)

Juice of half a lemon

Sea salt and freshly ground black pepper

Zest of half a lemon (optional)

1 tbsp Parmesan, grated
Instructions
2
Toss the broccoli in a bowl with the paste/garlic, lemon juice, oil and seasoning. Scatter in a roasting dish and place in the oven for 25 mins until just browning.
3
Cast over with lemon zest (if using) and Parmesan to serve.
Notes
This recipe is highly adaptable. Swap in chilli oil, or toss in red chillies. Add flaked almonds for crunch, or melt the cheese in by adding it earlier and in greater quantities.