British curry lovers need to understand that what they are eating in the thousands of Indian restaurants up and down the country is not Indian. With a few exceptions, the British are enjoying 'British Asian cuisine,' which was popularised in Birmingham in the 1970s and is cooked by Bangladeshis. The basic modus operandi of British Asian is a bunch of generic curry sauces with varying amounts of chilli in them with enough gravy to drown a good-sized baby.
However, every standard Indian restaurant menu will include chicken tandoori tikka – usually as a starter, served on skewers with a light salad and some lemon wedges. This dish is not from Brum.
Chicken tandoori tikka was invented by Kundan Lal Gujral in the 1940s in Peshawar, in modern Pakistan. There, Gujral had a restaurant called Moti Mahal. When Gujral received a shipment of chicken, it ran the risk of drying out in the heat, so he hit on the idea of cooking it off in the crazy-hot tandoori oven that had been used hitherto solely for the preparation of flatbreads. This gave Gujral a spiced chicken preparation that he could use in other dishes like butter chicken, and possibly even chicken tikka masala (if that was not invented in Glasgow). The chicken could also be served in its own right as murgh tandoori tikka where 'murgh' means chicken, 'tandoori' refers to the oven, and 'tikka' means 'pieces.'

The recipe given here is that of Kundan Lal Gujral, and related by his grandson Monish Gujral, who still runs Moti Mahal. The recipe appeared in the Washington Post, along with a nice article about the Gujrals.
Moti Mahal is now a large global restaurant franchise with more than 150 outlets globally, and it is operated out of its home base in Dehli. As you know, chicken tandoori tikka was invented in Peshawar. When the British ended colonial rule over the Indian subcontinent in 1947, they made the positively genius idea of dividing India and Pakistan on the basis of religion, because splitting countries according to what God they worship, or the method by which they worship the same man in the the sky always works. Hindu Gujral found himself in Muslim Pakistan and had to leg it over the border, leaving his legendary restaurant behind. The Moti Mahal empire (the irony of that is not lost on me) was then built from Dehli.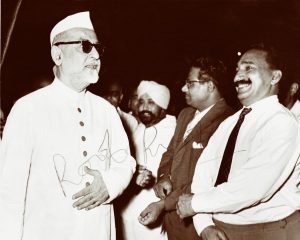 The flagship Moti Mahal restaurant can be found at 3704, Netaji Subhash Marg, Old Dariya Ganj, Daryaganj, New Delhi, Delhi 110002, India. Call +91 11 2327 3011 for a reservation.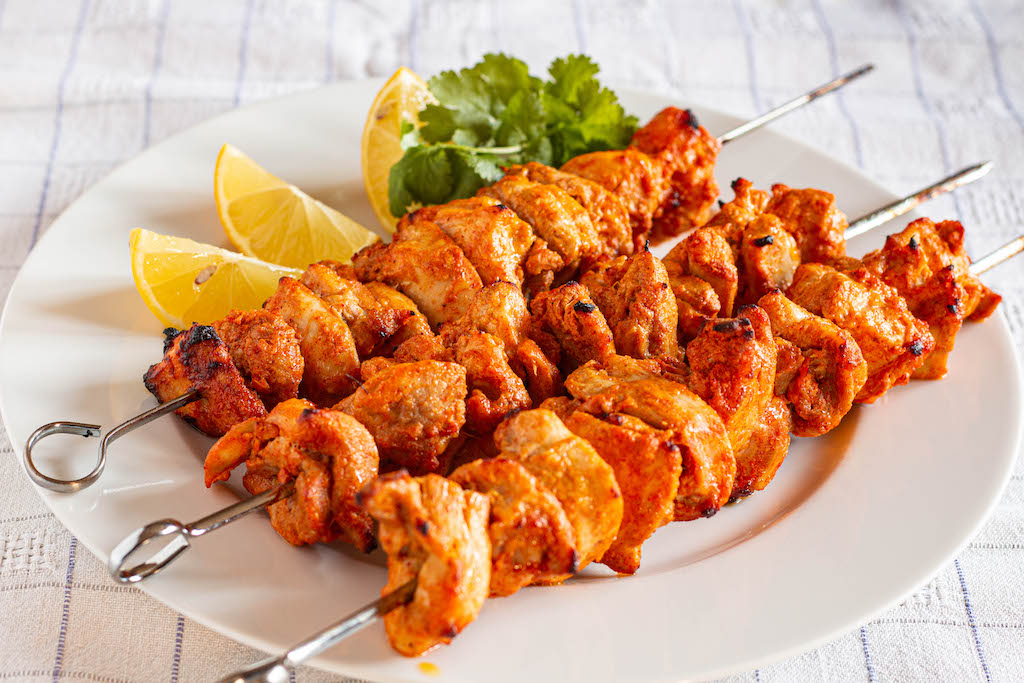 Print Recipe
Ingredients
680kg boneless skinless chicken, cut into 3cm chunks

1.5 tbsp fresh lime juice

1.5 tsp sea salt

1 teaspoon Kashmiri chilli powder (see notes)

6 tbsp plain yoghurt (do not use Greek-style yoghurt for a marinade – it will split when cooked)

2 tbsp ginger-garlic paste

2 tsp garam masala

Half a tsp ground fenugreek
Instructions
1
Combine the lime juice and salt in a bowl large enough to hold all the chicken pieces. Add the chicken and toss to coat evenly. Cover and refrigerate for 1 hour.
2
Add the chilli powder, yoghurt, garlic, ginger, garam masala and fenugreek, tossing well to coat and distribute evenly. Cover and refrigerate for 3 hours.
3
Preheat the oven to 250˚C.
4
Thread the chicken pieces onto skewers, season with a little more garam masala or fenugreek if desired. Roast on the middle rack for 5 to 6 minutes. Baste with a little oil and continue roasting for 3 to 4 minutes.
5
Check if the chicken is done by cutting into one of the larger pieces. If it is still pink in the middle, roast for another 3 to 5 minutes and check again.
6
Serve with lemon wedges, shredded lettuce and some raita.
Notes
Kashmiri chilli powder is a very red chilli and lends a lot to the colour of the dish. It can be substituted with 50:50 paprika and cayenne pepper.