Chicken 'little duke' is a wonderful dish of chicken fricassée served with truffled mushrooms and a Madeira sauce. But who is the little duke, and why does he like mushrooms and chicken?
The only reasonable explanation for the tag 'little duke' is the link to Richard I of Normandy, who lived between 932–996 AD. The life of Richard I (Richard the Fearless) was fantasised in Charlotte Yonge's 1905 book 'The Little Duke,' which opens with the line:
"On a bright autumn day, as long ago as the year 943, there was a great bustle in the Castle of Bayeux in Normandy."
However, a simple text search of that book does not reveal any chicken or mushroom eating, and absolutely no mention of Madeira. In fact, most meat dishes associated with Normandy include apples, and those that include Madeira and truffles (like this one) are most often tagged 'Périgueux.'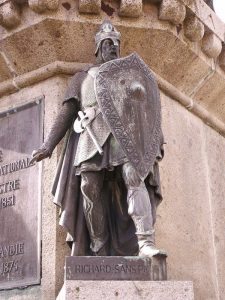 One clue that could link this chicken dish to the Yonge book is the fact that poulet sauté petit-duc appears in Larousse, but does not appear in the 1903 Le Guide Culinaire by August Escoffier. Almost every traditional French dish given in Larousse has a version in Escoffier, and given that Yonge's book appeared two years after Escoffier's book, it does sort point to the dish being named for Richard I via 'The Little Duke.'
But quite why? Well, we can't work that out.
Poulet petit-duc makes an amusing appearance in PG Wodehouse's 1938 comedy novel The Code of the Woosters. Bertie Wooster finds himself in yet another fix whereby he has to do a month in jail or aid the transfer of moustachioed wizard chef Anatole from the employ of his Aunt Dahlia to that of upper class rotter Sir Watkyn Basset. Bertie is having none of this, and elects to serve his time on the understanding that Anatole prepares a freedom banquet:
"I shall expect a dinner that will live on in legend and song."
The menu went like this:
Caviar frais
Cantaloup
Consomme aux pommes d' amour
Sylphides a la creme d'ecrevisses
Mignonette de pouilet petit duc
Points d'asperges a la Mistinguette
Supreme de fois gras au champagne
Neige aux perles des Alpes
Timbale de ris de veau Toulousaine
Salade d'endive et de celeri
Le plum pudding
L'etoile au berger
Benedictins blancs
Bombe nero
We made poulet petit-duc simply because I had a black truffle in the fridge and the rest of the dish looked simple. Please let me tell you that despite its simplicity, chicken little duke is absolutely spectacular. It deserves to be more widely known.
*This statue is often tagged as being one of Richard's grandfather, the legendary Viking King Rollo. It's not.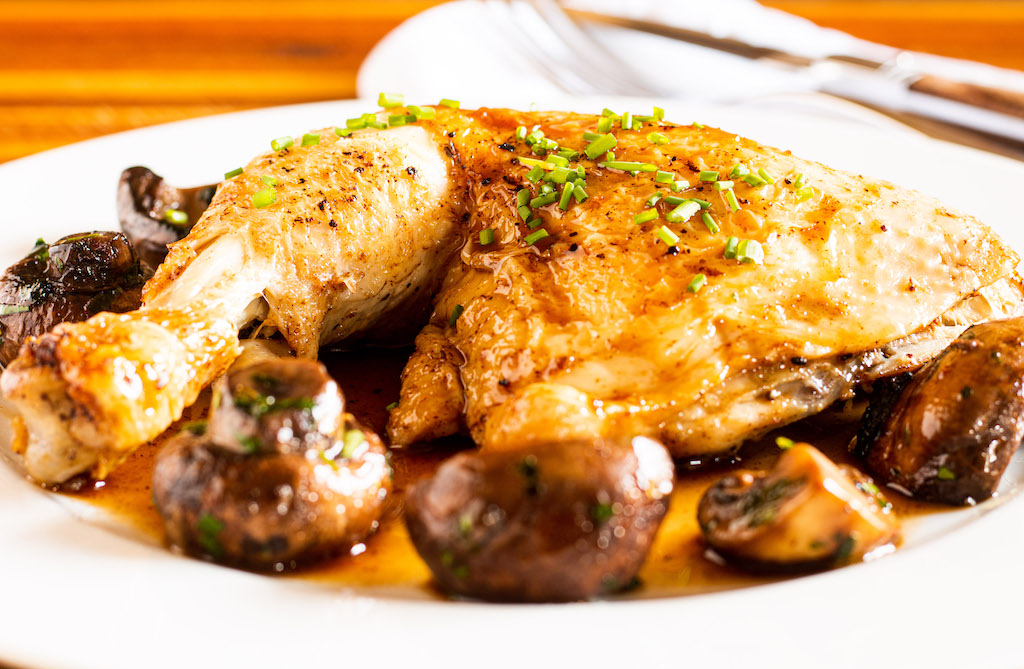 Print Recipe
Ingredients
For the chicken:

4 chicken legs

50g butter

For the mushrooms:

250g mushrooms, halved (whole morels are preferred, but the cost is ridiculous)

Half a black truffle, thinly sliced

20g butter

1 tbsp parsley, finely chopped (tarragon or chervil would also be good)

For the sauce:

1.5L chicken stock

3 tbsp Madeira

Salt and freshly ground black pepper
Instructions
1
Start by putting the chicken stock in a sauce pan and reducing to a demi glace whereby the highly-reduced stock will just coat the back of a spoon. The stock will reduce by more than 90%.
2
Meanwhile, prepare the chicken. Heat the butter in a sauté pan. Season the chicken on all sides and brown in the butter on a medium heat. Cover and set on low for 40 mins.
3
While the chicken is on, prepare the mushrooms by heating the butter to foaming, and cooking the mushrooms and truffle until soft. Season and add the parsley.
4
To finish the sauce, remove the chicken to a dish to keep warm in a very low oven. Drain off the fat. Put the pan back on the heat and deglaze with the Madeira. Reduce the wine until it is almost gone, and then add the chicken demi glace. Reduce this a wee bit more into a syrupy sauce.
5
Plate the chicken and mushrooms, and then pour the sauce over.
Notes
The original will have used veal stock instead of chicken to make the demi-glace, but that makes no sense if you have a non-red meat eater in the mix (as I do). If you are keeping this warm while having a starter or something, then take care with the sauce – it can vanish on you if reheated from cold, so make more than you need.