Shakshuka is the most famous of all Israeli breakfast dishes. Inherited from the elsewhere in the Middle East and North Africa, Jewish immigrants short on cash could still be guaranteed a good start to the day with a big dish of inexpensive shakshuka. Its name comes from the Arabic term for 'haphazard' or 'all jumbled up.'
Shakshuka is traditionally made with peppers and tomatoes cooked down into a thick sauce, cracked over with eggs and baked to finish. Today, the term shakshuka gets applied to almost any Levantine dish comprised of baked eggs in a sauce.
The idea for shakshuka made its way to Israel in the 1950s when exiles from Libya and Tunisia made the journey along the coast to the new Promised Land. Its date of origin in North Africa is not known, but we ought to recall that tomatoes are a relatively recent arrival on the Eastern side of the Atlantic. It took until somewhere between 1799 and 1825 for tomatoes to be cultivated in the Middle East and North Africa. This was achieved by John Barker, the British consul to Aleppo. This information would date the tomato-based shakshuka as an 17th Century invention at the earliest.
While the North African origins of shakshuka appear to to be accepted by most, some say that shakshuka originated in Yemen where a similar-looking dish is slathered over with hot chilli sauce.
The forty minutes of cooking required to make a shakshuka is not always practical for breakfast, so I suggest making the sauce the night before and letting it cool. Doing this will improve the flavour, just as it does for any stew. In the morning, reheat the sauce, and do the eggs for a quick 10-minute cook. When I first thought about this, I considered this overnight thing was probably how it is done in modern Israeli households. Then I spoke to a colleague who actually lives in Israel and discovered that they just buy the sauce in cans.
The recipe given here is by the Guardian's Felicity Cloake, who has gone ferreting around a ton of recipes to come up with one that is both authentic and glorious. You need a large frying pan with a lid. The photo shows the dish done for two in a smaller vessel.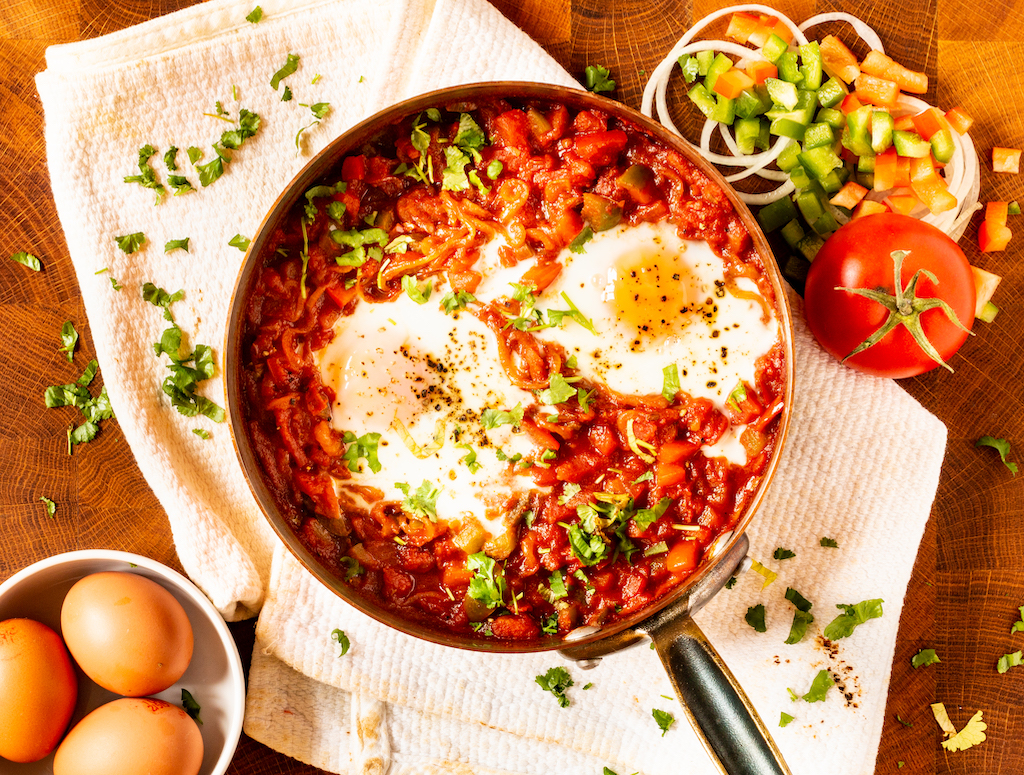 Print Recipe
Ingredients
4 tbsp olive oil


1 onion, finely sliced


1 red pepper, diced


1 green pepper, diced


6 garlic cloves, crushed


2 tsp sweet paprika

Half tsp cumin seeds


0.5–1 tsp cayenne pepper
 (we advocate adding a small amount, and then a bit more to taste)

800g tinned tomatoes


2 tsp sugar


1 tbsp lemon juice


4 eggs


Small bunch of fresh coriander, roughly chopped
Instructions
1
Heat the oil in a large lidded frying pan over a medium heat and add the onion. Cook until golden, then add the peppers. Fry until both are soft, then stir in the garlic and spices and cook for another couple of minutes.
2
Pour in the tomatoes and roughly mash. Stir in the sugar and lemon and bring to a boil, then turn down the heat and simmer for 30 minutes. Taste and season, adding more cayenne if you prefer it spicier.
3
Make four divots in the sauce and break in the eggs. Season them lightly, turn the heat right down as low as possible, cover and cook for about 10 minutes until they are just set. Sprinkle with coriander and serve.
Notes
Serve with a crusty bread. The Israelis use challah.