September is a funny month. Meteorological autumn passed by on 1 September, but the autumn equinox does not occur until about 22 September. September, therefore, is in astrological limbo between summer and autumn, and it is kind of the same for food: it's still warm (ish), blackberries are out and grouse are falling from the skies; but the last scraps of summer fruit can still be had. Perthshire is still picking strawberries, and you can still just about find cherries.
Chef Michel Roux Jnr adores cherries. There used to be a lovely clip on YouTube of him making cherry clafoutis with his cousin Alain, and his love the the fruit is absolutely endearing. Therefore, it seems perfectly fitting to use the last of our cherries on a dish from Chef Michel's Le Gavroche Cookbook.
I acquired this book after I visited Le Gavroche in 1990. I read most of it, but some of the recipes looked pretty scary. Latterly, I got really into cooking, started The Nosey Chef, and went back to the recipes with a fresh pair of eyes. It turns out that with a bit of care and planning, most of the dishes are perfectly doable – none more so than the lovely dessert of syrupy cherries with a fondant-style brownie topped with pistachio ice cream.
There are three technical hurdles in the cherry dessert:
Making the ice cream. This is made like any other, and if you don't have the kit to make ice cream, just buy some. It won't have the nut bits in it though. See the notes below on why I make ice cream with liquid glucose.
Spun sugar. The dish is garnished with a piece of sugar work. It really is beyond the scope of this site to teach spun sugar. The best thing you can do is watch this YouTube clip.
The fondant brownie. Right, this bit I did do some A/B experiments with. The recipe in Le Gavroche Cookbook calls for the brownie to be cooked for 12 minutes. In a domestic oven, this results in a beautiful fondant pudding with a cooked outer and a runny centre. The problem is moving it. The bottom can drop out very easily if placed on a wire rack to cool, and can also break when transferred to a plate. With this in mind, I went a shade longer in the oven to 14 minutes. This is still gooey, but a little less so; however, it is also a lot easier to handle. I would not go past 14 minutes or you are just going end up with a normal, dry, cake-type thing, and that would be a shame.
In 2007, when the Guardian asked a phalanx of top British chefs to name their favourite summer recipes, Michel Roux Jnr cited this one. I have a personal reason for cooking this dish – and that is that I think that Michel Roux Jnr is flat-out the nicest gentleman in the top flight of the British culinary industry today. He was lovely when we met him, and he has been very supportive when The Nosey Chef has reached out for help and advice.
What a guy.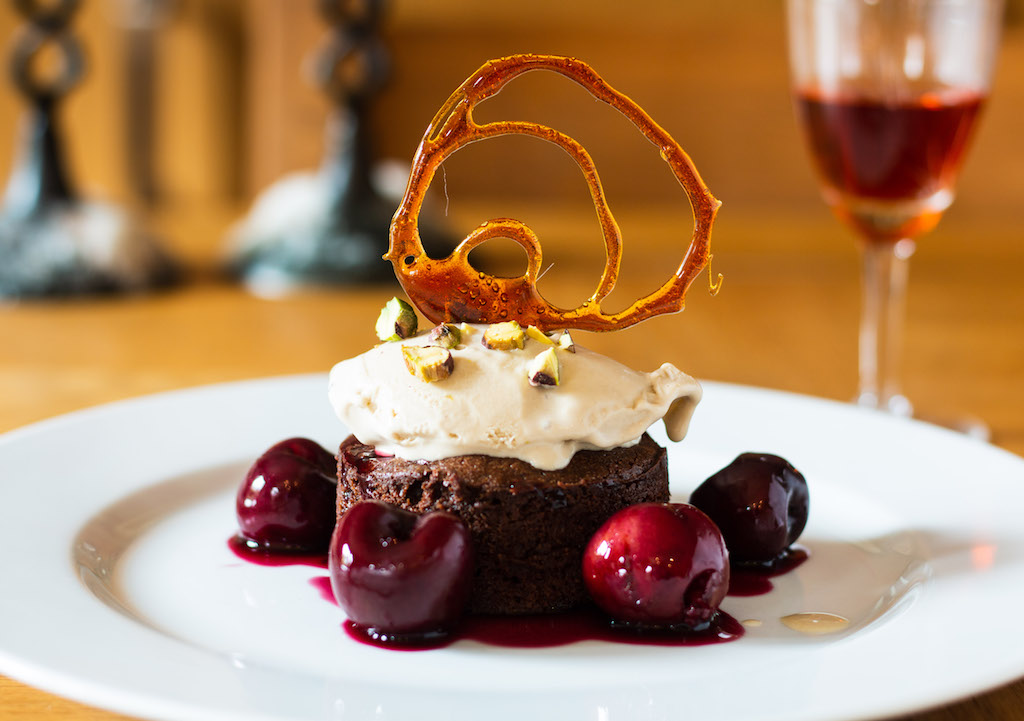 Print Recipe
Hot cherries with chocolate brownie and pistachio ice cream
Ingredients
For the pistachio ice cream:

300ml full fat milk

300ml double cream

30g liquid glucose

25g pistachio paste

1 handful of pistachio nuts, roughly chopped

5 egg yolks

90 g caster sugar

For the cherry sauce:

150ml red wine

60g caster sugar

400g cherries, stoned

For the brownies:

130g extra bitter chocolate, chopped, and a little extra to serve

115g unsalted butter

200g caster sugar

Half a tsp vanilla essence

1 pinch of salt

2.5 eggs

100g plain flour, sifted
Instructions
1
To make the ice-cream, put the milk and cream in a pan, bring to the boil and remove from the heat. Stir in the glucose and pistachio paste. Set aside.
2
Beat the egg yolks and sugar until fluffy and pale (use a stand mixer).
3
Reheat cream a little (just to make it flow, but not enough to scramble the eggs) and add it to the bowl with the eggs while whisking (just run the stand mixer and slowly put the cream in).
4
Scrape mixture back into the pan and heat slowly to 82˚C (use a thermometer) to thicken to coating consistency – do not boil or it will split). Strain to remove lumps and cool with some cling wrap on the surface to prevent skinning.
5
Churn the ice-cream in a machine, add the nuts, stir, transfer to a plastic carton and freeze.
6
To make the cherry sauce, bring the wine and sugar to the boil, add the cherries and boil for 20 seconds, then remove the cherries. Boil the liquid to reduce until syrupy. Return the cherries to the syrup and keep warm.
7
For the chocolate brownies, heat the oven to 150˚C. In a large bowl set over a saucepan of simmering water, melt the chocolate and butter together and then whisk in the sugar, vanilla and salt. Beat in the eggs, thirds at a time. Fold in the flour. Pour the batter into individual buttered baking rings (7cm in diameter and 2cm deep) and bake for 14 minutes (original recipe states 12 mins, but see notes above), until set on the outside but undercooked inside.
8
To serve, decorate the plates with a little melted chocolate. Place a brownie on each plate and arrange the hot cherries and syrup around. Finish with a big scoop of ice cream and a few chopped pistachios. Top with a piece of your best sugar work.
Notes
The ice cream recipe given here is not that of Michel Roux Jnr. It is adapted from the vanilla recipe of Nick Nairn. The key thing to note in this ice cream recipe is the liquid glucose. Using this enables domestic frozen storage without the formation of crystalline ice. So, home cooks making ice cream ought to follow the recipe above from Nairn, rather than the all-sugar version in the original Roux recipe.