A Daiquiri is defined as a drink that contains rum, citrus and a sweetener. The original recipe is rum, sugar and lime. On top of that base, there are hundreds of variations that add fruit, use different sweeteners, and mix up the types of rum. Not many Daiquiris use savoury herbs though. Simon Difford came up with this variant that uses honey for the sweetness, lime for the citrus, and adds the clever twist of fresh basil. This is a fantastic, zippy apéritif.
We were lucky enough to use honey from our friends Tim and Lisa, who live about 200 yards from us. Their bees like to get pollen from our garden, so it is sort of cool that we get to have honey that comes from our own flowers. The lavender and sedum are particularly popular.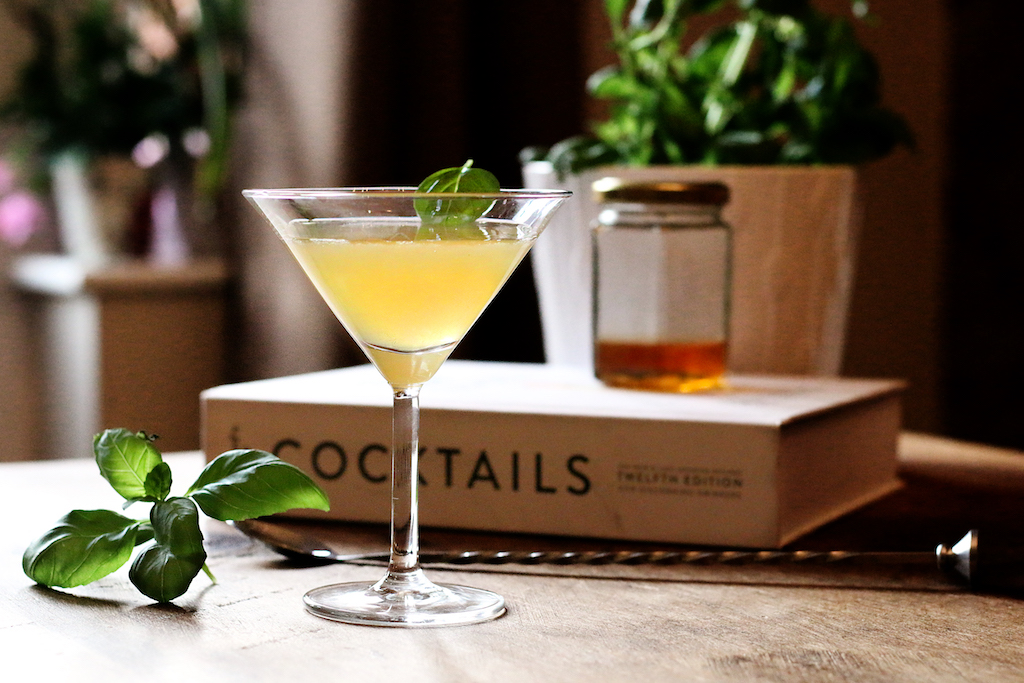 Print Recipe
Ingredients
10ml clear honey

75ml Bacardi

3 fresh basil leaves

15ml fresh lime juice
Instructions
1
In a cocktail shaker, stir the honey into the rum until it is dissolved.
2
Add ice, lime juice and basil. Shake and strain into a chilled Martini glass.
3
Garnish with a fresh basil leaf.
Notes
Please be careful with the balance because it is slightly awkward to measure honey accurately. One way to achieve total accuracy is to use a squeeze honey bottle and add the honey to the shaker while it is on a set of scales. 1ml = 1g.