This salad is a thing of my own invention. It takes the ingredients from the classic salade de Roquefort, adds some flavours from a Waldorf salad, and presents it in the style of a chopped salad La Scala. The Waldorf's celery is swapped out for lovage leaves (celery is a substitute), which grow abundantly in our garden alongside our small crop of rocket. This is ideal as a stylish starter for a summer meal, or on its own as a lunch.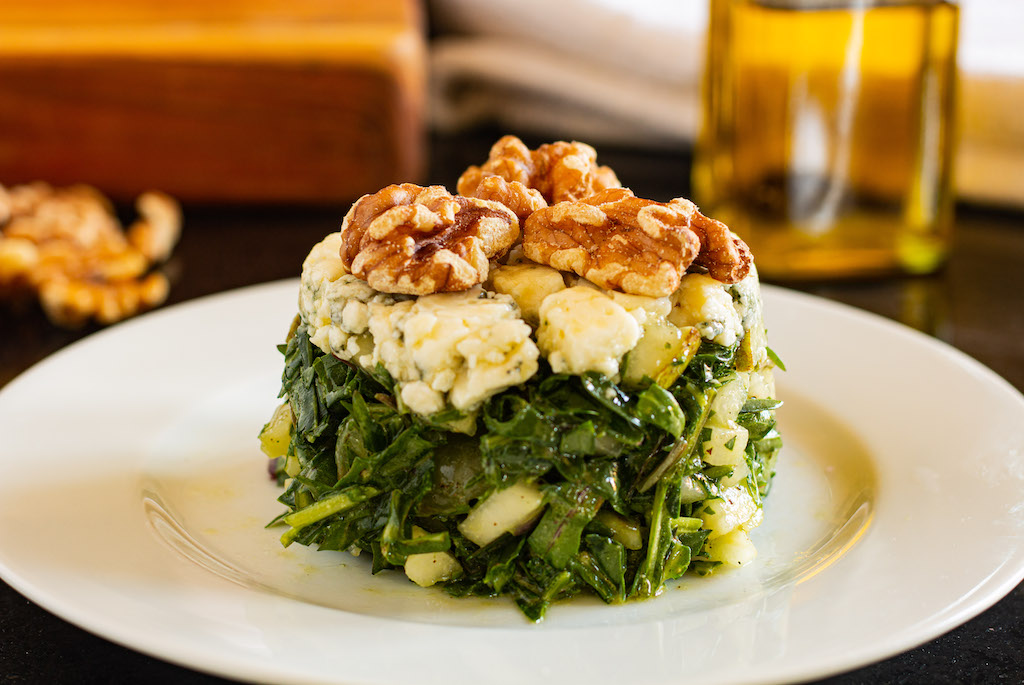 Print Recipe
Ingredients
4–5 handfuls of rocket leaves, picked

1 handful of lovage leaves, picked (you can use celery and/or celery leaves if you lack lovage)

3 pears, diced

Half a handful of red grapes, quartered

4 tbsp homemade French dressing (see notes)

200g Roquefort, crumbled

12 walnut halves

Sea salt and freshly ground black pepper
Instructions
1
Chop the rocket and lovage (or celery) together quite finely. Place in a bowl and add the fruit and dressing. Mix and season to taste.
2
Lightly oil a ramekin and line with cling film, draping over the edges. Lightly oil the inside of the cling wrap.
3
Add the cheese to the ramekin and then spoon in the salad. Press down with the base of another ramekin. Add more salad and pack until the ramekin is full.
4
Turn out onto a plate and carefully peel away the cling film. Decorate each salad with three walnut halves.
Notes
French dressing is 3:1 extra-virgin olive oil to white wine vinegar with a tsp or so of Dijon mustard to taste. Season and shake in a jam jar. Or just buy it.