Verbena is a peculiar herb originating from the Spanish Mediterranean. It grows well in that region, but can also be cultivated successfully at our home in the English Peak District. Verbena has a very distinctive lemony aroma (rather like melissa, aka lemon balm), but it does not eat terrifically well. When raw, its leaves are fibrous, and when cooked, they are not much better. Verbena comes into its own as an infusate. Pour hot water over it for a lemon tea, or bottle it whole with olive oil to make a salad dressing.
Of all the uses of verbena we have come across, the most glorious is ice cream. The verbena is used to flavour the hot dairy and left to infuse for just an hour. A standard vanilla ice cream recipe is applied to that, remembering to sieve out the herb before churning.
The recipe given here takes principles from Simon Hopkinson and other and applies them to our trusty basic ice cream recipe.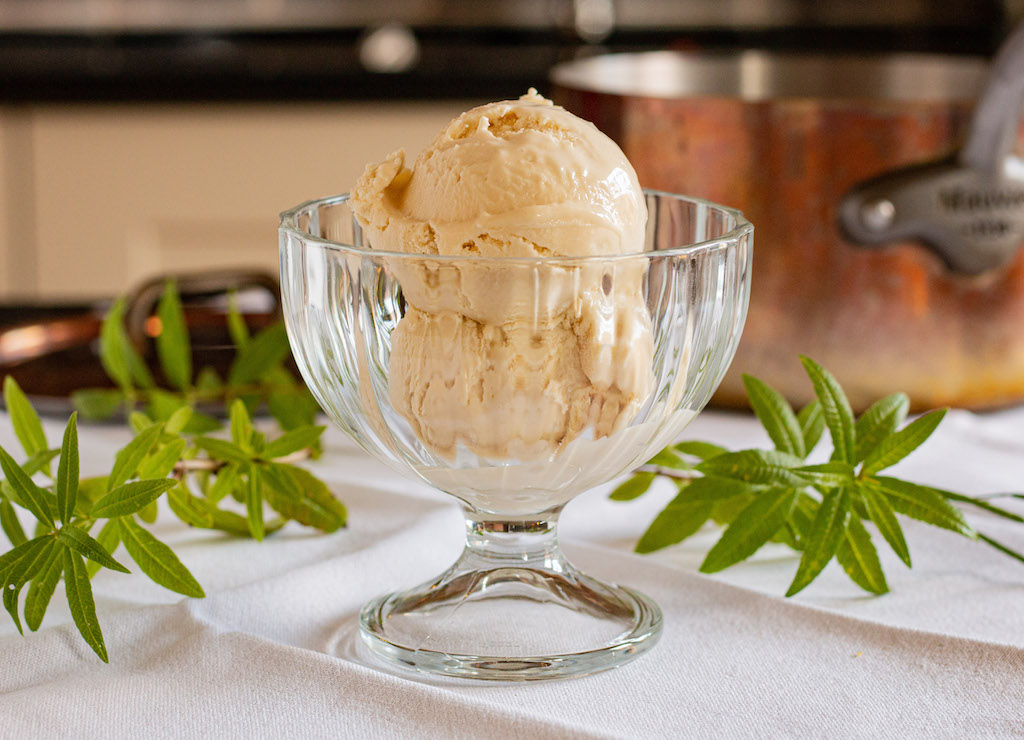 Print Recipe
Ingredients
300ml full fat milk

300ml double cream

1 large handful of fresh verbena leaves

30g liquid glucose

Seeds scraped from 1 split vanilla pod

5 egg yolks

90 g caster sugar
Instructions
1
Put the milk and cream in a pan with the verbena, bring to the boil and remove from the heat. Stir in the glucose and vanilla seeds. Set aside for 1 hour to infuse.
2
Beat the egg yolks and sugar until fluffy and pale (use a stand mixer).
3
Strain the infused dairy into to the bowl with the eggs while whisking (just run the stand mixer and slowly put the cream in).
4
Scrape mixture back into the pan and heat slowly to 82˚C (use a thermometer) to thicken to coating consistency – do not boil or it will split). Strain to remove lumps and cool with some cling wrap on the surface to prevent skinning.
5
Churn the ice-cream in a machine, transfer to a plastic carton and freeze.
Notes
Hopkinson suggests this is served with raspberries. David Lebowitz prefers peaches or plums.