The idea of a soup of caramelised onions in beef broth dates from 18th Century France. The ubiquitous crouton also harkens back to that time, when soup would often be poured over stale bread as we do for an Italian ribollita. In turn, the bread originates from the Middle Ages when food was served in a hollowed-out bread 'trencher.'
The Nosey Chef spent more than a year, on and off, looking at hundreds of recipes for French onion soup. We even made a few of them, and found them lacking. Larousse does not give the recipe. Escoffier never wrote it down. Raymond Blanc had a go, but published it in a book for new cooks, so it cut so many corners as to be not worth doing. The the one recipe I suppose I would like to get my hands on is that of Julia Child – it has been reported and repeated all over the place, but always with the writer beginning with:
"I have based this on the recipe of Julia Child, but altered some parts for the sake of convenience."
There is a video available on the Child recipe, but it is incomplete in its telling.
Certainly, we knew we were looking for a version with a long caramelisation of onions and a good beef stock (not vegetable or chicken). The cheese had to be Gruyère; and, in the end we had to stick our flag in some or other hill of onions, so we sided with Anthony Bourdain. Although an American, Bourdain is the guy who would defend classic French technique and ingredients until the end his days. Sadly, Anthony is no longer with us, so it falls to other pedants to ensure that French onion soup does not end up as some watery vegan option with none of the characteristic hearty punch of the original.
The recipe given here is lightly adapted from that of Anthony Bourdain, and was published in his Les Halles Cookbook. Les Halles, the now defunct brasserie formerly at 5 John Street, Manhattan, gained legendary status when bad-boy head chef Bourdain wrote his bestselling Kitchen Confidential, which lifted the lid on the hilarity, horrors, brutality and sheer hard work of professional kitchens. Bourdain made this soup thousands of times, and it was the lead dish in the classic Les Halles lunch of onion soup, confit duck and creme brûlée.
Countless recipes for French onion soup, including the one of Bourdain, 'gleefully' (in the words of Felicity Cloake) repeat the lie that the onions will caremelise in 20 minutes. This is completely tosh. Plan on an hour to get richly brown onions with enough stuck bits to make the port deglaze interesting.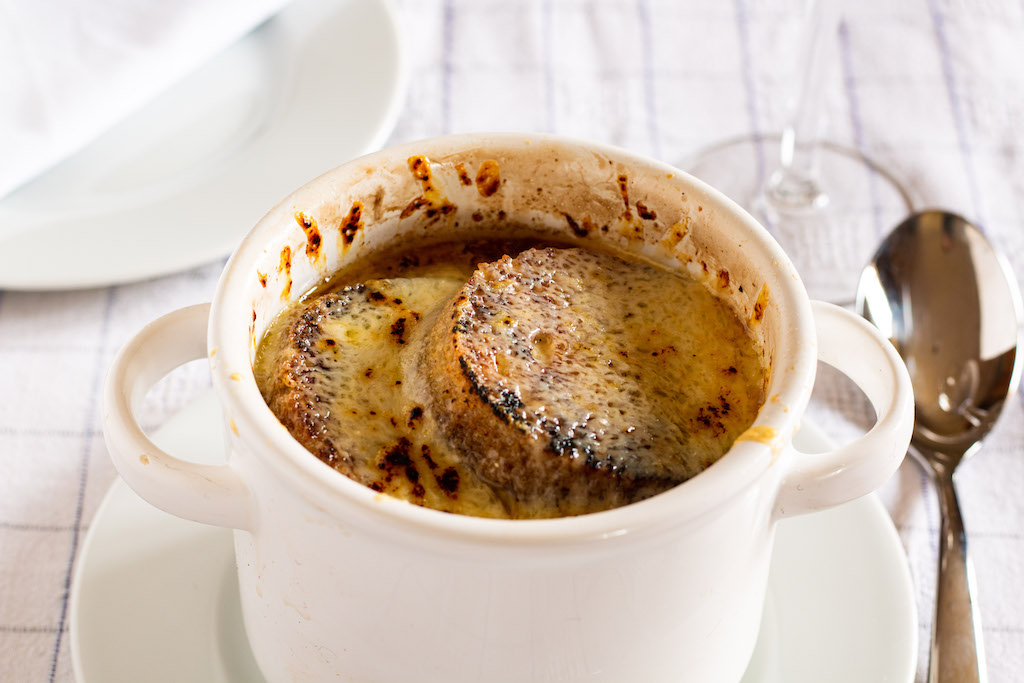 Print Recipe
Soupe à l'oignon gratinée
Ingredients
For the soup:

90g butter

4 large onions, thinly sliced

30ml port wine

30ml balsamic vinegar

600ml rich chicken or beef stock

60g bacon lardons

1 bouquet garni

For the croutons and cheese:

8 baguette croutons (sliced and toasted in the oven or in a skillet with a little olive oil)

170g grated Gruyère cheese
Instructions
1
In a large pot, heat the butter over medium heat until it is melted and begins to brown. Add the onions and cook over medium heat, stirring occasionally, until they are soft and browned (about 1 hour).
2
Increase the heat to medium high and stir in the port wine and the vinegar to deglaze the pan. Add the stock. Add the bacon and the bouquet garni, and bring to a boil.
3
Reduce to a simmer, season with salt and pepper, and cook for 45 minutes to an hour, skimming any foam off the top with a ladle. Remove the bouquet garni.
4
For the croutons and cheese:
5
When the soup is finished cooking, ladle it into the individual soup crocks. Float two croutons side by side on top of each. Spread a generous, even heap of cheese over the top of the soup.
6
Place each crock under a preheated grill until the cheese melts, bubbles, browns, and even scorches slightly in places. You can use a blowtorch to finish up if your browning is not sufficient.