In mid 2022, McDonald's operations in various counties dropped the Chicken Legend® and replaced it with the all-new McCrispy®. The basic item is very crispy chicken in a bun with lettuce and flavoured mayonnaise, and is designed to go toe-to-toe with KFC. Some variations exist between countries. In the UK, the bun is sourdough with sesame, while in Canada, it is a potato bun. The mayonnaise does or does not have truffle in it depending on where you are.
However, the new McCrispy is not the only McCrispy.
The McCrispy existed as a product in Singaporean branches of McDonald's from about 1999 until 2002. The dish was made by 'thermalising' chicken in a special machine before rapid deep frying. It is reported that the preparation of the McCrispy resulted in so much food waste that McDonald's Singapore decided to can it.
At present, other countries have McCrispys, but they are nothing like the new menu item.
The recipe we have here is generated from a few sources. We have used the ingredients and allergen list from McDonalds UK for the basic thrust of it (particularly the mayonnaise). We have then used our technique for KFC for the cooking technology (which echoes the Singaporean method), and then our chicken nuggets for the crispy coating.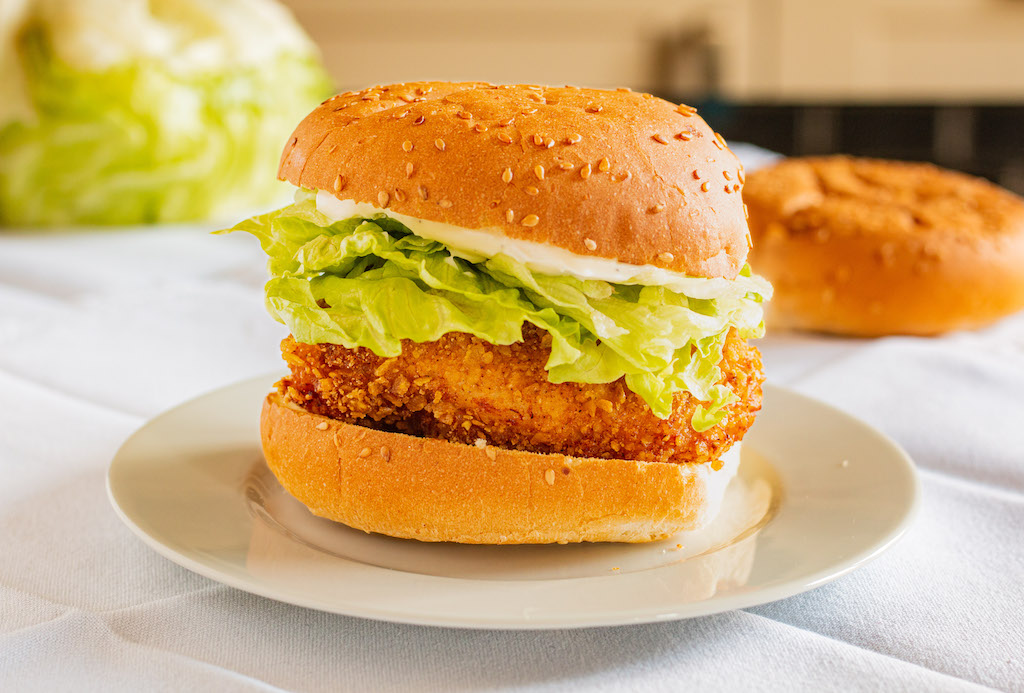 Print Recipe
Ingredients
For the chicken:

1 chicken breast fillet

2 tbsp plain flour, seasoned with sea salt and freshly ground black pepper

3 tbsp buttermilk

Half a bag of Doritos®, blitzed to crumbs in a food processor and mixed with 2 tsp ground white pepper

1 tsp paprika

For the black pepper mayonnaise:

2 tbsp mayonnaise

Half tsp mustard powder

Tiny drizzle of truffle oil

Sea salt and freshly ground black pepper

To finish:

1 sesame bun, split and toasted

Couple of leaves of iceberg lettuce, trimmed to fit the bun
Instructions
1
Season the buttermilk with salt and pepper, slather it over the chicken and then cook the chicken sous vide for 3–4 hours at 65˚C. Reserve any unused buttermilk.
2
Once cooked, remove the chicken and pat dry. Coat with the seasoned flower and then the left-over buttermilk. Finally coat with the processed Doritos® mixed with the white pepper, and press into the chicken a bit to make sure it sticks.
3
Heat a fryer to 190˚C and fry the chicken for about 2 mins until golden and crispy. Drain and place on dry kitchen paper.
To make the black pepper mayonnaise:
4
Combine all the ingredients and adjust to taste.
5
Spread the top bun slice with a thick layer of the black pepper mayonnaise.
6
Build the sandwich in the following order: bottom bun, chicken, lettuce, top slice.