I am sticking my neck out here in the hope that Antonio Pellarin from the 5th Floor Bar at Harvey Nichol's approves of my attempt at his Perfect Martini. The last time I was in London, Antonio made it for me amid a multi-topic, wide-ranging chat that included, cocktails, food, weddings and Kalashnikovs.
The Manhattan has a difficult history. The story goes that the drink was invented in The Manhattan Club, New York, in the early 1870s. Dr Iain Marshall was apparently mixing drinks at a banquet hosted by one Jenni Jerome, Lady Randolph Churchill, the mother of Winston Churchill (the Manhattan Club was in the Jerome Mansion, which was the home of Jenni Jerome until her family moved up town and sold it to a club – destroyed by wrecking ball in 1967 and replaced with a shitty skyscraper). The banquet was conducted in the honour of unsuccessful Presidential candidate and Governor of New York Samuel J Tilden. Marshall is sad to have invented the Manhattan and the popular drink is therefore named after the club.
But there is a massive problem with this. Lady Randolph was in France at the time of the party and was pregnant with little Winston. She was most likely medically warned off booze.
The Perfect Manhattan is a riff on the Sweet Manhattan in which the syrup is omitted and dry vermouth is added along with the rosso. This is exactly the same premise that gives us the Perfect Martini in which both major variants of vermouth are added to freezing cold gin.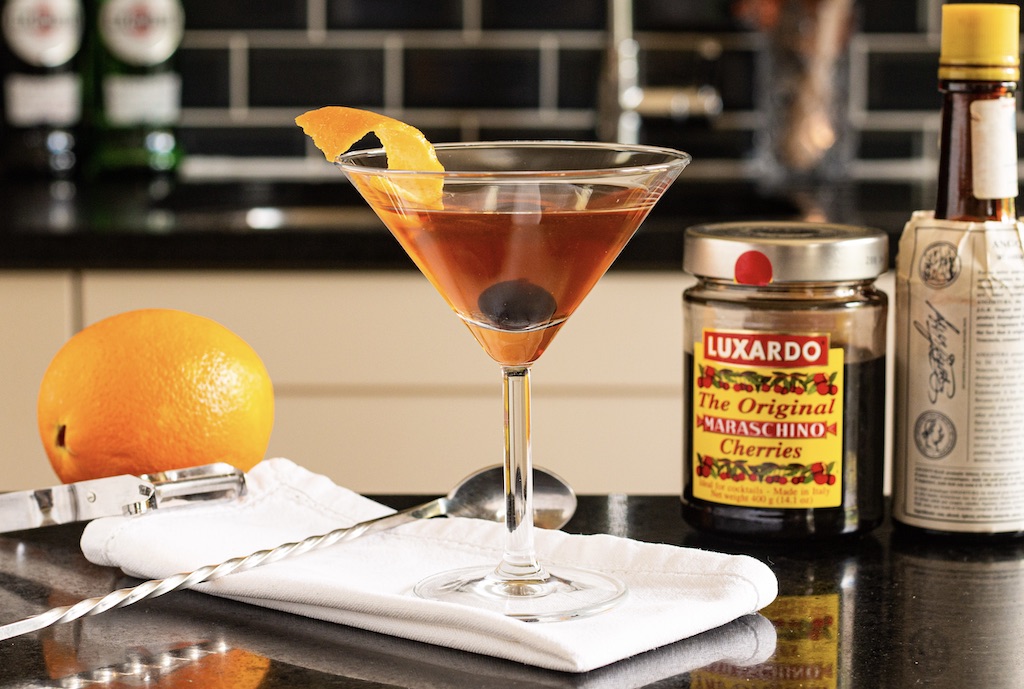 Print Recipe
Ingredients
60ml bourbon

15ml sweet red vermouth

15ml dry white vermouth

2 dashes Angostura bitters

Strip of orange peel

Luxardo maraschino cherry, rinsed
Instructions
1
Stir the liquid ingredients with ice and strain onto a chilled Martini glass.
2
Twist the orange peel over and either discard (canonical) or add to the glass (Antonio puts it in the glass). Garnish with the cherry dropped to the bottom of the glass.