While Filipino in origin, afritada borrows much from Western cuisine. Its name is derived from the Spanish 'fritada' to mean 'fried.' The method of cooking is familiar to anyone who has made a boeuf Bourguignon. Vegetables and meat are lightly fried in sequence and finally braised in a rich sauce. Afritada is best made with beef, but chicken is common.
Afritdada lends itself to some serious fucking about with. You can make this with fish if you know what you are doing, and virtually every vegetable is interchangeable with the contents of your fridge, as long as you retain the tomatoes.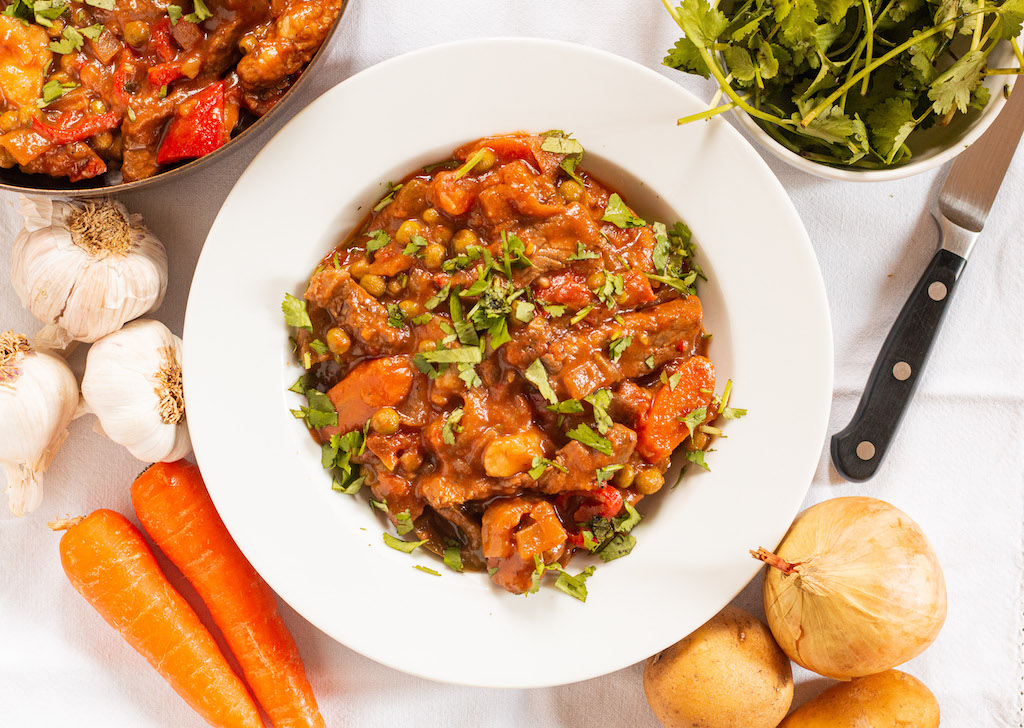 Print Recipe
Ingredients
50ml groundnut oil

2 potatoes, peeled and quartered

1 large carrot, peeled and cubed

Half a green pepper, seeded and cubed

Half a red pepper, seeded and cubed

1kg beef chuck, cubed

1 onion, chopped

4 cloves garlic, minced

2 tbsp soy sauce

1 tbsp fish sauce

400g canned, chopped tomatoes

2 tbsp tomato puree

500ml water water

1 red chilli, sliced

Sea salt and freshly ground black pepper
Instructions
1
Heat the oil in a large frying or sauté pan. Add the potatoes and carrots and sauté for about 15 mins until lightly browned. Remove to a plate. Add the peppers and cook for half a minute. Remove to the plate.
2
Pour half the oil out of the pan, and increase the heat. Add the meat and sauté for about 4 mins. Remove to a plate and keep warm.
3
Add onions and garlic to the pan and sauté for approx 5 mins until softened. Add the beef back to the pan with the fish and soy sauce and cook for about 2 mins. Then, add the tomatoes, water, and tomato puree. Stir and bring to the boil. Lower the heat, cover, and cook on low for about 2 hours until the beef is soft and tender. Add water along the way if things are getting dry.
4
Once the beef is cooked, add potatoes and carrots and continue to cook for about 5 mins until the vegetables are tender and the sauce is thickened slightly.
5
Add peppers and cook for about 1 minute more until they are tender, but still have some bite.
6
Season to taste and cast over with the red chilli. Serve hot.