Every family a version of this they make every week. It is a baked pasta dish with tomatoes and cheese. This one is special to me because it was invented in a ground floor flat in Thistle Street, Aberdeen in 1990 by two flatmates I was at University with. I was shown how to make the dish, and now I have a son, this is one of his favourites too; and it is he who named it 'pasta with "sticky cheese."' So we are recording this in the hope that he will keep making it for another generation.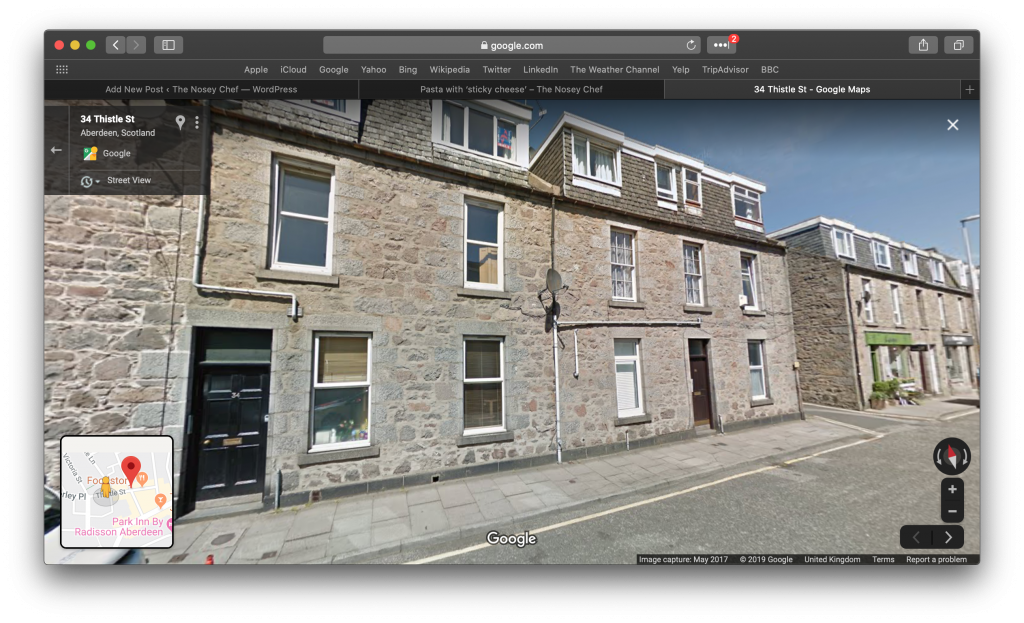 This dish is basically American-Italian, in that is it a tomato-spiked 'macaroni' cheese. Where it deviates from any sense of originality is the addition of the cryptoculinary sweetcorn, which works quite well with the tomato.
I don't care.
Print Recipe
Pasta with 'sticky cheese'
Ingredients
For the pasta:

400g penne

For the tomato sauce:

1 tbsp olive oil

1 onion, finely chopped

1 garlic clove, minced

400g can of chopped tomatoes

1 large handful of frozen sweetcorn

Pinch of sugar

Sea salt and freshly ground black pepper

For the Mornay sauce:

15g butter

15g flour

250ml milk, warmed

Half tsp English mustard

2 good handfuls of cheddar cheese, grated

Sea salt and freshly ground black pepper
Instructions
2
Begin with the tomato sauce. Heat the oil in a sauce pan, and add the onions. Cook until softened. Add the garlic and cook for 1 minute longer. Add the tomatoes, sweetcorn, sugar and seasoning and simmer on low for 15 or so minutes until a little reduced.
3
Now cook the pasta. Bring a large pan of water to a rolling boil and add salt until you have the taste of mild seawater. Add the penne and cook according to the packet instructions until al dente. Drain.
4
Make the mornay sauce by melting the butter in a small saucepan and adding the flour. Combine and cook on medium for 1 minute. Gradually add the milk a quarter at a time and mix into the roux until a smooth, glossy sauce is achieved. Add nearly all the cheese a little at a time and melt into the sauce, reserving some for sprinkles. Season with salt and pepper and mix in the mustard. Taste, adjust, and set over a very low heat.
5
Build the dish by putting the pasta and tomato sauce in a casserole and mixing thoroughly. Pour the Mornay sauce over the pasta and bake in the oven for 20 mins until browned. Remove from the oven and rest for 5 mins so you don't burn your hard palette out when you eat it.