In Italy, and particularly Naples, 'alla pizzaiola' is taken to mean 'like a pizza.' From a practical cooking standpoint, this means 'with tomatoes, olive oil and garlic (and sometimes white wine),' and usually indicates cheap cuts of meat.
For years I have been eating decidedly not inexpensive steaks in Italian restaurants and commenting that "The Italians do steaks like nobody else." The dishes I was verbally genuflecting over were always served with a tomato and garlic sauce – I wondered what the secret might be. Later, I got my mitts on a copy of the Italian cooking bible The Silver Spoon, and there it was – bistecche alla pizzaiola was the steak dish I had been raving about all these years. It is glorious in its simplicity, and clever in its split-cooking execution.
Serve this with super-skinny fries and a rocket and parmesan salad side.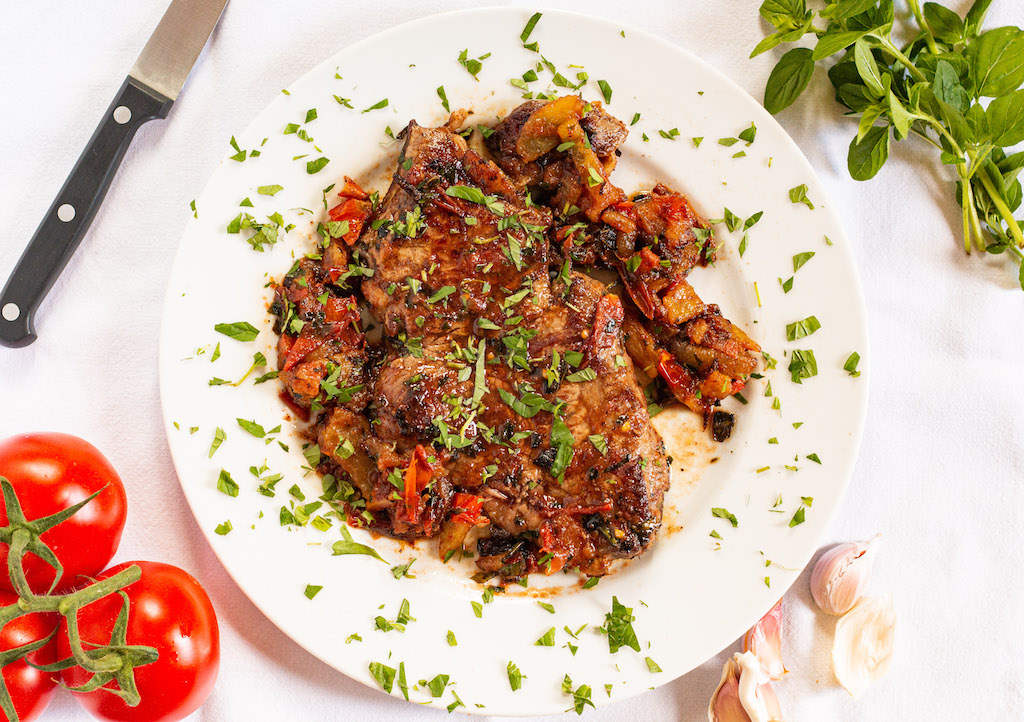 Print Recipe
Ingredients
2 tbsp olive oil

25g butter

2 cloves garlic, peeled and whole

4 steaks

600g tomatoes, seeded and diced

Bunch of fresh oregano, chopped (or 1 tbsp dried oregano)

Sea salt and freshly ground black pepper
Instructions
1
Heart the butter and olive oil in a frying pan. Cook the garlic until it turns brown and remove. Add the steaks and cook on a high heat for 1 minute each side, season and remove to a warm plate.
2
Add the tomatoes and oregano to the pan and cook down until pulpy. Add the steaks back to the pan and cook until done, basting now and then with the sauce.