This history of the potato salad is one in which potatoes hop across the Atlantic, not once, but twice.
Potatoes originated in Peru and were discovered by the Spanish conquistadors, who brought them back to Europe where they became a cheap, staple carbohydrate. The Germans, with their Kartoffelsalat , popularised the idea of eating potatoes cold and dressed with other tasty things including beef stock. From 18th Century Europe, the pilgrims took potato salad back across the pond and began the widespread practice of dressing cold tatties with mayo.
My potato salad is very simple and uses sweet onion flavours to create a quick and easy side for summer barbecues.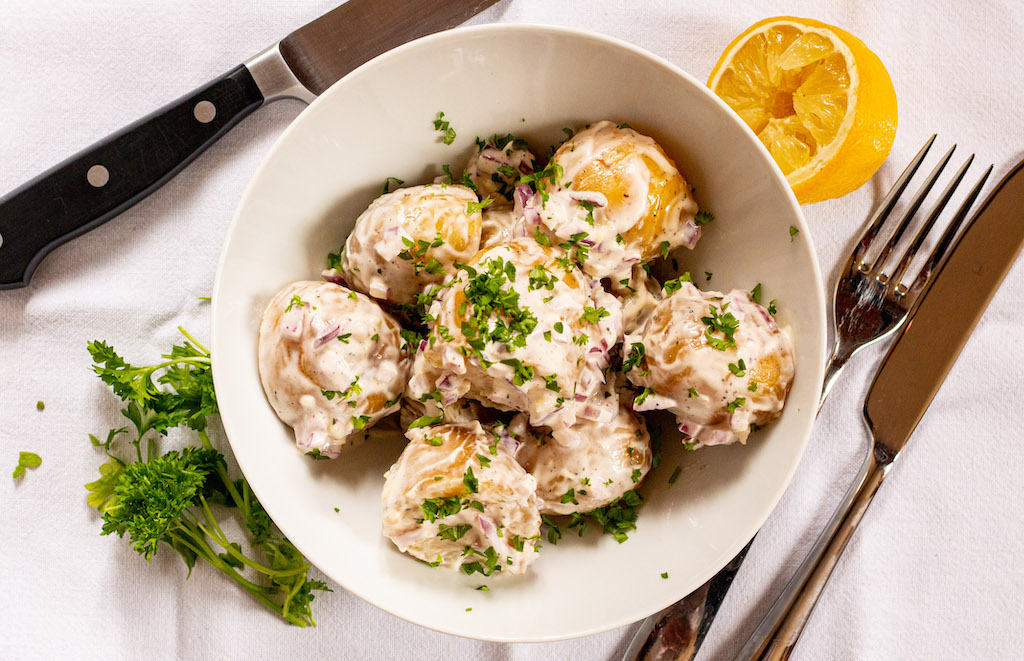 Print Recipe
Ingredients
1kg baby new potatoes, skins on

1 red onion, finely chopped

4 tbsp mayonnaise

Sea salt and freshly ground black pepper

Half a lemon

Parsley or chives, chipped to garnish
Instructions
1
Boil the potatoes until tender (about 10 mins). Drain.
2
In a bowl, combine the potatoes, mayonnaise and onion and season. Squeeze over with the lemon.
3
Sprinkle over with the chopped herb of your choice.