Part herb, part salad leaf, 'rocket' (Eruca vesicaria) comes from the Italian term 'rucola,' and finds its way into all sorts of Italian foods up to and including pizza. Rocket is actually a brassica and was cultivated by the Romans where it was valued as an aphrodisiac. In fact, rocket was apparently so potent in the boner department that it was banned from cultivation in monasteries in the Middle Ages. I have no truck with this notion – I have eaten plenty of rocket and have yet to suffer the embarrassment of being unable to rise from the table.

When mixed simply with Parmesan and some kind of dressing, rocket is the perfect accompaniment to steak. The recipe given here is our own where we mix handfuls of rocket with shaved Parmesan, and drizzle over olive oil and balsamic vinegar in the classic 3:1 proportions of a French vinaigrette (some say 1:1). It is important to use the best olive oil you can find, and the shave the Parmesan with a speed peeler or potato peeler rather than grating it. The best balsamic vinegar is always the thicker kind, and this can be obtained in the UK from any branch of Carluccio's.
To beef up this classic salad, many recipes add halved cherry tomatoes ('pomodoro piccolo'). The whole thing can be made into a main lunch dish by adding things like toasted pine nuts, Dolcelatte, chopped salami and cooked chickpeas.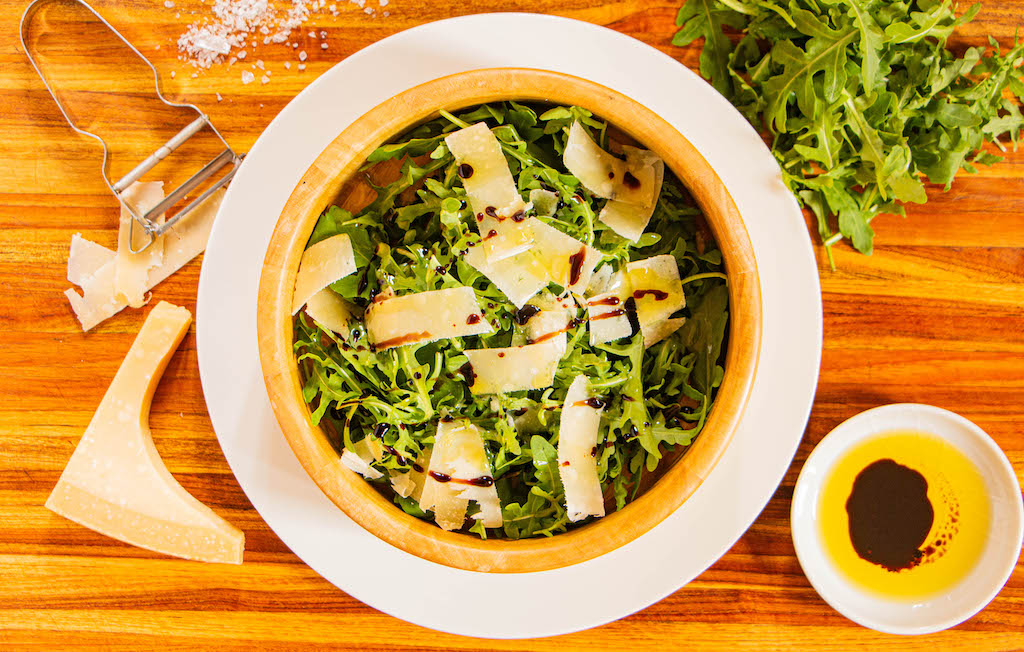 Print Recipe
Insalata di rucola e parmigiano
Ingredients
150g rocket

80g parmesan, shaved

3 tbsp extra-virgin olive oil

1 tbsp good-quality balsamic vinegar

Sea salt and freshly ground black pepper
Instructions
1
Combine all the ingredients in a bowl, toss and season. Scatter over a little more shaved parmesan for a fresh look.
Notes
Halved cherry tomatoes are a common addition to this classic salad.