A lot of the recipes we post include fresh, handmade pasta. I am sure that many people reading this know how to make it, but we are posting this here so we can refer to it in other recipes. You will need a pasta rolling machine.
We keep our recipes simple and deliverable in a British kitchen, but for pasta there are some things to note to ensure success. Firstly you need proper, farm-fresh, free-range hens eggs with very orange yolks. This is not only a better egg, but it also imparts a yellow colour to the pasta. Pale eggs will give you essentially white pasta. Nige gets his eggs from Farm Girl at New House Farm, The Wash, Chapel-en-le-Frith.
Secondly you need some very good flour (ideally durum wheat or Tito 00 grade), and some semolina. In a pinch, you can just use Homepride plain flour. The best solution is to get hold of pasta flour from Italy Nige has access to Petra 7220 Granpasta flour via his local Italian restaurant. Having this negates the need to add semolina and results in an absolutely silken pasta.
It helps if you use your bowl shape. Weigh the dry ingredients out into a dessert bowl, tip the bowl out onto your surface, and use the base of the bowl (twist it) to create a well for the eggs. Once the eggs are cracked into the well, use a dough cutter to do the initial mixing (use a chopping action before pressing) before getting your hands in. This is way less messy than just going for it with your phalanges. Italian mamas will want to shoot me and bury me in the olive orchard for that. They prefer to tickle the flour into the eggs with their fingers from the get go.
Once you have a ball of pasta that, when prodded, returns its shape, you ought to wrap it in clingfilm and chill it in a fridge for at least 10 minutes before shaping. This relaxes the gluten and makes the pasta more workable. After this, quarter your pasta ball, and take one quarter and roll it a bit with a rolling pin to enable the pasta machine to accept it easily. Now work your pasta as you require, keeping any remaining pieces in the clingwrap.
When you work your pasta in a roller, it is essential to run the pasta through the first setting six times, folding with each pass. This additionally kneads the pasta and improves smoothness. Giorgio Locatelli taught me this, so don't argue.
Once you have a pasta sheet, follow whatever YouTube instructional you might favour to produce pasta staples, but why not start with this one from Gennaro Contaldo: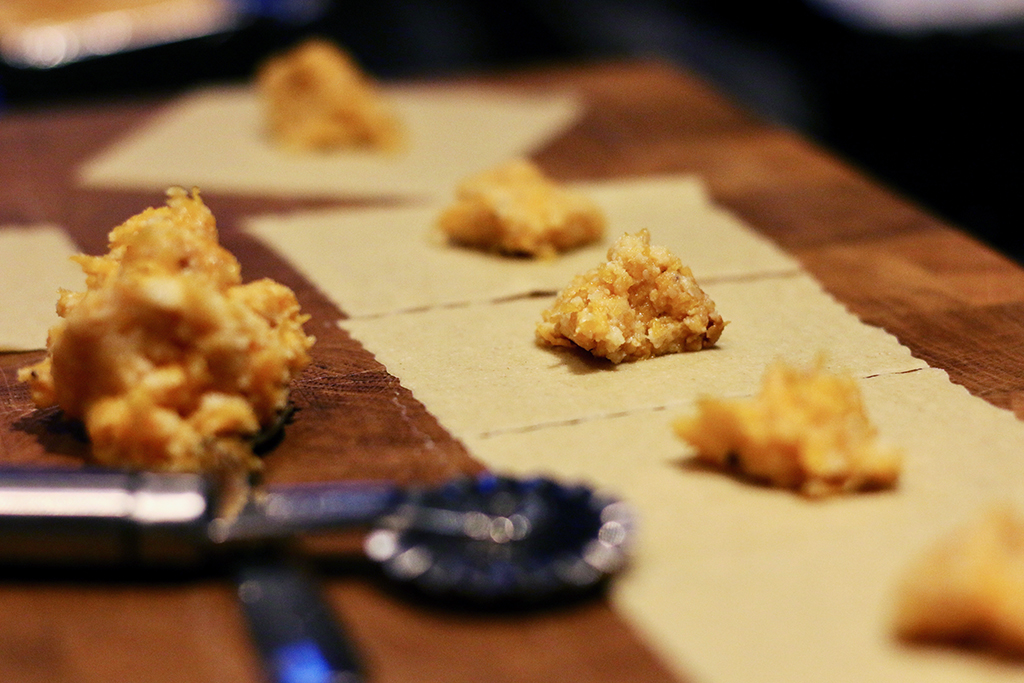 Print Recipe
Ingredients
4 medium eggs

300g flour (or 400g Petra 7220 Granpasta flour)

100g semolina (not needed if you have the 7220)

2 large pinches of salt

Semolina for dusting the work surface
Instructions
1
Measure the dry ingredients into a bowl. Tip the bowl out onto your surface and use the bottom of the bowl to create a well in the four.
2
Crack the eggs into the well and use a dough cutter to gradually chop and work in the eggs to the flour.
3
Once the mixture is gaining nothing from the cutter, use your hands to knead the pasta to the point where a poked finger results in the sprung back pasta ball over less than 10 seconds.
4
Wrap the pasta ball in clingfilm and chill for 20 mins.
5
Roll the pasta and work it into any shape you need. Please remember to run the pasta folded though the first setting at least 6 times. If you don't, you will get poor pasta.