Rillettes (nicknamed 'pig jam') is one of those foods that elevates peasant sustenance to greatness. The best version is apparently from Tours, where the pork is cooked to near caramelised status.
Rillettes requires a cut of meat so inedible, that half of it is fat, and all of it is too tough for a quick fry. These are the cheapest cuts, and those that the common peasantry could afford when they could even stretch to meat at all. Rillettes are traditionally made with pork shoulder with additional 'hard fat;' from the back of the pig; or they can be made with laterally sliced belly. Bones are needed for flavour, so if you are using belly, don't let your butcher whip the bones off – keep them and take them off yourself for the pot. You can also use the skin off the belly, but you really need to fish that out before potting your rillettes.
The term 'rillettes' is directly derived from the French term 'rille,' which indicates strips of pork.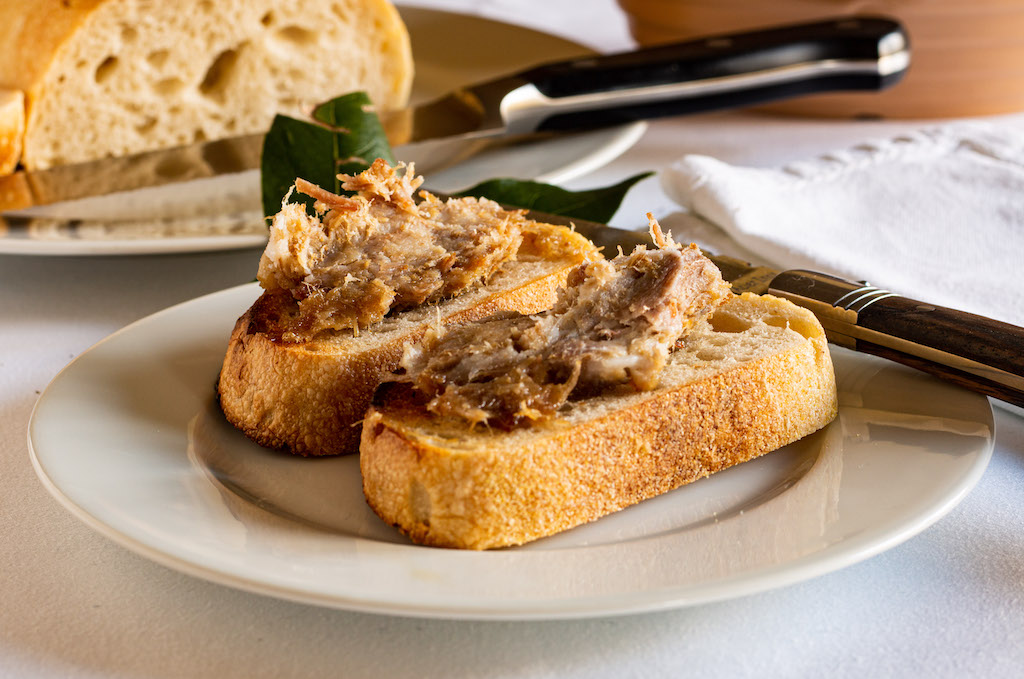 Print Recipe
Ingredients
1kg pork belly, carefully butchered into fat, bones and meat.

2 tsp salt

12 black peppercorns and 4 cloves tied in a muslin bag
Instructions
1
Layer the pork in a saucepan with fat first, bones second and lean meat last. Sprinkle the salt, stuff in the bag of spices, and fill with water to just cover the meat.
2
Bring the pan up to a simmer, cover, and leave on low for 4 hours.
3
Fish out the bones and the spice bag. Turn up the heat and reduce until almost all the liquid has evaporated. Shred any big bits of meat with a pair of forks. Pour into ramekins and chill.
4
Serve at room temperature on toast.