Spring rolls originate in China, where they were a dish designed to use fresh, spring vegetable produce.
Spring rolls found their way to the Philippines in the 7th Century, presumably via the extensive trading routes in the region. In the Philippines, spring rolls exists in a cooked format, but also in an un-fried variety known as 'lumpia,' which is where the Dutch, Indonesian-derived spelling 'loempia' comes from.
Filipino spring rolls are large-format spring rolls filled with precooked ingredients and deep fried. They are typically present at celebration meals. The 'gulay' variant contains both pork and shrimp along with selected vegetables, despite the word 'gulay' meaning 'vegetables,' and being most often associated with fully vegetarian dishes … which Filipino gulay isn't.
The recipe given here is my own, and borrows a little from another spring roll variant known as 'togue,' in which a butt-tonne of beansprouts are added.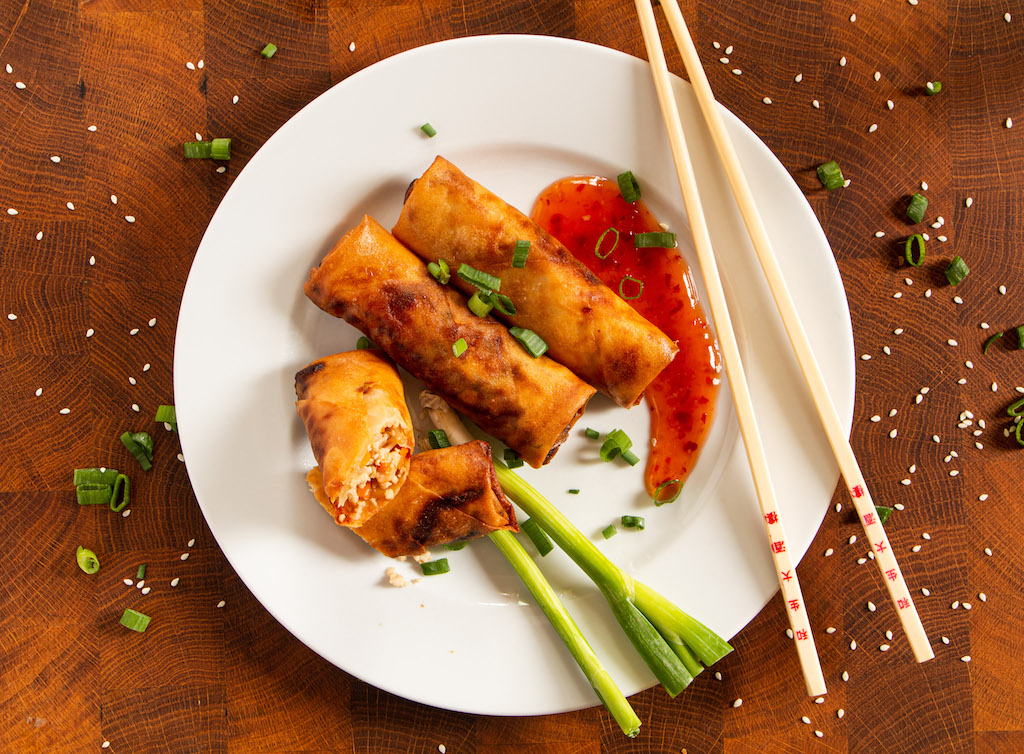 Print Recipe
Ingredients
For the filling:

400g pork loin, minced

300g raw king prawn, diced

2 carrots, julienned

1 handful of beansprouts

1 tbsp garlic, minced

1 tbsp sesame oil

To assemble:

20 sheets of 250x250mm frozen Spring Home TYJ spring roll pastry, defrosted

1 egg, beaten for sealing

Sea salt and freshly ground black pepper
Instructions
2
Heat the sesame oil in a wok until searing hot and smoking.
3
Add the carrots and cook for a couple of minutes until softened. Add the pork and garlic, and cook for a couple of minutes until the pork is browned. Add the prawn and beansprouts, season and cook for a moment to ensure the prawns are done.
5
Lay out one sheet of spring roll pasty as a diamond. Spoon 1 heaped dessert spoon of filling onto the pastry in a line just below the centreline. Bring the lower corner of the pastry over the filling and roll until you reach the middle. Fold in the two sides to form the ends. Brush all the exposed pastry over with the beaten egg, and then roll up tightly.
7
Heat a fryer to 190˚C, or heat neutral oil of about a quarter inch depth in a large frying pan (the fryer is safer).
8
Fry the spring rolls in batches in the hot oil for about 6 minutes, turning a couple of times until a deep golden, almost brown colour is achieved. This will ensure that the spring rolls are crispy through all the layers of pastry.
9
Remove the cooked rolls to a dish lined with absorbent kitchen paper.
10
Serve with some sweet chilli dipping sauce.
Notes
The rolls can have a tendency to 'right' themselves in the fryer, making turning impossible. If this happens, use a spider strainer or other implement to hold them under.