We have 'noseyed' Wiener schnitzel before. The Holstein variant was apparently made in restaurant Borschardt in Berlin in the late 1800s for Friedrich von Holstein, who was the German diplomat subordinate to Otto von Bismarck, and serving Kaiser Wilhelm II.
The original dish is as given below, but added caviar, smoked salmon, mushrooms and crayfish.
Schnitzel Holstein is adaptable to pork and chicken, but it is worth doing the veal version with some stringy fries, a salad, and a massive beer.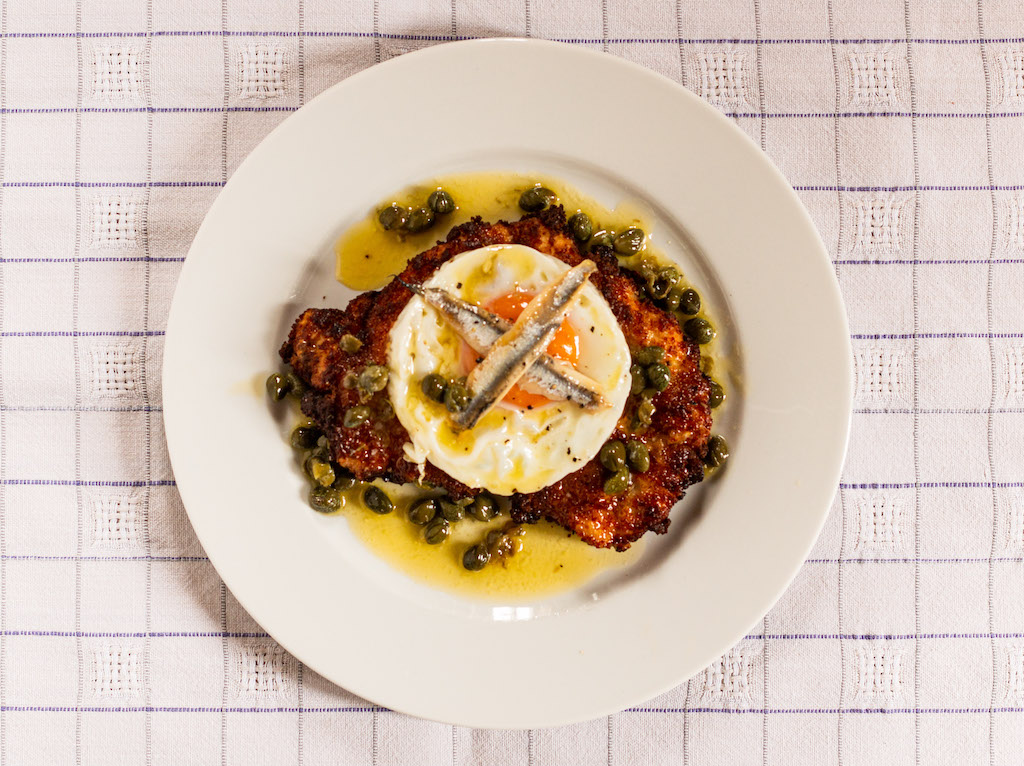 Print Recipe
Ingredients
For the schnitzel:

2 skinless veal escalopes, hammered to 3mm thick (do not make any holes; see notes on availability)

2 eggs

50g tbsp plain flour

50g fresh white breadcrumbs, dried in an oven and re-blitzed, or fresh white breadcrumbs frozen and defrosted (both will be sufficiently dry)

75g lard, goose fat, duck fat or ghee (un-clarified butter will burn, and oil does not belong here)

To garnish:

2 eggs

50g butter

1 small handful of capers

4 anchovy fillets

Squeeze of lemon

1 tbsp parsley, finely chopped

1 lemon, cut into wedges

Salt and freshly ground black pepper
Instructions
2
Season the veal on both sides with salt and pepper. Place flour and breadcrumbs onto separate flat plates; beat the eggs together in a bowl using a fork.
3
Coat each schnitzel on both sides in flour, then dredge through the beaten eggs, ensuring that no part of the schnitzel remains dry. Lastly, coat in the breadcrumbs and carefully press down the crumbs using the reverse side of a fork.
4
In a large pan, melt enough fat for the schnitzel to be able to swim freely in the resulting oil.
5
When the fat is so hot that it hisses and bubbles up if some breadcrumbs or a small piece of butter is introduced to it, you are ready to put the meat in. Depending on the thickness and the type of meat, fry for between 2 minutes and 4 minutes until golden brown. Turn using a spatula taking care not to damage the coating. Fry on the other side until similarly golden brown.
6
Keep warm while you make the sauce.
8
Heat the butter in a pan until foaming, but not brown. Add the capers and a squeeze of lemon. Cook for 1 minute, before asking the parsley and seasoning. At the same time, fry the eggs in hot oil.
9
Arrange the dish by placing the egg on top of the schnitzel and pouring the sauce around. Cross the anchovy fillets on top of the egg and sling over a twist of black pepper.
Notes
Obtaining veal in the UK can be tricky depending on where you live. If you are in London, you will be falling over specialist butchers who service the multi-national restaurant trade. If you are elsewhere, then most butchers don't carry it and supermarkets are a write off. Ocado is the only game in town. The Brits, it seems, are still squeamish about eating veal, which is frankly ridiculous.