The Dublin coddle is a localised, meaty version of the Irish stew, and has no fixed recipe. The coddle arose in the years following the Irish national potato famine, and is designed to use up leftovers. Variations of the coddle include layering (yes or no), carrots (definitely no) and a topping akin to a Lancashire hotpot (for fancy coddles like ours). The coddle can be refined a bit by pre-browinig the sausages and not cutting them, and by adding basic herbs like thyme and parsley into the layers.
Our Dublin coddle takes is cues from Ciaran Kavanagh at The Gravediiggers in the cemetery plot in the 'dead centre' of Dublin. We go with Ciaran for the ingredients, and Epicurious for the method. The Gravediggers can be found at Prospect Square, Glasnevin, Dublin, D09 CF72, Ireland.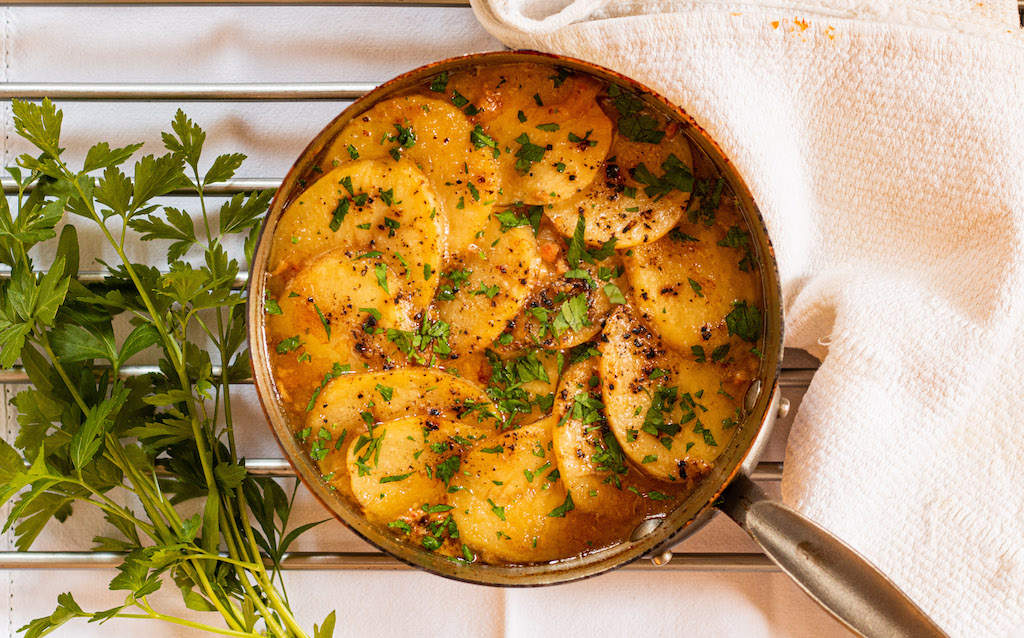 Print Recipe
Ingredients
2 tbsp neutral oil

500 ml chicken stock

450g sausages, cut into large chunks

225g lean bacon diced

1 onion, peeled and thickly sliced

900g potatoes, peeled and separated into half chunked and half sliced

Sea salt and freshly ground black pepper

2 tablespoons chopped parsley

2 sprigs thyme, picked
Instructions
2
Heat the oil in a large sauté or frying pan and brown the sausages, bacon and onions in a frying pan for a few minutes. Place half the sausages and bacon in the bottom of a large, oven-proof casserole, Add half the onions, the chunked potatoes and half parsley and thyme. Season liberally.
3
Add another layer of meat and onions. Season to again. Pour in the stock and layer over with overlapping slices of the sliced potato.
4
Cover and cook in at the oven for 2 hours.
5
Remove the lid and dot the top layer with butter. Bake uncovered for another 30 minutes.
6
Serve with some Lea and Perrin's Worcestershire sauce on the side.