Scampi are Nephrops norvegicus. This is exactly the same species as Dublin Bay prawns, Norway lobsters and langoustines. They are not prawns – they are a lobster, albeit a small one.
Scampi are insanely tasty, and breading and frying them in the classic manner gives the most incredible, bite-sized morsel of food. But, langoustine are expensive, people want to save money, and manufacturers are cashing in.
Buying shop-bought, frozen scampi is now a mug's game. Commercial peeling machines cannot peel scampi cleanly enough to keep them in one piece. So one breaded scampi ball may be pieced together from more than one fragment of a langoustine tail. Worse than that, the flesh is routinely bulked out using Vietnamese panagasius catfish – the same fish that gets used as 'fake cod.' Even so-called 'whole-tail' scampi are bulked out with water.
Investigative food journalist Joanna Blythman says:
"Scampi can be one of the very worst examples of how the food industry cons us. Manufacturers use the name scampi, with all its connotations of up-market deluxe langoustines, to sell a mulch of lowest-grade fish and additives bound in a greasy, thick, breaded jacket."
Blythman finishes by saying:
"I never eat scampi, and would advise people to avoid it. It's the worst sort of processed food, and rotten value for money."
It is clear, therefore, that the only way to get proper scampi is to make it yourself. It is time to go back to basics, stop buying it from the supermarket freezers and make it properly. Thankfully, this is very easy to do.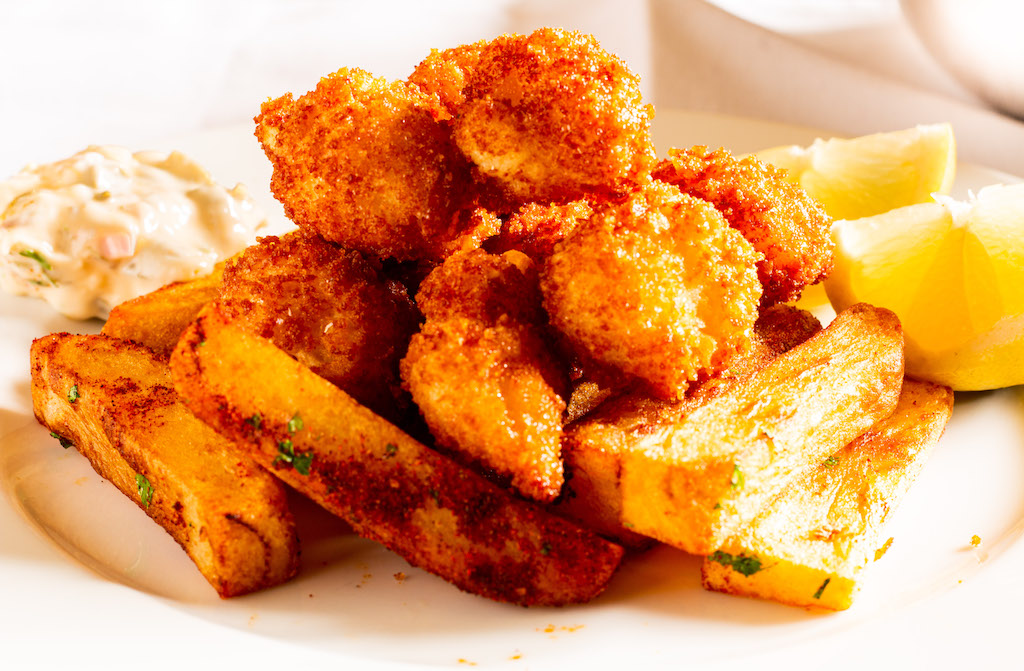 Print Recipe
Ingredients
For the scampi:

28 Dublin Bay prawns, raw and peeled

4 tbsp plain flour

2 handfuls of breadcrumbs

2 eggs, beaten

For the chips:

4 large Maris Piper potatoes, chipped (cut off any thin ends)

1 tbsp parsley, chopped

Large pinch of paprika

Salt and freshly ground black pepper
Instructions
1
Prep the chips to their mise en place. Place the chips in a pan of cold water and bring to the boil. Boil them for 6 minutes, drain and dry with kitchen paper. Place the chips on a metal baking tray (don't let them touch each other) and freeze.
2
Once the chips are frozen, heat the fryer to 130˚C and fry the chips for 4 minutes. Fish one out and test him. He should be cooked in the centre. If not, give them another minute but remember that you are not looking for much colour on the chips at this stage. Freeze them again.
3
When you are ready to eat, things happen quickly, so ...
5
To prepare the scampi, dust the prawns with the flour, roll them in the egg, and then coat them literally with the breadcrumbs.
6
Working in batches, fry the scampi in the hot oil until golden (about 2 minutes). Put them in a bowl lined with kitchen paper.
7
Finish the chips by frying them at 180˚C until golden (about 2 mins). Toss them in a bowl with the parsley and paprika. Season.
8
Serve the scampi and chips with a dollop of homemade tartare sauce and a wedge of lemon.